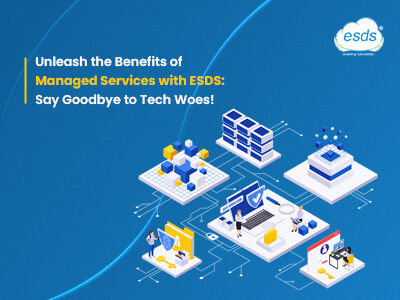 Unleash the Benefits of Managed Services with ESDS: Say Goodbye to Tech Woes!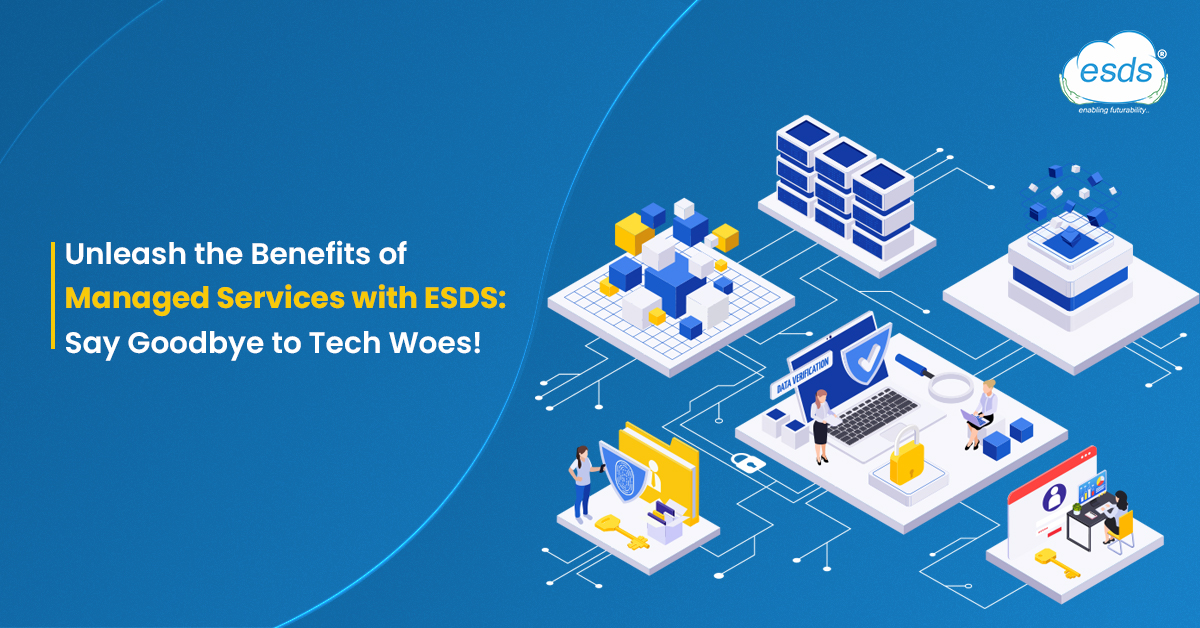 Are you running a business but struggling to keep up with the ever-changing IT landscape? Fear not, because managed IT services are here to save the day!
Let's face it: technology plays a vital role in any modern business. From internal processes to customer communication, it's the backbone of everything. But with cyber threats lurking around every corner and new tech trend popping up like mushrooms after rain, keeping up with everything can be overwhelming. That's where managed IT services come in. They're like your tech fairy godmothers, keeping your systems running smoothly so you can focus on running your business. Not convinced yet? Well, hold on to your hats because we're about to drop some major benefits of managed IT services.
Benefits of managed IT services
Predictable & Scalable Spending: OPEX Made Simple
We all know that investing in IT infrastructure can be a major expense, and predicting operating expenses can be like predicting the weather – totally unpredictable! But fear not! With managed IT services, you can say goodbye to unpredictable spending and hello to a single, fixed set of OPEX costs. No more sweating bullets when hardware breakdowns or maintenance issues unexpectedly pop up. Plus, with fixed monthly rates, you'll always know what to expect and won't break the bank. It's like having a crystal ball for your tech expenses!
Save Your Business Resources: Avoid Sunk and Operational Costs!
Running an in-house IT team can be a real headache, with all the sunk costs like salaries, benefits, insurance, and office upkeep. And don't even get me started on the time and money it takes to train staff members on your systems and processes. But outsourcing to the managed service provider can help you reduce those pesky capital expenditures and add some serious value to your business. Plus, with managed IT services, you can save big bucks on consulting, licensing, training, and emergency repairs. And let's not forget about those reduced labour rates when you sign on the dotted line for a managed service level agreement. Ahoy, savings ahead!
24x7x365 Exuberant Support
Technical difficulties can really put a damper on productivity, especially during high-traffic times. And let's face it; your employees can't be slowed down by pesky downtime. That's why having 24/7/365 support is an absolute must. With a support services provider by your side, help is always just a phone call or email away – whether it's day or night, weekday or weekend, or even a holiday. No more waiting around for tech support to get back to you. It's like having your own personal genie, ready to grant your every tech wish.
Expertise and Experience
One of the biggest benefits of managed IT services is that you get to bring on a team of experts who have all the qualifications, training, certifications, and experience specific to your industry. No need to hunt high and low for the right tech talent – they'll come to you. With a managed services provider in your corner, you'll have access to top-notch IT administrators with killer skill sets. Plus, you'll never have to worry about falling behind on the latest tech trends because your managed service provider will keep you up-to-date with the newest tech on the market. And the best part? Implementation will be quick and seamless. It's like having a team of tech wizards at your fingertips, ready to work their magic and take your business to the next level.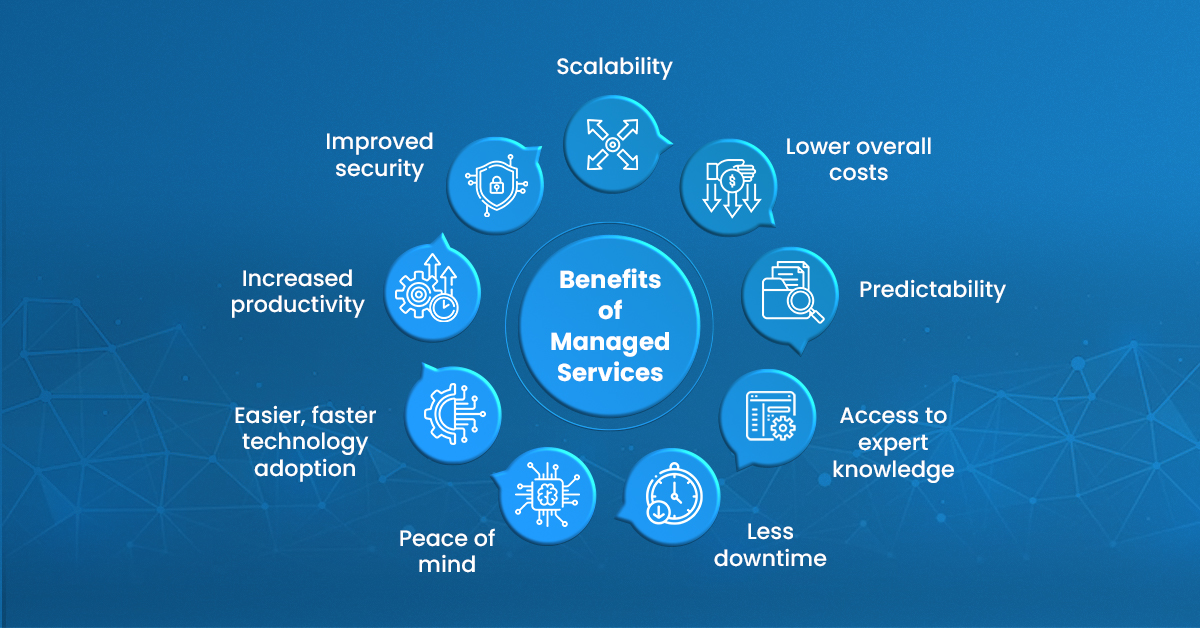 Proactive Monitoring & Issue Resolution
When you team up with managed service providers, you're getting access to a squad of tech wizards and some seriously proactive problem-solving. They keep a watchful eye on your IT situation, catching any potential issues before they turn into full-blown disasters. Plus, with their speedy response times and dedication to minimizing downtime, your business can keep on going without missing a beat.
One Point of Contact for Vendors
Assume, you're running a business, and you need a bunch of tech stuff to keep things running smoothly. But keeping track of all the different vendors is like trying to herd cats. It's just too much to handle. Lucky for you, there are managed solutions providers out there who can handle all of those vendors for you. No more confusing tech talk or haggling over prices – they've got you covered.
Speed Up Your Launch: Cut Time to Market
Picture this: You're trying to get some work done on your computer, but it's moving slower than a snail in a marathon. Ugh, so frustrating! But with IT management that includes cloud computing, you'll have lightning-fast resources at your fingertips. Say goodbye to IT inefficiencies and hello to a quicker time to market and supercharged productivity. It's like putting a rocket booster on your tech game!
Reduced Risk
You're a business owner or a C-suite executive and you're always taking risks. But when it comes to your IT, you don't want to leave anything up to chance. That's where managed service comes in. By bringing in the experts, you'll be able to reduce the risks that come with changing financial conditions, evolving technologies, pesky government regulations, and unpredictable market conditions. These IT gurus know the industry inside and out, and they'll keep your security and compliance concerns under control. So, sit back, relax, and let the outsourcing wizards work their magic.
Future Road mapping Support
The majority of businesses believe it is preferable to start small and grow as you go. In accordance with demand, scaling up or down is simple when using a cloud-managed service. For instance, a rise in client demand over the holidays can call for more bandwidth. A managed service provider can assist you in meeting this need.
Overall, managed services make it simpler for you to upgrade, add new functionality, and use cutting-edge technology.
ESDS Managed Services – the tech juggernauts who always deliver!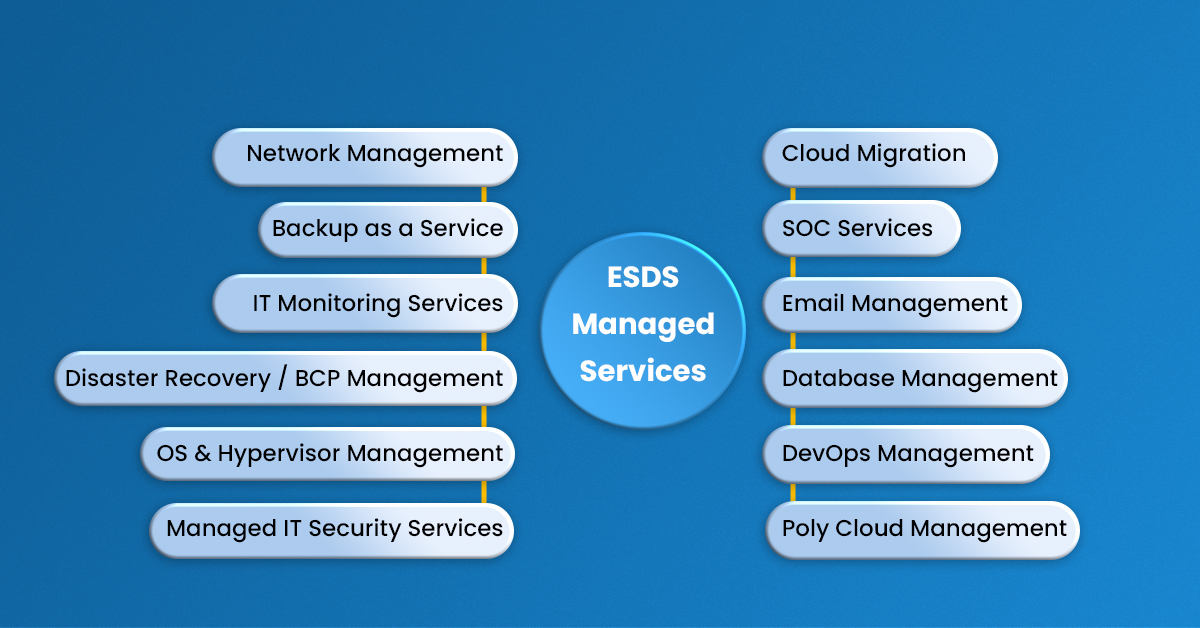 Cloud Migration: Let our knowledgeable consultants be your trusted guides on your cloud migration journey, helping you create a roadmap for success that will revolutionize your IT operations.
SOC Services: Stay one step ahead of cyber threats with our advanced SOC services, featuring 24/7 threat hunting, detection, and response. Our cybersecurity experts will monitor, analyze, and respond to ensure your business stays secure.
Email Management: Connect, communicate, and collaborate with ease using our market-leading professional email management services. Say goodbye to inbox chaos and hello to streamlined communication.
Database Management: Unlock new revenue streams and enhance customer experiences with our exemplary database architecture and management solutions. Our experts will help you increase business agility and stay ahead of the competition.
DevOps Management: Let our DevOps management experts guide you through the journey of getting started, improving, and optimizing your DevOps structure. Whether you're new to the game or a seasoned pro, we're here to help.
Poly Cloud Management: Avoid business relationship risk, pricing pressure, and concentration risk with our tailored Poly Cloud approach. Our experts will help you navigate the complex world of cloud management and ensure your business stays ahead of the curve.
Network Management: Keep your network devices in top condition with our complete enterprise network management solution. We'll help you monitor functionality, availability, and overall health, so you can stay focused on what matters most.
Backup as a Service: Ensure the safety, simplicity, and cost-effectiveness of your backups with our fully managed backup and recovery service. We'll take care of everything, so you can rest easy knowing your data is secure.
IT Monitoring Services: Get a bird's eye view of your entire IT infrastructure with our system health monitoring, proactive alerts, and historical data collection. We'll help you stay ahead of any potential issues and ensure your systems run smoothly.
Disaster Recovery / BCP Management: Protect your business with our customizable, fully managed, and secure disaster recovery solutions. We'll help you build an enterprise-grade IT resiliency plan that gives you peace of mind.
OS & Hypervisor Management: Enhance the performance of your company's operating system monitoring solution with our cutting-edge system management features. Our experts will help you stay on top of your IT game.
Managed IT Security Services: Stay ahead of ever-evolving threats with our comprehensive managed IT security services. From proactive management to support, we'll ensure your entire IT environment is secure and protected.
To summarize
The implementation of managed IT services offers numerous benefits for businesses such as increased productivity, cost-effectiveness, and scalability. By outsourcing their IT needs to a reliable managed IT services provider, companies can focus on their core business operations with peace of mind knowing that their IT systems are secure. Regardless of the size of your organization, managed IT services can help you stay ahead of the game and ensure the uninterrupted operation of your business.
Latest posts by Jyoti Karlekar
(see all)