SAP BASIS Services
Enterprises that have their own SAP landscape require continuous maintenance and upgradation so that their SAP related functions run smoothly and are always business ready. SAP BASIS Support is the fundamental need for any SAP landscape, which efficiently manages and administers an enterprise's entire SAP environment. SAP BASIS administrators are responsible for ensuring smooth communication between systems, scheduling, upgrading and installing system upgrades, taking backups, and more. SAP BASIS provides enterprises an operational environment to carry out businesses of any scale without technical difficulties or interruption.
At ESDS, we understand the importance of idle time and how it can affect your business. For reliable and comprehensive support, we offer SAP BASIS Support for seamless maintenance and lifecycle administration of SAP infrastructure. Our dedicated SAP BASIS Support team acts as a true single point of contact and takes care of end-to-end elements such as implementation, maintenance, monitoring and upgradation of SAP system.
Our relentless monitoring ensures that all the mission-critical applications are always available. Our SAP BASIS administrators work in diverse roles to settle complex IT issues by supplementing top-notch SAP change management and problem-solving techniques. With a Single Point of Contact (SPOC) system in place, we promise to resolve issues such as SAP HANA Hosting, Managed Services, Disaster Recovery and SAP BASIS Support under one roof and in the least amount of time.
---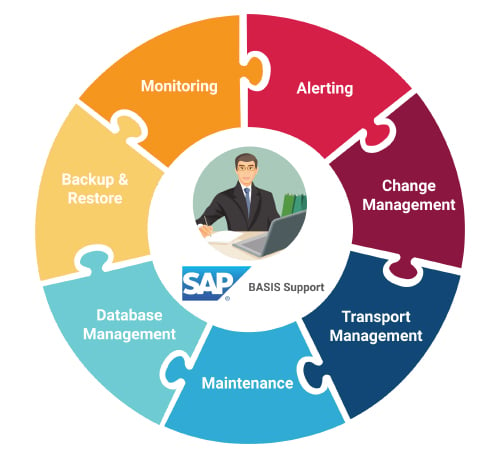 ---
Our in-house consultants, who have demonstrated experience in meeting rigorous company standards and compliance-needs, ensure that all the SAP applications are installed and configured properly so that all your functions run smoothly. Our SAP administrators help you out with all kinds of technical support ranging from BASIS administration and monitoring tools to pre-installation planning and resource sizing for applications and database that help in reduction of cost by avoiding oversizing of resources. We start providing you BASIS support as soon as the SAP implementation process is complete so that you receive all the support you need from day one. Other services include on-demand support for solution management and disaster recovery setups for SAP HANA and Non-HANA landscapes.