Get Overview of MS SQL Database At a Glance
Overview Section enables user to get active updates of MS SQL with complete details about name, type, IP, CPU count, business vertical, etc. Users also get real-time and historical information of MS SQL like hit ratios, user connections, today's availability, etc.
---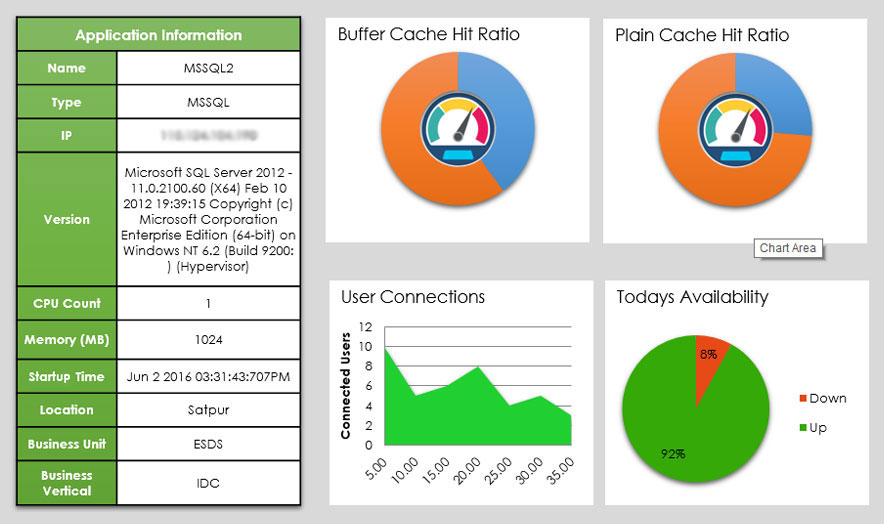 ---
MS SQL Overview
Application Information
Name
Type
IP
Version
CPU Count
Memory (MB)
Startup Time
Location
Business Unit
Business Vertical
---
Real-time & historical graphical info
Buffer Cache hit ratio
Plain Cache hit ratio
Current user connections
Todays availability
Analyze Actual Memory Consumption & Future Requirements
Memory displays a list of details presenting actual memory consumption, buffer manager statistics, detailed information on cache, access logs, lock and latch details which enable the user to take corrective decisions to optimally utilize the memory.
---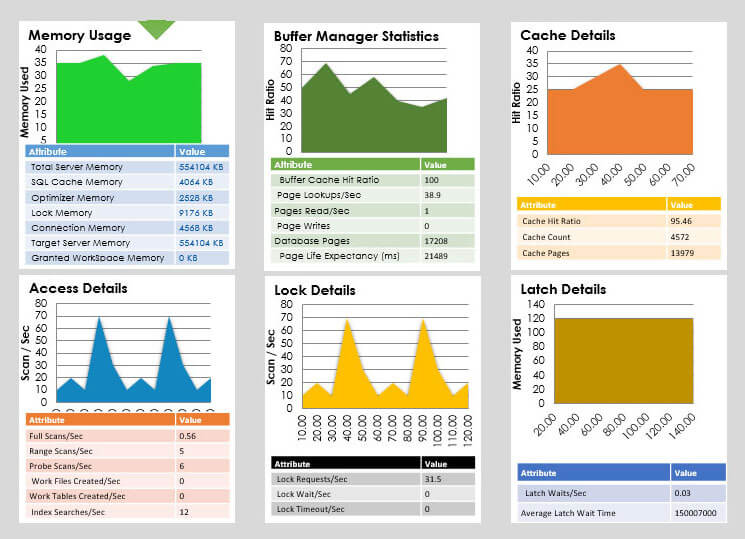 ---
Monitoring Memory related parameters
---
Memory usage
Total Server Memory
SQL Cache Memory
Optimizer Memory
Lock Memory
Connection Memory
Target Server Memory
Granted WorkSpace Memory
---
Buffer Manager Statistics
Buffer Cache Hit Ratio
Page Lookups/Sec
Pages Read/Sec
Page Writes
Database Pages
Page Life Expectancy (ms)
Database Pages
Page Life Expectancy (ms)
---
Cache Details
Cache Hit Ratio
Cache Count
---
Access Details
Full Scans/Sec
Range Scans/Sec
Probe Scans/Sec
Work Files Created/Sec
Work Tables Created/Sec
Index Searches/Sec
---
Latch Details
Instantly Walk through Sessions
Under sessions, the user can view the Connection Statistics, SQL Statistics, and Host Details with complete information of host/machine accessing the MS SQL database and Session Details.
---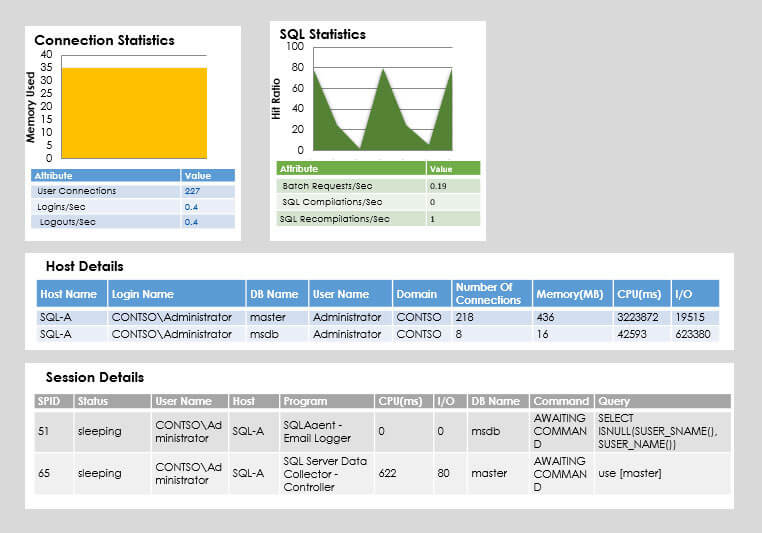 ---
Connection Statistics
User Connections
Logins/Sec
---
SQL Statistics
Batch Requests/Sec
SQL Compilations/Sec
SQL Recompilations/Sec
Auto-Param Attempts/sec
Failed Auto-Params/Sec
Safe Auto-Params/Sec
Unsafe Auto-Params/Sec
---
Host Details
Host Name
Login Name
DB Name
User Name
Domain
Number Of Connections
Memory(MB)
CPU(ms)
I/O
---
Session Details
SPID
Status
User Name
Host
Program
CPU(ms)
I/O
DB Name
Command
Query
Schedule Jobs & Back Ups Effectively
Jobs allows user to view Job Execution, Job Steps Execution Info & Job Schedule Info. MS SQL admins can get a close view of actual jobs being executed, whether or not, as scheduled. Under backups the user can view Recent Database Backup & Back-up within Past 24 Hours. App Monitoring enables quick and detailed view of jobs and backups and sends recommendations for provisioning of resources for uninterrupted database performance.
---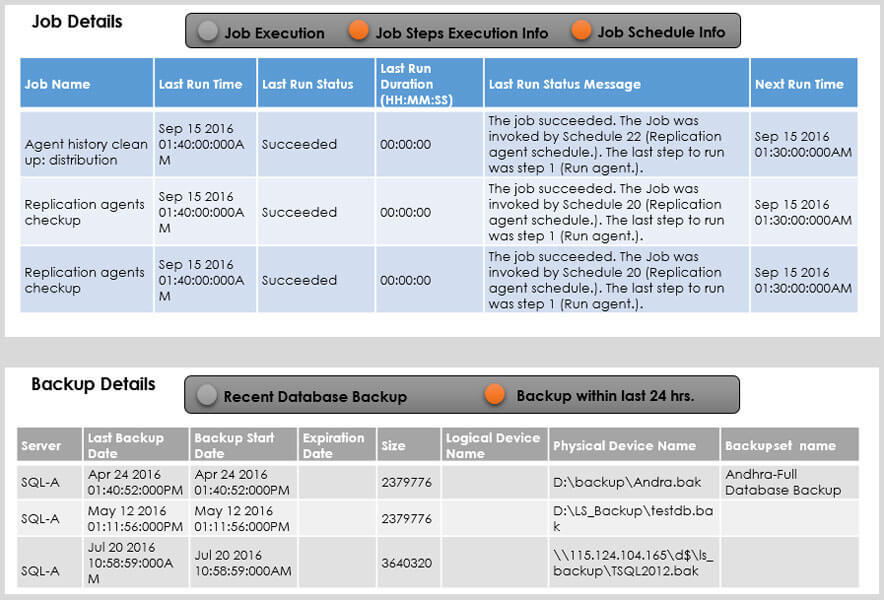 ---
Job Details: Provides real-time Job info.
Job Name
Last Run Time
Last Run Status
Last Run Duration (HH:MM:SS)
Last Run Status Message
Next Run Time
---
Backup Details
Server
Last Backup Date
Backup Start Date
Expiration Date
Size
Logical Device Name
Physical Device Name
Backupset name
Take Command over MS SQL Performance
Users can take full control of performance of MS SQL by taking a survey of top queries by CPU, I/O, lowest plan reuse, frequency as well as top waits, most blocked queries and more. With a list of details about status of queries and their memory usage, admins can conveniently decide which queries must be stopped or continued.
---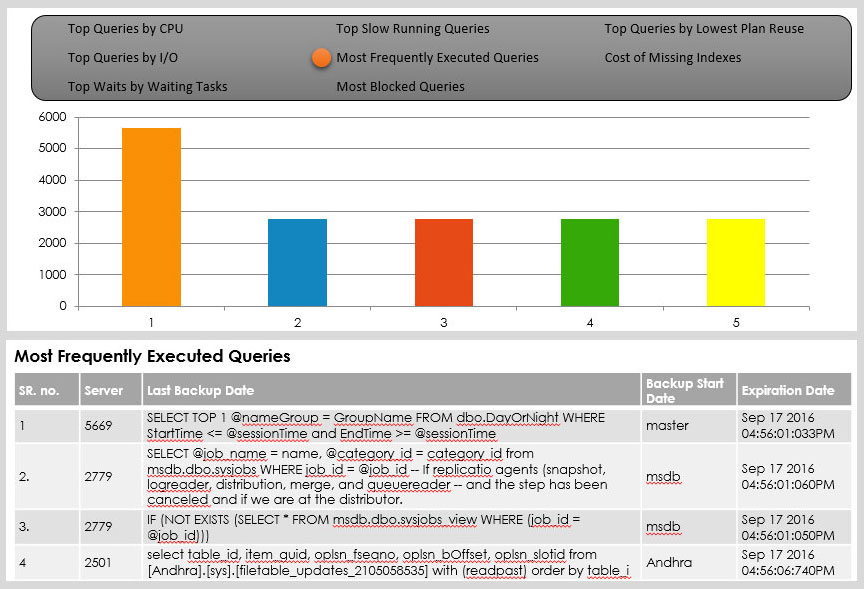 ---
Performance Category wise reports & graphs
Top Queries by CPU
Top Slow Running Queries
Top Queries by Lowest Plan Reuse
Top Queries by I/O
Most Frequently Executed Queries
Cost of Missing Indexes
Top Waits by Waiting Tasks
Most Blocked Queries
---
For example, Most frequently executed queries
Details of Queries
Display with Graphs & Tables
Covers table info such as,
Server
Last Backup Date
Backup Start Date
Expiration Date
---
Cover Table Info such as
Last Backup Date
Backup Start Date
Check, Configure, Reconfigure Memory
Through configuration, users can run checks of regular, advanced and memory configurations being managed in MS SQL database as well as re-configure configurations.
---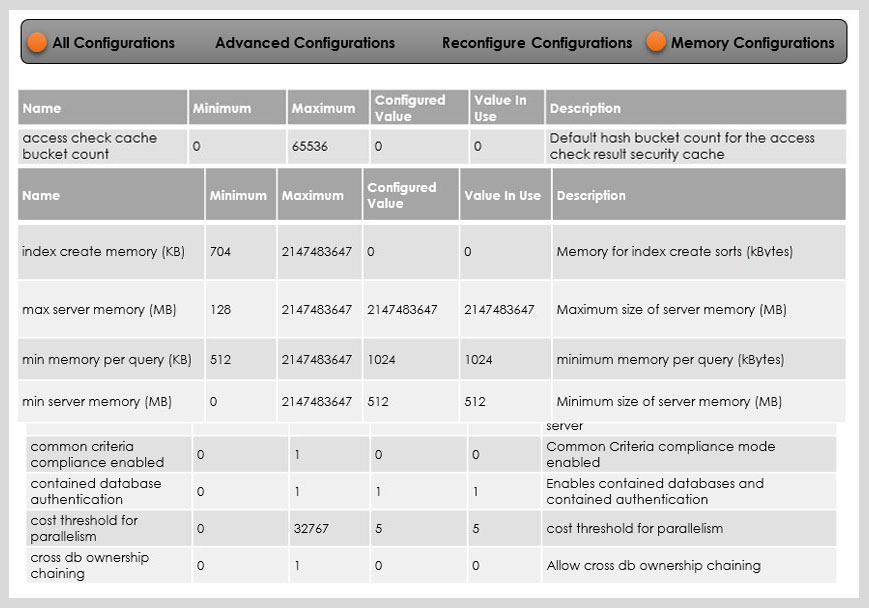 ---
In Memory Configuration
Configured Value
Value In Use
Description
---
Categorized In
All Configurations
Advanced Configurations
Reconfigure Configurations
Memory Configurations
---
Cover Table Info such as
Last Backup Date
Backup Start Date
Manage Monitor Settings in a few clicks
Monitor settings gives a close view of existing settings and allows users to edit settings as well as update host details. Users can click on a single window to add/ remove parameters, reset monitoring interval, alert time, repeated alert time, punch threshold parameters and much more.
---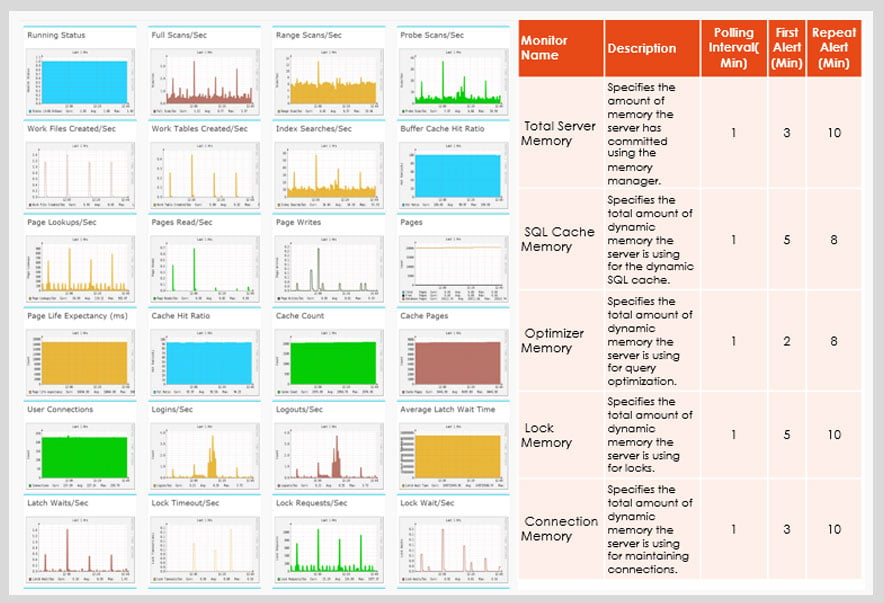 ---
Monitoring Parameters Details
50+ Parameters are available for configuring threshold based alerts on MSSQL database performance.
Based on criticality of parameter, polling time, first alert time, repeated alert time can be defined for each parameter separately
Historical data for each monitoring parameter is available in graphical form
---
Cover Table Info such as
Last Backup Date
Backup Start Date
Take a close view of Events
In Events and Logs, user can check all monitoring alerts and notifications generated by App monitoring tool. It helps users to figure out exact time of events taking place.
---