Q: Does VTMScan scan subdomains of a given domain?
Ans: Yes, VTMScan will also scan subdomains of your website, but you need to mention those subdomains in the additional domain field while you schedule your scan.
Q: Can VTMScan schedule website scan as per user time frame?
Ans: Yes, VTMScan can schedule scans as per user time frame so that it won't affect user website during peak time. User will be provided with a custom scan option where he can set his time frame.
Q: What is OS Detection in VTMScan?
Ans: OS Detection is one of the striking features of VTMScan. Most of the time website is coded very securely and is very hard to crack so, hackers target website server Operating System. VTMScan predicts your Operating System and lists down vulnerabilities regarding that website.
Q: How exactly does VTMScan Ports remotely?
Ans: VTMScan checks for all ports on the server. It finds out all open ports and services/products running on those ports. It checks those products in vulnerability database and alerts if any product is vulnerable.
Q:Does VTMScan installs any agents on my website?
Ans: VTMScan does not install any agent. VTMScan also takes care that it sends you harmless requests and payloads which will not affect performance and availability of the user website.
Q : What is WAF?
Ans: A web application firewall (WAF) is an appliance, server plugin, or filter that applies a set of rules to an HTTP conversation. Generally, these rules cover common attacks such as cross-site scripting (XSS) and SQL injection. By customizing the rules to your application, many attacks can be identified and blocked. The effort to perform this customization can be significant and needs to be maintained as the application is modified.
Q : What is Content Change Monitoring and it's usage?
Ans: Content Change Monitoring compares the current state of your website with the snapshot of your website which was taken by you earlier and informs if any changes are observed on the website.
Q : Is Authentication Based Scanning supported by VTMScan?
Ans : Yes, VTMScan supports authentication based scanning viz. htaccess and web based authentication.
Q : What do you mean by a CSRF vulnerability?
Ans: Cross-site request forgery, also known as one-click attack or session riding and abbreviated as CSRF or XSRF, is a type of malicious exploit of a website where unauthorized commands are transmitted from a user that the website trusts. Unlike cross-site scripting (XSS), which exploits the trust a user has for a particular site, CSRF exploits the trust that a site has in a user's browser.
Q : Does VTMScan detects CMS? If Yes, then which types of CMS are detected?
Ans: Yes, CMS is detected in VTMScan. Types of CMS that are detected and scanned are Wordpress, Joomla, vBulletin and Drupal.
Q : How do I get my domain off the phishtank blacklist?
Ans: Please visit the following page: http://www.phishtank.com/contact.php and follow the instructions for reporting an incorrect phishing page.
VTMScan Service Level Agreement
Coverage
This SLA is applicable to active customers with a valid and active subscription of ESDS VTMScan Service
Service Level Goal
ESDS is a cloud service provider company. Main aim is to provide the most redundant and reliable ESDS VTMScan Service to our clients and we are committed resolve any issues that client may come across with same. ESDS has well trained Support Teams with experience of working on web servers,operating systems, security, various software applications and databases. ESDS will make sure to provide complete management and support to its clients. Under this commitment we can cover resolution of issues raised under following categories as per expertise supported by us.
a. Covered Issues:
VTMScan self-service portal related issues
Website scanning issues. - In case all needed Pre-requisites for scanning supported by clients
Proof of Concept (POC) for vulnerabilities found through web application security scanning via VTMScan
b. Other Issues:
Client queries related to reports and vulnerabilities identified
c. Non-inclusion - Issues Out of service scope. like,
ESDS will not do remediation of the vulnerabilities found
User web applications/website availability related issues
d. DNS Issues, website reachability from scanning server
---
Exceptions
ESDS will make all technical resources available in order to support their clients. However, it's client's responsibility to attempt to resolve basic issues such as adding websites, alert email addresses, monitoring of websites, fetch the reports, create a snapshot. ESDS reserves right to determine how much support or service level it will provide.
---
Support levels process
---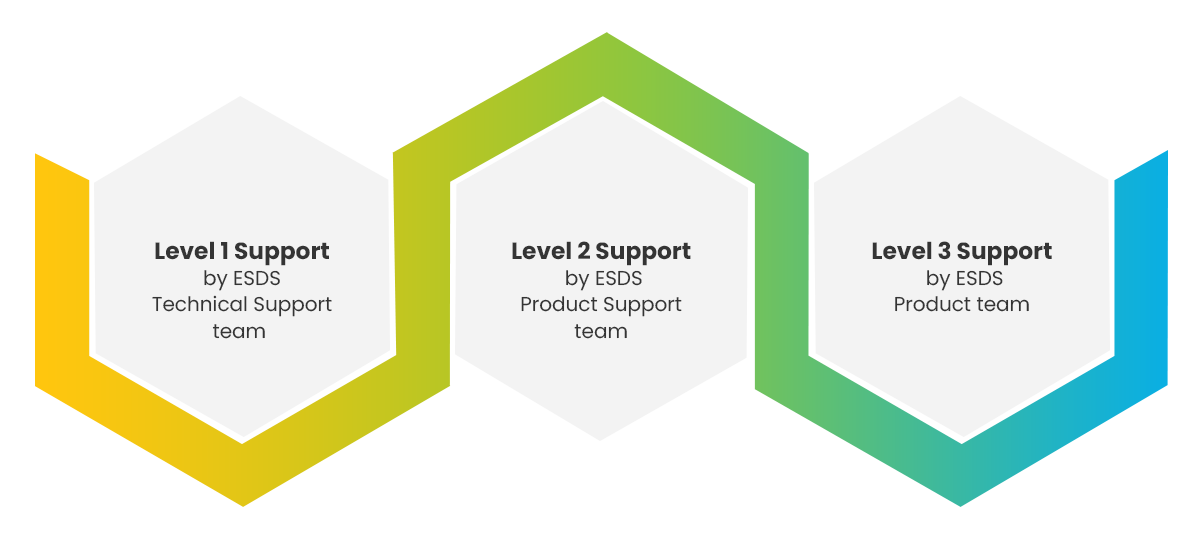 ---
ESDS Commits for the following Support availability
---

---
Mail us: [email protected] | Toll Free No: 1800 209 3006