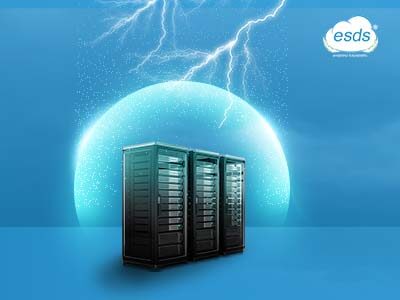 Effective Disaster Recovery Solution with Cloud Computing
It's an old saying that Disasters can strike any time and without any warning. For businesses, it's important to strategically plan to be able to control the after-effects of the disaster. It may not be possible to always spot a disaster coming but preparedness for any type of disaster can be done. As we are deep diving into the depths of digital transformation, businesses are embracing the cloud rapidly. For smooth business practices and protection of data against hacks or attacks, cloud computing, and cloud-based solutions are picking up the trend.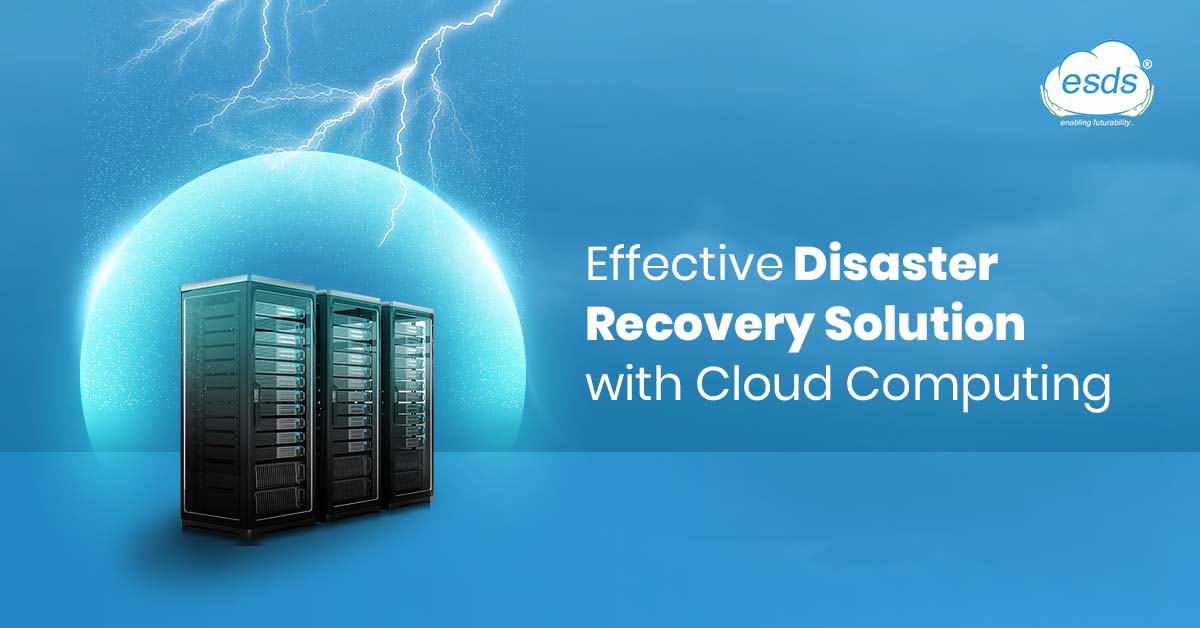 Cloud-based Disaster Recovery is a managed service that provides users with a swift recovery solution for critical systems after a disaster incident. The cloud-based disaster recovery solution also provides remote access to the user's systems in a secure virtual environment. Traditionally, businesses used to prefer managing secondary data centers which were generally time-consuming and costly on budget. This traditional recovery solution also reduced the downtime, now with cloud-based disaster recovery solutions, the longer downtime issue is eliminated.
In cloud-based disaster recovery, instead of loading the servers with OS and application software and patching to the last configuration used in production, it compactly takes the entire server and the data into a single software bundle or virtual server. As the virtual server dependency is eliminated, data along with the operating system and applications can be migrated from one data center to another as a faster process. Today looking in the competitive market, businesses are looking for cost-saving solutions that are beneficial and don't stop their day-to-day activities.
Disaster Recovery is also considered among the business continuity plan as an essential element. With a solid disaster recovery solution and plan in place, a business can continue running without any major hold-ups and that doesn't affect any day-to-day activities. Organizations get continual access to highly automated, highly scalable, self-driven off-site DR services when they opt for cloud disaster recovery solutions.
Selecting an ideal Cloud partner for your disaster recovery requirements
Organizations today need a reliable and trusted partner or vendor for their cloud-based requirements. Since several businesses are rapidly adapting to the cloud, an efficient partner that has all the facilities and technologies under one umbrella is preferred. In case of a disaster, businesses will need all hands on deck, wherein experts from internal as well as external i.e. cloud partner resources will be needed the most. A cloud disaster recovery partner that will be available, provides back-up rapidly and with the capacity to deal with uncertain situations. While selecting/shifting to a cloud disaster recovery solution provider, below are some top factors to consider:
Most importantly a partner that understands your business's needs, pain points, and potential, to be able to come up with a strategic plan of action.
Here's a simple guide to creating a disaster recovery plan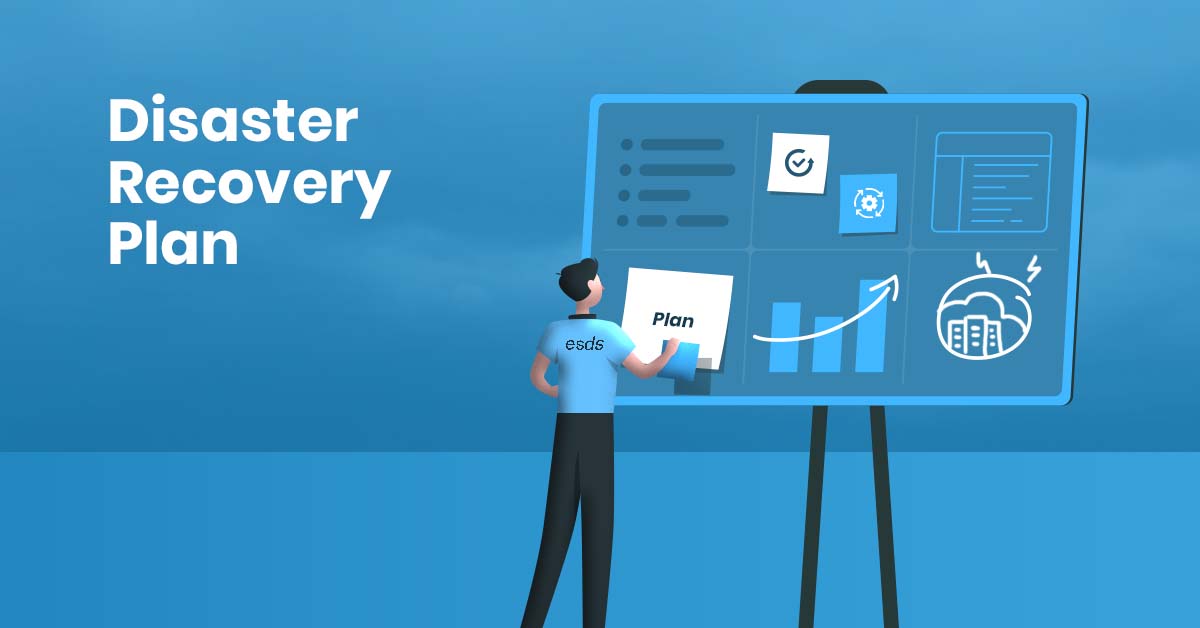 1. Understanding your business's infrastructure and outlining any risks that may or may not occur. It is crucial to look for a partner that has the necessary assets, equipment, and IT infrastructure in place and preparedness.
2. Conducting an impactful business analysis. To approach a cloud partner first an organization must assess their present business strategies and plan along with ongoing business strategy/s, this gives a clear picture of the situation and can direct to a perfect plan as per the needs and inventory. This will help chart out a definite plan in case of a situation that can help to swiftly recover and move along.
Here are 2 types of parameters to consider
A. Recovery Time Objective (RTO) – Maximum time that an application can stay offline and doesn't affect the daily operations.
B. Recovery Point Objective (RPO) – RPO is the extension of time for which the user can bear data loss from the application in case of a crisis.
3. Creating a disaster recovery plan based on the RPO and RTO that sets a design system to help to meet the recovery goals such as:
Full data replication into the Cloud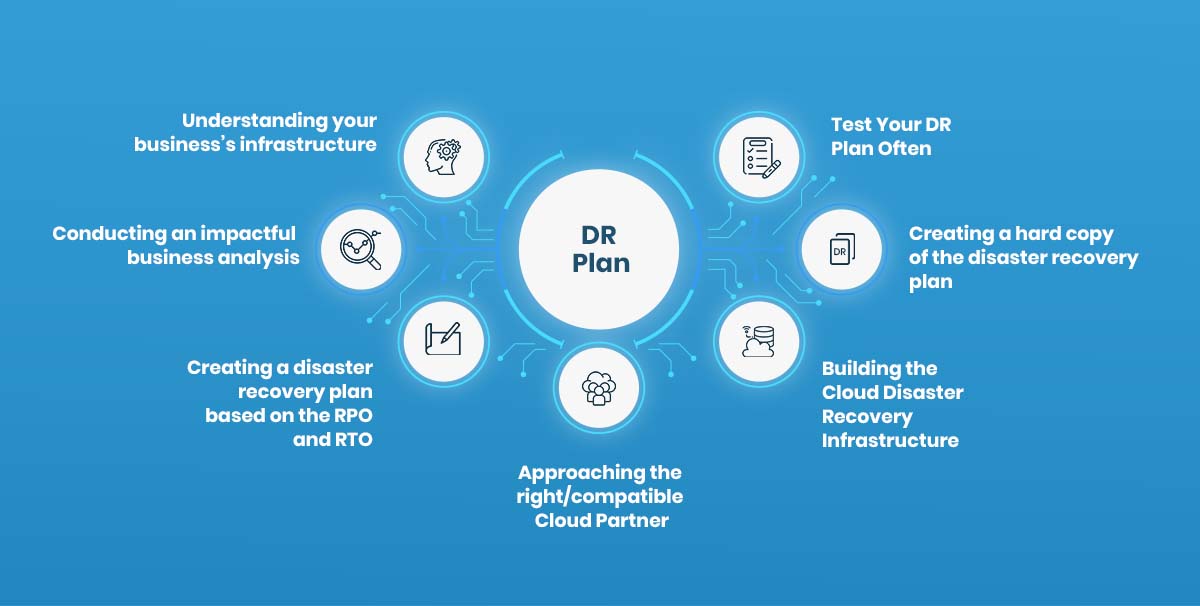 4. Approaching the right/compatible Cloud Partner. As mentioned above a trusted partner for a business's disaster recovery plan must include:
Simplicity in Setup and Recovery
Security Compliance, among others
5. Building the Cloud Disaster Recovery Infrastructure. Questions to have in front before making a disaster recovery plan:
What is the quantity of infrastructure components required?
By what means will the data get replicated to the cloud
Best ways to approach user authentication and access management
Required Security and Compliance best practices setup
Necessary security measures to minimize the disaster after effects
6. Creating a hard copy of the disaster recovery plan
An important element in a disaster recovery plan is to have a standard guideline or a process flowchart with specific instructions for people involved in the recovery process. When a disaster occurs, each individual should be ready to take charge of the responsibility as per his role assigned in the process.
7. Test Your DR Plan Often
Test your plan! The bigger a disaster recovery plan, the better and safer it is to test it. Also, simultaneously, monitoring and analysis can be done to keep things in check.
Conclusion
The market today is unpredictable, with new technologies getting introduced regularly a budding business must have a reliable and trusted cloud and disaster recovery partner on their side. Since everything is digital now, attacks and hacks are more prone, and hackers have become smarter and have new ways to cause harm. In such times, a well-prepared and planned strategy will help a business not only survive but thrive to take the burn and still manage to rise above it. When choosing a cloud disaster recovery partner make the right choice and look up ESDS. Our team of experts and exuberant technology is trusted, comprehensive and dependable for a disaster of any nature. contact ESDS on Toll-Free No. 1800 209 3006 or email us at [email protected]for a free consultation.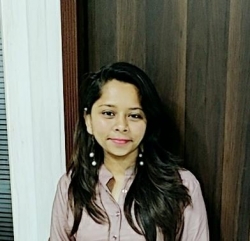 Latest posts by Harshada Parmar
(see all)