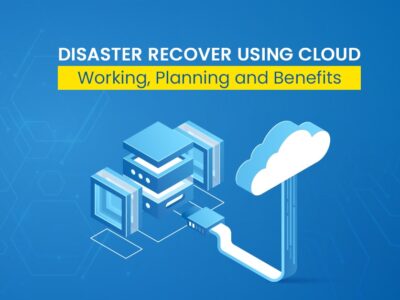 Disaster Recovery Using Cloud: Working, Planning, and Benefits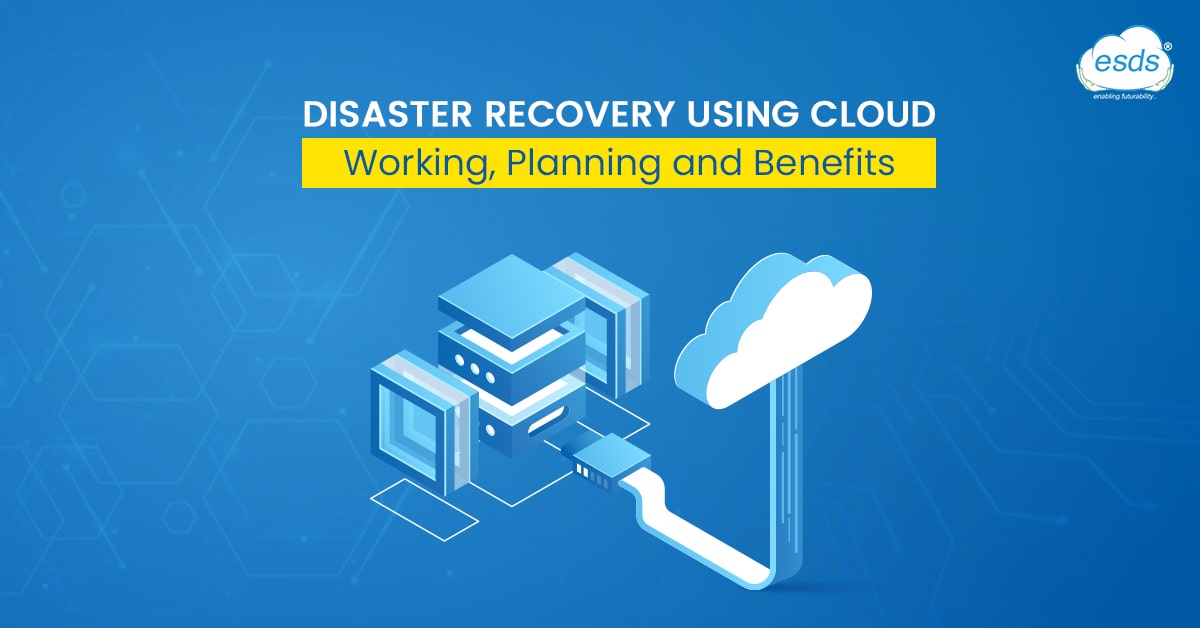 What is the main asset for a business in today's time? Definitely the Data. Data is the currency of today. Data is moving businesses and is at the core of business success. Hence, saving the most crucial, money-making asset of your business is the top-most business priority across all industries. Given its significance to business success, the importance of disaster recovery cannot be overstated in this data-driven world. Regardless of the business domain, when an unanticipated event occurs bringing operations to a halt, businesses need all the plans in place to quickly resort to their operations and continue their services.
What is Disaster Recovery and IT Disaster Recovery Plan?
Disaster recovery is a method of restoring the data and recovering infrastructure, systems, applications, networks, power, and connectivity after a disaster has happened. IT Disaster Recovery plan is a document containing a set of policies and procedures to enable the organization to retrieve access to its hardware, applications, and data, and resume its operations post a disaster. A business can be impacted by various disasters, from man-made such as cyber-attacks, device failure, or human error to a natural event such as an earthquake or flood. Considering all these parameters, an IT Disaster Recovery plan is designed to reduce system downtime, financial loss and keep the customer's trust.
There are different ways disaster recovery plans can be put in a place. However, with a massive amount of data generated by businesses, a cloud-based DR solution provides the optimum benefits. Want to know why you need to make a move from traditional disaster recovery to the cloud-based DR solution? Read Cloud-based DR or Traditional DR – Which is the best Disaster Recovery Plan for you?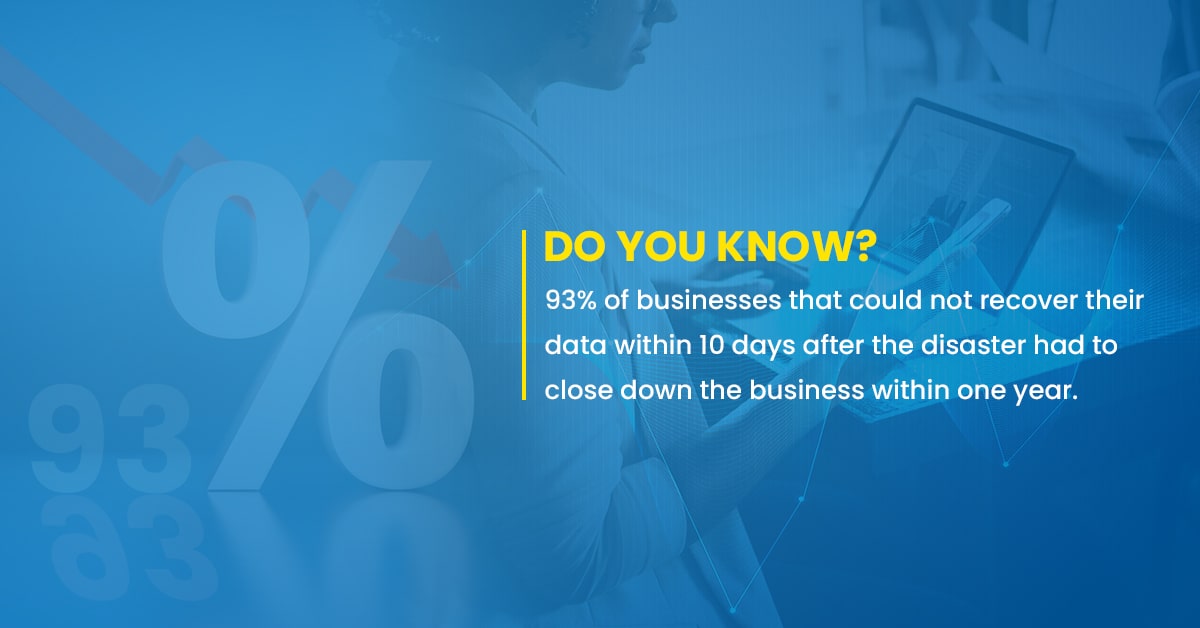 How Does Cloud Disaster Recovery Work?
Cloud disaster recovery is a cloud-based managed service that takes a new and smart approach compared to traditional DR. In traditional cloud service, the servers are loaded with the OS, application software, and patching to the last configuration. Whereas, in cloud DR, the entire server is encapsulated including OS, apps, patches, and data into a virtual server. A backup or a copy of this server is then hosted on a cloud platform. Since the virtual server has no dependency on hardware, migrating from one data center to other becomes much faster, safer, and reliable.
Cloud Disaster Recovery Planning
Like it is said, well begun is half done, a disaster recovery plan should be designed carefully by taking several factors into account. Let's take a look at important factors one should take into account while choosing a DR plan.
Recovery Point Objective (RPO) indicates the number of times you take backups. This mainly depends on the business type and how frequently it needs to take backup, whether 5 minutes, 5 hours, or a day.
Recovery Time Objective (RTO) indicates the downtime a business can tolerate. In the case of businesses with a high frequency of transactions such as trade markets, every second of downtime is a financial loss. Hence planning RTP and RPO should be decided on the criticality of data to the business.  
Remember, though data is an asset, treating all asset equally isn't a cost-effective way because it will lead to either over-paying or under-paying for services. Therefore, choosing the right services depending on your business is important.
Benefits of Disaster Recovery Using Cloud
The benefits of a cloud-based disaster recovery solution are multiple as it provides comprehensive protection of crucial data and applications. Following are the reasons why businesses are shifting to cloud-based disaster recovery solutions.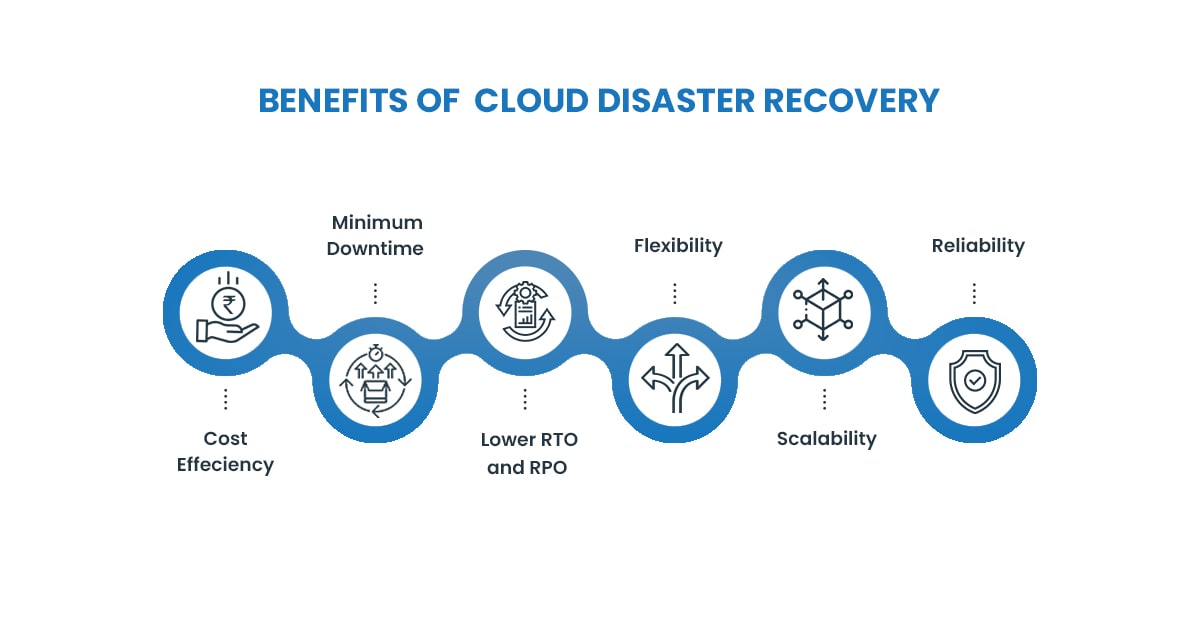 Faster Recovery
A business's success is directly proportional to its ability to keep up its uptime. The business downtime directly affects productivity, reputation, and causes financial loss of the business. Using cloud DR solutions, a business can resume its operations quickly by shifting to a secondary infrastructure within minutes. 
More Flexibility
A key benefit of using DRaaS is that it is capable of recovering from all types of disasters from malware and ransomware to flood and fire. Businesses can customize the DR plan depending on their requirement, resources, RPO, and RTO aims. Moreover, they have the flexibility to choose between continuous replication and hot site recovery or time-based backup and warm site recovery.
Maximum Security
Cloud service providers implement the highest security measures that are beyond the affordability of most businesses. Also, the Data Centers mostly adhere to international security standards and hence the chances of failure to keep your data securely backed up is equal to zero. In addition to all this, the cloud service providers have their DR plan too in place. Hence, compared to the traditional disaster recovery mode, data in the cloud is relatively safe.
Cost-Effective
As the data is stored in the cloud, the cost of hardware is eliminated, resulting in lower capital costs. Also, the cloud service providers charge only for the services used hence, businesses can choose according to their requirement, leading to low costs. Assume a disaster has happened which has disturbed the production, in such a case, businesses can have access to virtual desktops for business continuity and the financial loss will be minimum.
Need DRaaS Solution? ESDS Can Help
There is no doubt that in today's time, business continuity and agility are the two core requirements of organizations. Therefore, disaster recovery is of utmost importance. Disaster recovery in the cloud gives an edge over traditional disaster recovery due to its flexibility, smooth DR shift, self-healing environments, automated DR tests, and cost-efficiency. Get business continuity with ESDS Cloud-based disaster recovery solution and recover in no time with high scalability, 100% availability, and absolute low-cost resiliency. What's more? ESDS provides disaster recovery as a service ideal for all business types including SMEs, Banks, and SAP/ERP.
Latest posts by Jyoti Karlekar
(see all)