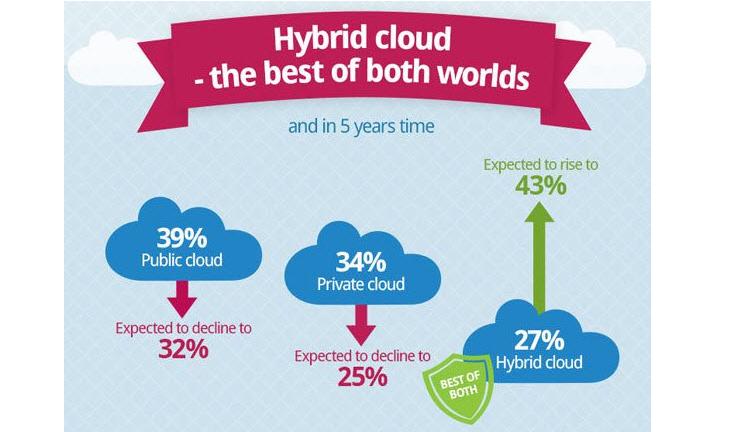 Hybrid Cloud to be used for over 69% of the Outsourced IT Infrastructure by 2018
There are has been an increasing demand of cloud services and organizations are positive about moving their IT processes in the cloud. A major portion of this growth in demand has been fueled by IT outsourcing by many companies world over.
According to a recent report on Global IT trends, outsourcing was a major driver and cause of business growth. And it is estimated that within the coming five years a massive 69% of IT infrastructure would be outsourced. This is great shift by businesses and would ultimately boost cloud adoption.
Outsourcing which was earlier considered as a means to reduce costs is now used for achieving more than just cost savings. Businesses are now focused on gaining more efficiency and want to focus on the core business and as a result are looking to outsource the not so important processes.
The report estimates that, the trend of outsourcing will result in up to 69% of the IT process being outsourced within the next five years. Cost reduction, improved quality of service and reduced management time are the top reasons for this trend.
So how does the Shift happen?
Currently, majority of the companies still rely on traditional on-premise IT setup. Out of the survey respondents mentioned in the report a meagre 5% make use of a cloud service for outsourcing their IT processes. However, that is set to change within the coming years. The rate of cloud adoption is increasing but, more strangely, the private cloud which is now the second most used cloud model would be overtaken by a the outsourced cloud services in years to come.
The move to the cloud is a result of the flexibility of Hybrid Cloud which allows migrating processes and functions deemed appropriate to the cloud and retaining the other mission-critical application within the organization. Corporate email, websites and SharePoint are the top candidates which are suitable to be outsourced to a cloud solution.
What drives the Change?
A major driver for outsourcing was the cost savings which was above 10% of the annual IT spending. Security which was earlier a barrier to the adoption of cloud has now become a major determinant. In fact, it is the second important reason after cost savings, according to the report.
Furthermore, instant provisioning of resources is the need of the hour and business want the ability of quick scaling which is ideally best provided by a cloud solution.
The businesses of today are faced with global competition and are always short of resources, be it labor or capital. And technology is evolving at a rapid pace and one always needs to upgrade its IT setup with time which is a major reason for cash outflow. In such a situation a solution that offers to do more with fewer resources seems to be the ideal choice.
Need of the hour!
Every business needs to be abreast with the latest technological developments and adopt the best out of it. Cloud has enabled businesses to source the latest technology and applications without a high upfront cost. 90% of the businesses that outsource are expecting a revenue growth compared to those that still have in house setups.
And when your competitors are taking advantage of this then there is little reason why you shouldn't.
Implementation
There are various thing which you must consider before you go cloud shopping.
Have a plan of action- Identify what your focus areas are which can be moved over to the cloud
Choose the correct cloud hosting solution which would suit your business
Analyze and Improve- After successfully moving over to the cloud make sure you analyze the benefits you receive and ensure those are aligned with your long term goals.
Resources:

Latest posts by Naresh Puro
(see all)