May-2018
ESDS' hallmark journey for transforming co-op banking sector documented in leading media house paperback
Mumbai: ESDS' journey of collaborating with over 270 co-operative banks in the country (now 280) has been included as a case study in leading media conglomerate Times Of India Group's ET Cases book, an initiative to create value for entire management community. The company's manuscript titled '270+ Co-operative Banks in India Choose ESDS Cloud Hosting Services' has been adapted in the book 'Effective Decisions For Effective Managers - A Case Study Approach' under the Finance category.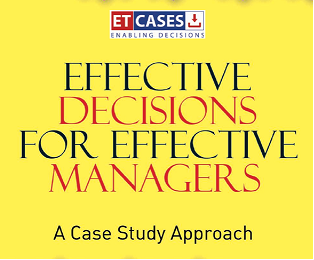 "It is an honour to be part of such a rich and prestigious compilation of case studies that is meant to empower managers and management students across the nation. When ESDS invented the concept of Community Clouds in 2011 in the IT industry, ESDS' BFSI Community Cloud was rapidly consumed by hundreds of banks as we handheld them through their digital transformation journey. This journey is worth being documented and studied further," says ESDS CMD & Founder Piyush Somani.
Managers from a wide range of business firms and industries, faculty of leading business schools like IIM Trichy, IIT Kharagpur, IIM Kozhikode, FLAME, IMT Nagpur, etc. and would-be managers will significantly benefit from this book and eventually from the ESDS' paper on co-operative banking. Enabling continuous partnership and value sharing, all the case studies in the book have been chosen to enable effective and productive classroom learning for students as well as efficient and effective decision making for managers.
Readers will get a chance to know about a few common as well as uncommon business problems through this book and how they were intelligibly dealt with. The Co-operative Banking sector, before coming in association with ESDS in November 2011, lacked a stable IT infrastructure. Banks back then were far away from adopting technological trends; the staff too wasn't technically sound and open to adopting new technology. They were posed with several challenges, a prime challenge being connectivity in remote locations and high bandwidth cost. Banks were also unaware of Cloud technology and the banking services that the Cloud platform could provide.
ESDS stepped in as a revolutionary of sorts in the Co-operative Banking sector at such a time. ESDS always believed that co-operative banks are a critical component of our rural economy and while they play such a major role in our economy, they still remain the unsung heroes. Since banks were unaware of what a commercial Data Center and CSP meant and what it could do for them, the ESDS team went the extra mile and held cooperative conclaves and events. It educated and trained bankers about Cloud technology including cloud hosting, DC, servers and ESDS' role and functions. Banks needed a complete solution including both Core Banking Service and Hosting as a package. Thus, strategic partnerships were created between ESDS and top Core Banking Solution Providers. This innovative model pioneered by the ESDS' team came to be known as the Application Service Provider (ASP) model that comprised of CBS, Cloud Hosting, Managed Services, DR and Uptime amongst other things. Eventually, more than 280 co-op banks have chosen this model to leap ahead in the race towards digitalization.
Case studies on several leading brands such as Dettol, Grasim, KFC, movie Bahubali's digital marketing strategies, Croma and others have been included in the book. Papers on several leading personalities such as business tycoon Ratan Tata, Novel Peace Prize winning activist Malala Yousafzai, legendary boxer Mike Tyson, Bollywood superstar Aamir Khan and others have also been included in this book.