Apr-2018
ESDS' COO & Exec VP Dr. Rajeev Papneja amongst 100 most 'Eminent CIOs of India'
Mumbai: ESDS' COO & Exec VP (Technology), Dr. Rajeev Papneja has been honoured by frontline IT Magazine VARINDIA that has included him in their White Book 'Eminent CIOs of India'. Dr. Papneja also received the Eminent CIO of India award at the hands of Deputy MD of SBI Mrutyunjay Mahapatra and Secretary of Ministry of Parliamentary Affairs, Govt of India Surendra Nath Tripathi DMD - Digital Business & New Business - SBI and Dr Deepak Kumar Sahu, Publisher, VARINDIA at 16th IT FORUM 2018, an event held by the magazine.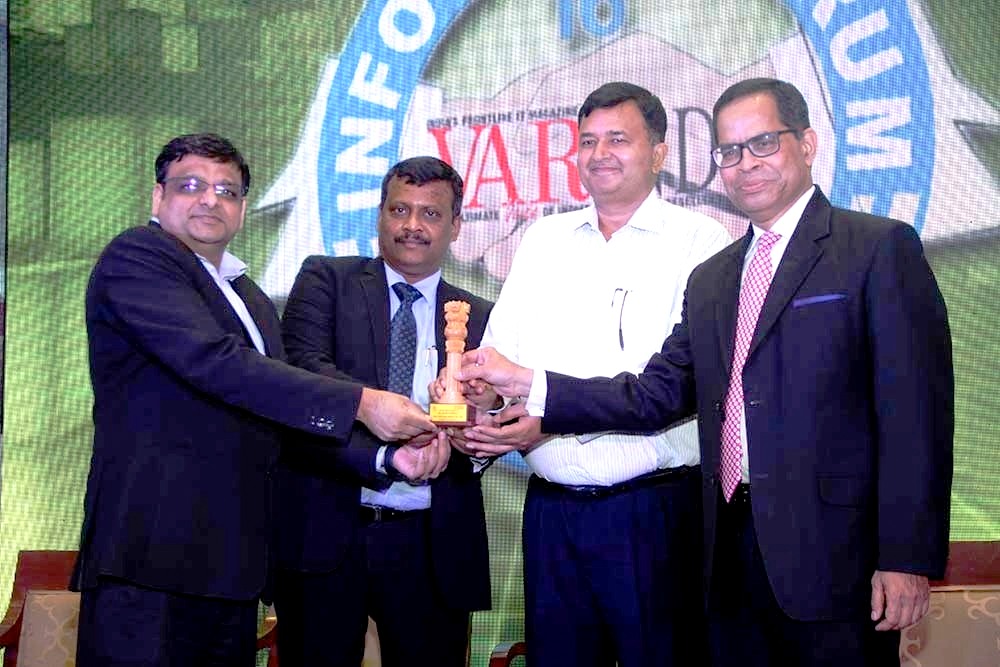 As the adoption of newer technologies gain pace, enterprises are realizing the need to identify the business functions that will derive the greatest value. To complement the efforts, CIOs (83%) have shown the willingness to invest in new technologies as well as in the discovery of disruptive technologies that hold immense value. On this backdrop, VARINDIA magazine will publish viewpoints of most powerful CIOs from the country in the White Book covering inputs of 100 CIOs from 10 different industry verticals. ESDS stalwart Dr Papneja has received the honour of stating his views in this book, which was released recently. Opinions of industry's leading CIOs from organizations like Kwality, Interarch, Patanjali, PepsiCo, L&T, Skoda, SBI, Bank of India and others have also been included in this book.
Commenting on this achievement, ESDS Founder MD & CEO, Piyush Somani said, "It is indeed a very proud moment for ESDS and we are privileged to have Rajeev, who is always leading the teams in the mood of a servant leader, as part of the ESDS family."
With more than 23 years of experience in technology arena, both on national and global front, Dr. Papneja has made great contributions in the world of cloud computing and data center technology. He holds Bachelors & Masters degree in Computer Science and while pursuing his professional career in US, he achieved his Doctorate in Business Administration from FTU, USA, remarkably at an early age of 27.
Dr. Papneja has been previously honoured with prestigious awards like 'Rashtriya Gaurav - 2015' and 'Bharat Ratna Dr. APJ Abdul Kalam Excellence Award - 2017'. He has also been bestowed with accolades like 'Best Golden Personalities of India - 2016, 'GEM of India', 'Bharat Gaurav', 'Mahatma Gandhi Ekta Samman' and 'Bharat Excellence' for his contribution to the field of technology.
Dr. Papneja has been one of the strongest pillars of ESDS' management team since 2011. He believes in the future, his extended family of colleagues & associates, and ESDS having the ability to be a Fortune 500 technology company in his lifetime. He is a mentor to many upcoming students and a guest lecturer at many renowned technology and management colleges. He is a frequent keynote speaker, an influencer and a panel expert in IT events around the globe, and has won several awards and recognitions for his contribution as speaker in cloud conferences internationally.
Besides serving in several Fortune 100 companies as a technology leader internationally, Dr. Papneja's rich experience also includes his active participation in the Board of Technical Advisors for IBM Software Defined Environment and his contribution as a member of Cloud Standards Customer Council. Dr. Papneja has also been a reviewer of a book on Microsoft Technologies.