Feb-2018
State Excellence Award in Data Center category, from Government of Maharashtra
Managed Cloud Data Center Services Provider ESDS Software Solution Pvt Ltd has been the prestigious recipient of the State Excellence Award in Data Center category at the ongoing Magnetic Maharashtra Convergence 2018 Global Investors Summit. At the award ceremony held on Monday, February 19 at MMRDA Grounds in Mumbai, ESDS was honoured for business excellence and social responsibility demonstrated by the enterprise. Founder & CEO at ESDS Piyush Somani along with other top members of the company received the award at the hands of Honorable Chief Minister of Maharashtra Devendra Fadnavis and State Industries Minister Subhash Desai.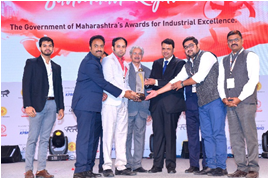 Thanking the government and the company's well-wishers, Somani said, "Magnetic Maharashtra event has been the best event attended by me till now. Maharashtra is raising its standard to a level that other states will find difficult to match. We are proud of having received the accolade on a stage where Honorable Ratan Tata was also honoured."
Founded in 2005 by first generation entrepreneur Somani, ESDS is one of India's leading Managed Data Center Service and Auto-Scalable Cloud Solution providers. This Uptime Institute certified Data Center has been empanelled by the Ministry of Communications and Information Technology, GoI. Mumbai-based ESDS hosts more than 50 Government PSU Organization & more than 270 banks, 400+ ULBs & few Smart Cities on its double patented Make-in-India Cloud technology - eNlight Cloud.
Magnetic Maharashtra is the state's first investor summit being held in Mumbai which aims at attracting investors to explore business opportunities in the state. Investment pacts worth Rs 10 lakh crore are expected to be signed at the three-day event that would help generate 3.5 million jobs in the Maharashtra. PM Modi inaugurated the event that also hosted an award ceremony for those achieving industrial excellence as well as to encourage start-ups.
For more information, press only:
Vishal Joshi | Mobile: +91 9011009700 | Email: [email protected]