Dec-2022
---
Insights into the Data Center Industry 2022
This amazing year has given a very important direction to ESDS. We have chosen to give maximum weightage to become a highly profitable organization
PIYUSH SOMANI, CHAIRMAN & MANAGING DIRECTOR, ESDS SOFTWARE SOLUTION LTD.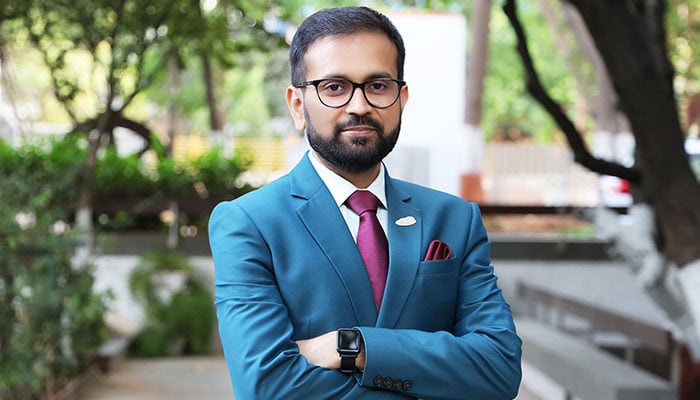 How was the year 2022 for ESDS in India??
What is more important for a business? Getting large orders or orders with high profitability? ESDS has on boarded its top 3 customers in the history of ESDS, with the highest profitability. So, that is the value of the year 2022 for us, and the good thing is that two of these customers have come to us for a large Data Center requirement. In addition, the world's largest smart city in the making has chosen to deploy eNlight 360 for its private cloud setup in Saudi Arabia, becoming one of the important success stories for ESDS.
What is your other observation for the past year?
People have certain perceptions, and there would also be your readers who would have certain perceptions. So, I ask the readers what they saw about ESDS in the media in 2022 and what perception they had about ESDS from the media? This amazing year has given a very important direction to ESDS. We have chosen to give maximum weightage to become a highly profitable organization. An organization that makes 18 to 20% PAT, at minimum. That is the focus we have got in the year 2022, which could not have happened to us before. I shall always rate year 2022 and year 2006 above every other year in the history of ESDS. Why 2006? Please search for *Entrepreneur with the Fire Within* and read my book.
What were the market challenges for you this year?
The year 2022 will be remembered by the markets for three significant incidences—first, the Russia-Ukraine war; no one anticipated a long-term war between two major economies. The second is the Indian stock market reaching a record-breaking all-time high. After the Russia-Ukraine war, the markets did see a slump, but they have bounced back and have reached their peak; that's a very good sign for the Indian economy. Finally, the meltdown of the tech sector, the American tech sector, and also the B2C companies of India, the kind of disaster that happened in the B2C companies of India which got listed. No one ever in the past had seen investors losing their principle. People who invested in the IPO of these B2C companies lost their principle as well. These were some of the most important and the ones that provided us with crucial learnings like being very real is now going to be important from 2023 onwards. You have to run a highly profitable company, and only then will you be respected in the market. Because investors, once they have lost their principle, will not trust companies bringing their IPOs until and unless they are highly profitable.
How do you want to close this year??
Like any other organization, we at ESDS look forward to ending this year "With a Big Win," as they say. Amidst all the other crucial day-to-day business, what has got us pumping at the end of the year and has thrilled us to end it on a high note is a significant BFSI opportunity. Before the end of December 2022, we hope to conclude this order that sizes equivalent to the turnover we had in FY'22. So it's an important order for us to win and we are very strongly positioned in the opportunity. There are a couple of more large orders in the pipeline, and we hope to win those orders; negotiations are on. So let's see what the New Year brings for us.?If 2022 has been so fantastic, what is there in 2023? Let us see J
What are your thoughts on the demand for Data Center investments within India?
The Data Center market in India just six years back was only 2000cr rupees. We had merely a 100MW capacity six years back. Today, India has touched 1GW of Data Center Capacity, and very soon, this will jump to 3GW, Yes, you read it right, its going to be 3000 MegaWatt by 2027. Do you know where exactly it is going to be compared to other economies? It is expected to go beyond where America is today. In just five years' time, India is going to surpass the capacity of America. America today stands at 2.7 GW, and India would surpass that. This kind of growth is happening in Data Center markets in India. From 2,000Cr 6 years back to 20,000 Cr now to 50,000Cr in 5 to 6 years time. This is the kind of growth that is happening for Data Centers in India. This is a country where you have to be very strong and be very vigilant when you are making investments here. Some smart DC companies would give you exorbitant returns in the next couple of years' time.
How are you attracting global clients for your services?
ESDS is amongst very few Indian Cloud and Data Center companies that have started expanding business outside India with its portfolio of Cloud solutions and Managed services. We have won orders from large banks in the Middle East; one of the world's top smart city projects is running on our private cloud platform; they are going to use our flagship product, eNlight 360. Apart from this top 5 banks in Bahrain have started using our Software services as well as our managed services. We are entering the continent of Africa also, the entire education, health-tech that is happening in Africa we are going to play a crucial role along with some of our partners over there. Our major partners functioning in Africa and the Middle East region have started getting large orders for ESDS, and we have started delivering our unique and path-breaking products like eNlight 360, IPAS, VTMScan, and a couple of other software services in those markets.
What trends do you foresee in 2023 in the Data Center industry in India?
Data Center Industry in India in the year 2022 grew at more than 25% CAGR, but in 2023 I am expecting it to accelerate further as the launch events of major multinational Data Center companies are expected out of Navi Mumbai, Noida, Hyderabad, and Bengaluru. The requirement that MSEDCL has got in Navi Mumbai itself is 3 GW. So MSEDCL, TATA Power, Adani Power, and BEST have received consolidated requirements of 3GW in Mumbai and majorly in Navi Mumbai. That is the kind of scale-up that is happening in Navi Mumbai. This gives us a clear vision of the exorbitant rate by which the Data Center Industry is expected to grow across the country and majorly in these four metro cities in India.