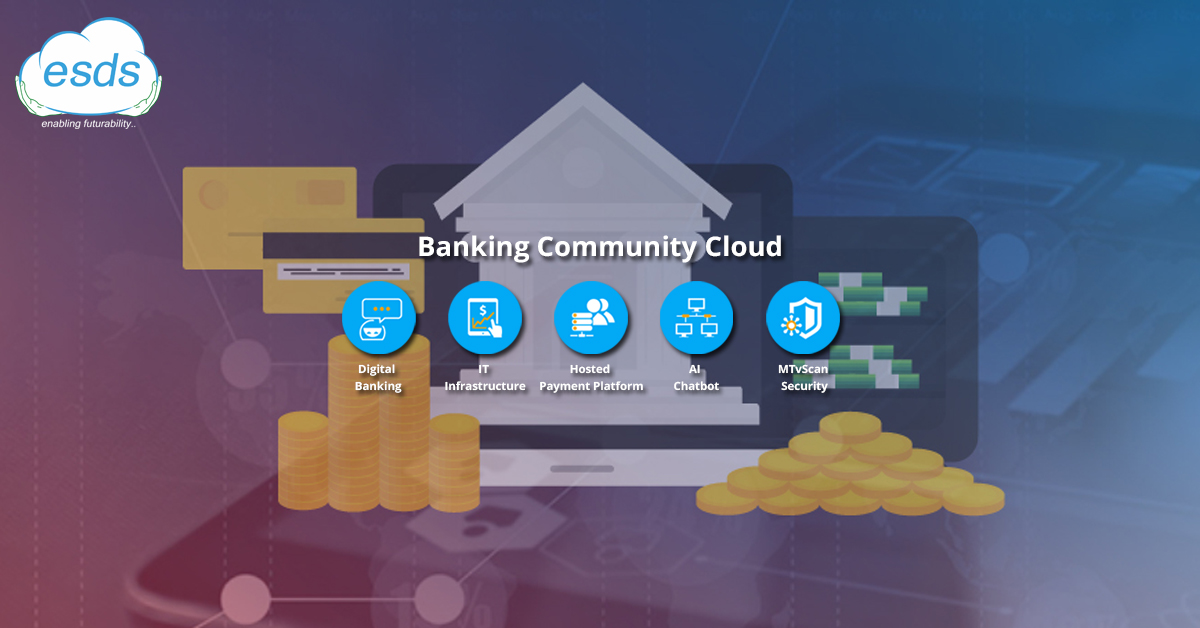 India's own Banking Community Cloud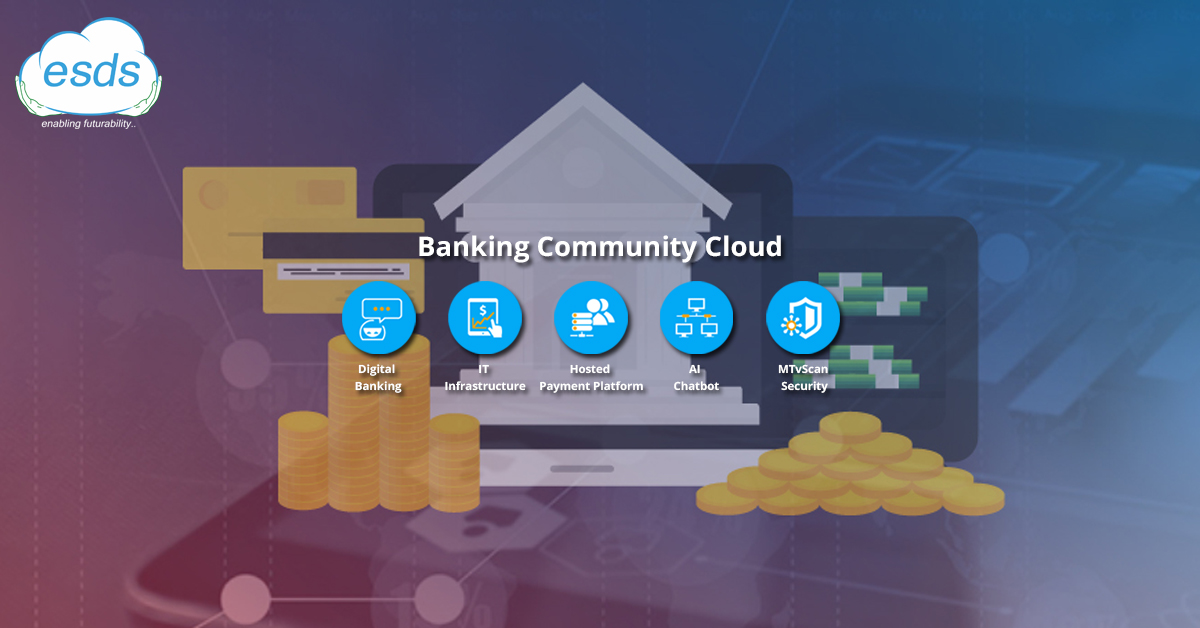 Indian Banks are experiencing a colossal change in their banking processes due to rapid evolution of technology in their vertical. Banks of all sizes in India have understood the importance of cloud based banking services and how these services can aid their issues. Earlier banks had to contact an IT personnel to provide additional applications and compute power which was very time consuming and would delay the decision making process. Hence, now-a-days IT is no longer seen as a complex scenario and the banks have started recognizing the opportunity and scope in cloud computing services.
ESDS introduced the world with the concept of Community Cloud which includes common concerns of a particular industry like security, compliance and service norms. The World's First Banking Community Cloud is presented exclusively to the financial sector by ESDS which comprises of all the cloud based services for the industry. Indian banks have taken it up a notch to enter the IT field and adopt Cloud Computing and benefit from its matched services. SaaS is supported as a part of Banking Community Cloud which provides ready to use Core Banking Solutions, Payment Solutions, Mobile Banking and many more services. With a mix of PaaS, we have various Independent Software Vendors who cater to their own banking customers where they deploy the same software and continuously update through the management portal offered by us. ESDS along with its widespread network of partners has formed India's first Application Service Providers (ASP) model to offer solutions to banks for their each and every kind of need.
ESDS has expertise in working with over 280+ banks which includes private, PSUs, district co-operatives, apex banks, scheduled and other financial institutions and organizations. The Banking Community Cloud has been developed by keeping in mind the smallest of concerns raised by banks. The three main issues which are generally faced by banks are; security of their data, complying with industry standards and finally having control of their data and applications. When banks choose to adopt the community cloud, they receive benefits like: secured services, efficient utilization of resources, flexibility in business and a reduction in total cost of ownership because they are relieved of purchasing any physical hardware or software licenses. We provide everything from basic IT infrastructure to hosted payment platform and digital banking services to optimum security for your bank's website through MTvScan. Banks who wish to migrate to our Community Cloud receive end-to-end support for infrastructure management and colocations services.
ESDS has a wide range of Banking Community Cloud services such as:
Core Banking Solution (CBS)
ATM switching
Document Management System (DMS services)
Electronic Know Your Customer (EKYC)
Central Know Your Customer (CKYC)
Anti-Money Laundering (AML)
Asset Liability Management (ALM)
Applications in Insurance segment
Adding to this the managed and supported services are:
Immediate Payment Service (IMPS)
Unified Payments Interface (UPI)
Bharat Bill Payment System (BBPS)
Financial Inclusion services
Aadhar Bill Payment Service (ABPS)
Application and hosting of CTS infrastructure
Get full support on Automated Clearing House, National Payments Corporation of India, Cheque Truncation System. The Cheque clearing house interface generally costs a lot of expense to be set up on DC & DR site, we at ESDS can offer CHI Cloud hosting under sub membership at a relative lower cost.
Connectivity
We offer Connectivity deployment with detailed reporting and maintenance. Other services are Multiprotocol Label Switching, ILN, Internet Protocol Security, Virtual private network, uptime monitoring, Link Management, Call lock with ISP.
DC – DR Hosting Services
Experience Exuberant Core Banking Service hosting, replication of DC to DR, and as per RBI guidelines compliances, eNlight cloud includes Uptime Certified Tier III datacenter, PCI DSS, ISO 27001:2013, ISO 20000-1:2011, ISO 22301:2012. ESDS also provides Digital Rights Management Tool.
EKYC, CKYC, DMS, AML & ALM
Managing documents more efficiently has become one the main objectives across banks, ESDS' eNlight helps you identify and verify the identity of your customers on E-Know Your Customer, Central KYC along with Anti-Money Laundering.
Facility Management Services and Managed Services
We offer management of IT infrastructure of banks which includes the branch offices, hardware components such as router, switches. ESDS looks after management of DC, DR connectivity, Operating System, Data Base System, and other IT infrastructure maintenance. Various support services like Annual Maintenance Contract.
Datacenter Infrastructure Management
With eMagic, banks can enjoy availability of optimized Data Center Operations, Centralized Management, and easy configuration of network components also known as DCIM.
All these services are backed with ESDS' 24×7 exuberant support, 100% uptime guarantee and accreditations from STQC, PCI-DSS and ISO.
Advantages of coming in association with ESDS
A unified bill payment service which can be hosted on eNlight cloud

Our Banking Community Cloud is integrated with eNlight cloud's portal through Single Sign On which makes management much easier for IT heads and CIOs.

Per branch billing service is offered to the banks where the billing is started when a particular branch goes live

Virtualized Infrastructure instead of dedicated servers

Bundle of DC & DR package

Added benefits of Capex and Opex
Banks turn to ESDS when they need state-of-the-art data center facilities supported by top=level project engineers where we become a one-stop-shop for these customers. We also provide turnkey data center facility and can design and install a data center with full operational capacity as per the clients business requirement.

Latest posts by Shubham Kale
(see all)