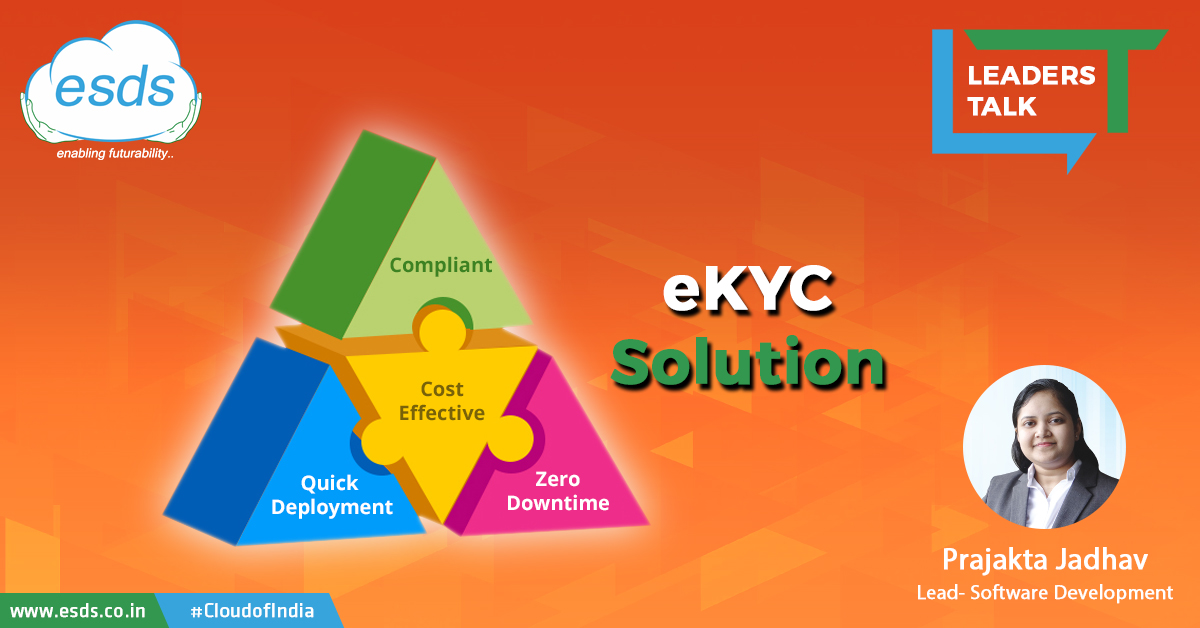 Simplified Due Diligence for All with e-KYC
Get rid of the onerous manual KYC process
We have all faced a lot of issues and wasted a lot of energy, time and again, to complete the formalities involved in opening a bank account, buying mutual funds, applying for insurance, etc. Sometimes we don't have the right documents, other times we forget to get enough photocopies of all the required documents. The number of documents that are needed while opening a bank account or procuring a financial product is a lot, which results in customers spending a lot of time and money on the same. To avoid all these complications and making Know Your Customer (KYC) experience more pleasant, eKYC is highly beneficial.
ESDS' electronic Know Your Customer (eKYC) is a real-time solution that conducts instant electronic KYC and helps financial institutes take advantage of the AADHAR based KYC services provided by Unique Identification Authority of India (UIDAI). It also assists organisations to go through the prescribed Authentication User Agency (AUA) and KYC User Agency (KUA) registration processes.
eKYC is for every organisation
eKYC is not limited to bank account opening. It can facilitate new sim card activation, new trading/mutual fund account opening, e-wallet providers and every financial institute requiring due diligence. eKYC is playing a vital role in the success of government schemes such as Pradhan Mantri MUDRA Yojana (PMMY), Udyami Mitra and others.
What is eKYC?
eKYC or Electronic Know Your Customer is the electronic process of filing documents that relate to a customer's identification and enables an entity to know the customer. The Unique Identification Authority of India (UIDAI) offers eKYC services to UIDAI partner organizations.
eKYC helps fetch all the necessary details like—full name, address, mobile number, gender, date of birth and photograph, electronically in a secure and transparent manner.
Benefits of eKYC
Allowing people to open bank accounts/invest in mutual funds in an instant, paperless, presence-less manner.
Forgery is not possible as customers need not submit multiple copies of all their documents, and this also reduces the chances of fraud and theft. Moreover, since the KYC data is released to service providers only upon the consent of the customer, his/her privacy is protected at all times.
In keeping with the Information Technology Act, 2000, eKYC documents have the same legal weight as paper documents. eKYC has already been recognized as a valid document for every financial service offered under the PML (Prevention of Money Laundering) Rules by the Ministry of Finance.
eKYC offers benefits to service providers as well as customers. Eliminating the requirement of photo copies and careful handling of documents. Since the whole process is centralized and the information is stored digitally, service providers and customers can both save money on paper costs. Also, all the information is stored electronically and is machine readable and can be used by service providers for audit, service, etc. The lack of human intervention in the process ensures that the process is error-free and a low-cost affair.
It is completely automated online. KYC data can be transferred in real-time without the need for any manual intervention. The paper-based KYC process can take days up to weeks to get verified, but the eKYC process takes just a few minutes to verify and issue. eKYC is much quicker and provides immediate results.
Need assistance in implementing eKYC services for your organization?
ESDS has already helped several financial institutes with the integration of eKYC.
ESDS eKYC Software stack is Highly Configurable, Compliance & Audit Ready, Highly Scalable, Paperless & Instantaneous and Cost-effective. It also enables Financial Inclusion, Workflow Capability and Fraud Detection besides having Secure In-house Servers.
Talk to our experts for more information on integration of eKYC for your organisation.
Read More https://www.esds.co.in/hosted-payment-platform-services
Get in Touch: https://www.esds.co.in/contactus


Latest posts by Prajakta Jadhav
(see all)