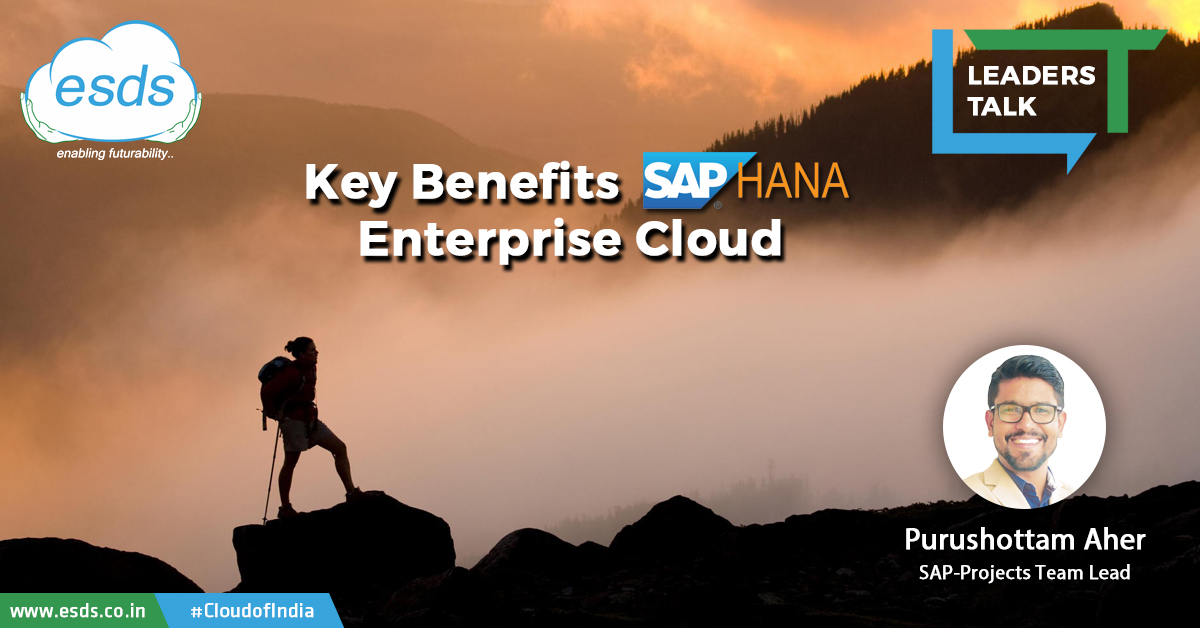 Key benefits SAP HANA Enterprise Cloud & ESDS' unique offerings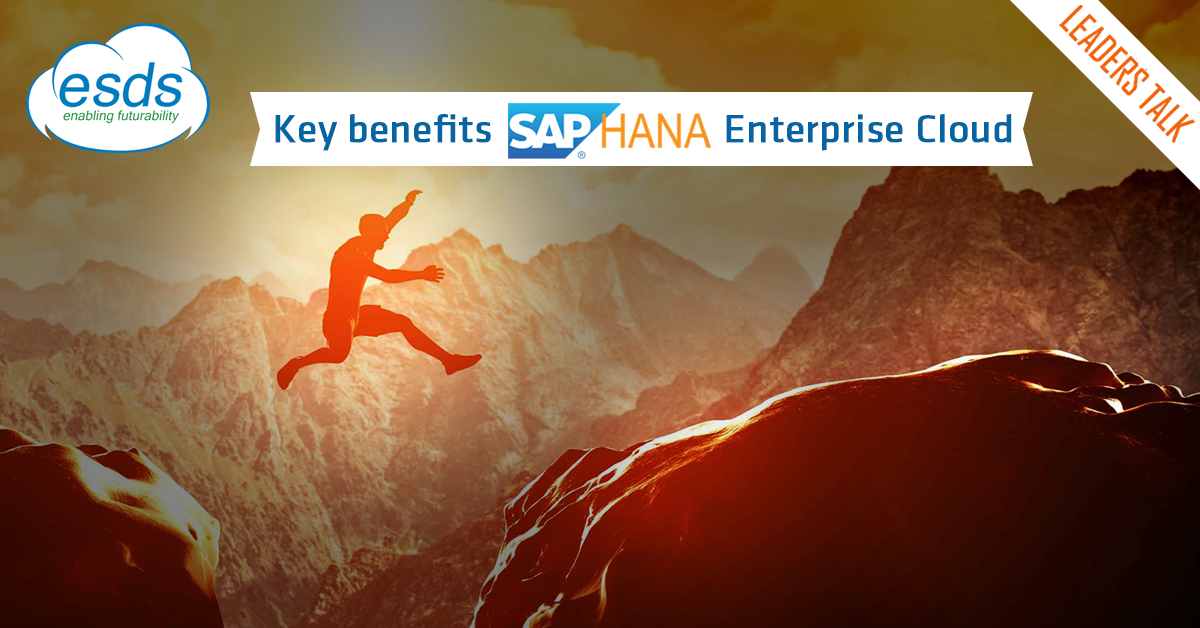 SAP HANA Enterprise Cloud
The ESDS SAP HANA Enterprise Cloud (HEC) provides an Infrastructure-as-a-Service along with fully managed services which includes hosting of all SAP HANA and Non-HANA Applications (SAP ERP, CRM, SAP BW and any in-house developed or third party applications) to provide auto scalable solutions. SAP allows their partners and customers to deploy their own SAP applications into HEC or deploy SAP software on subscription-based model and we at ESDS provide solutions and services to take it one notch up to create that 'competitive edge' for our customers and partners.
The infrastructure is provided as a Private Cloud so it can support resources scaling feature whenever required on need basis. It helps real-time computing based on SAP HANA Platform, which is an add-on advantage of SAP because no other vendor has the experience of managing Infrastructure, SAP HANA Database, SAP Business Application and its mission critical support. So, in SAP HANA Enterprise Cloud Platform the SAP Team completely takes care of everything on their own and becomes a single point of contact for managing Infrastructure, Managed Services and Application deployment/management.
It helps to make the deployment simpler because of choices to deploy SAP faster and without any disruption.
Below are the key benefits of SAP HEC when partnered with ESDS:
Auto scale-up and scale-out architectures
Faster Deployment
Continuous Innovation Cycle
Scalability with Low Risk
Free-up IT Resources
Fully Managed Support
All of the above points are the foundation of the ESDS SAP HANA Enterprise Cloud offering.
A high level architecture diagram: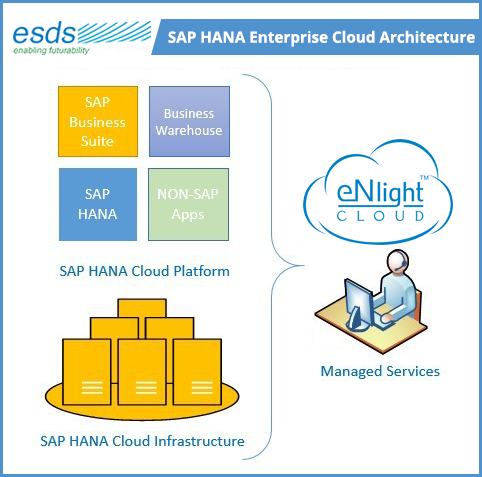 Faster Deployment
SAP HEC provides a fully scalable and secure cloud platform so that resources can be increased whenever required, with all support for infrastructure, application and deployment which reduces disruption during implementation. The SAP HANA Enterprise Cloud also gives built-in operations and management capabilities that enables faster implementation time.
Continuous Innovation Cycle
SAP is constantly evolving and innovating its products and services to fulfill demands of the global market and to stay competitive.
Scalability with Low Risk
The SAP HEC is all about scalable cloud platform. It offers elasticity, automation and comfort of administration which reduces risk of deployment and helps avoid capital cost as well which reduces financial risk
Free-up IT Resources
SAP HEC also helps reduce resources which are required to manage Infrastructure, Application and Database because SAP itself provides Managed Services which covers Infrastructure, Application and Database related activities. Thus, customers need not worry about IT staff or other human resources for managing SAP. This saves huge costs of the business.
Fully Managed Support
The SAP HEC provides managed services including Infrastructure Management, Monitoring Operating System Support, Updates and Upgrade, Backup/Restore and Recovery, and SAP Application and Database Management and Monitoring.
How ESDS is the best choice for your SAP/SAP HANA environment
ESDS is certified in SAP Infrastructure, SAP Cloud Services and SAP Hana Operations Services. It is the first Indian company to collaborate with SUSE, offering an extensive cloud computing environment, eNlight, which performs real time scaling for business-critical applications and workloads of SAP and Non SAP applications. With over 60 customers and 250+ SAP HANA instances, ESDS is hosting environments for enterprise organisations like Symphony Ltd, Embassy Group, Energy Efficiency Services Limited, Bajaj Electronics, Tata Projects Ltd, Shilpa Medicare, Fujitsu and others.
Besides multi-cloud DC and DR services, ESDS' specialty lies in providing customers with fully managed services and Basis support emerging as a converging single point of support. Its bouquet of offerings also include infrastructure management (compute, storage, network, firewall); OS & DB management; replication management; monitoring & DR drill; advance monitoring with eMagic DCIM; phone, chat and ticket support; scalability with infrastructure on-demand; 99.95% Uptime; redundancy at all levels and high availability.
Adhering to all relevant compliances, ESDS' SAP operations enable enterprises to run their systems effectively and efficiently. SAP-APJ (SAP's Asia Pacific & Japan entity) also enlists ESDS on its website for S/4 HANA Managed Enterprise Hosting Services on US patented eNlight Cloud Platform.
So, make the move to SAP S/4 HANA on ESDS' eNlight cloud and unleash capabilities of your Enterprise SAP S/4 HANA, as you collaborate with SAP HANA experts to do everything else. Build, deploy, host, manage, monitor your HANA environment with expertise and leverage the benefits of eNlight cloud for an auto scalable infrastructure and serious cost control with pay-per-use billing model, as you transform to HANA platform. Literally, there is no better SAP and SAP HANA provider other than ESDS.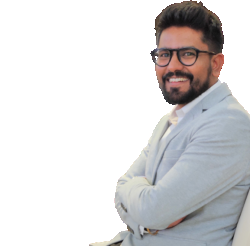 Latest posts by Purushottam Aher
(see all)