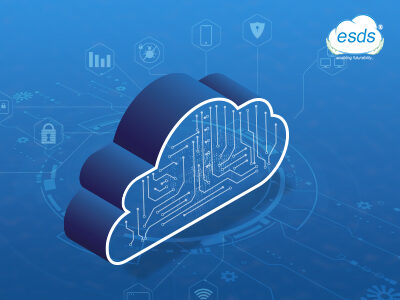 What is Community Cloud? Make the Most Out of ESDS Community Cloud!
A study about cloud computing infers that cloud computing may grow by more than $390 billion by 2028. With the growing cloud market, the community cloud market is expected to develop at a CAGR of 31.29% by 2026, reaching a market size of US$14.806 billion.
Cloud computing has grown dramatically in the coming few years, especially since the outbreak of the covid-19 pandemic. Many businesses shifted to the cloud as automation and being online was the only way to sustain the industry.
Cloud computing has boomed in various sectors like enterprise, government, healthcare, BFSI, etc.
With the variety of deployment models offered by the cloud, community cloud computing is preferred by many industries for the many benefits it delivers. The community cloud has transformed into a constantly evolving landscape for cloud deployment.
Let us dive into community cloud details!
What Is Community Cloud
A community cloud is a type of private cloud, which offers dedicated infrastructure for organizations from a specific community with common concerns like security, compliance, jurisdiction, etc. It is an ideal solution in terms of cost-effectiveness, privacy, and security.
A community cloud combines the features and benefits of different cloud types into a single solution customized to a specific industry (Banks, insurance, government, enterprise, etc.). It is also appropriate for organizations working on a similar project, research topic, or application and requires identical resources.
A community cloud is not open to the public; it is only accessible to a selected group of people. It is adaptable as it can be designed and managed by one or all members of an organization and a third-party provider.
Types of Community Cloud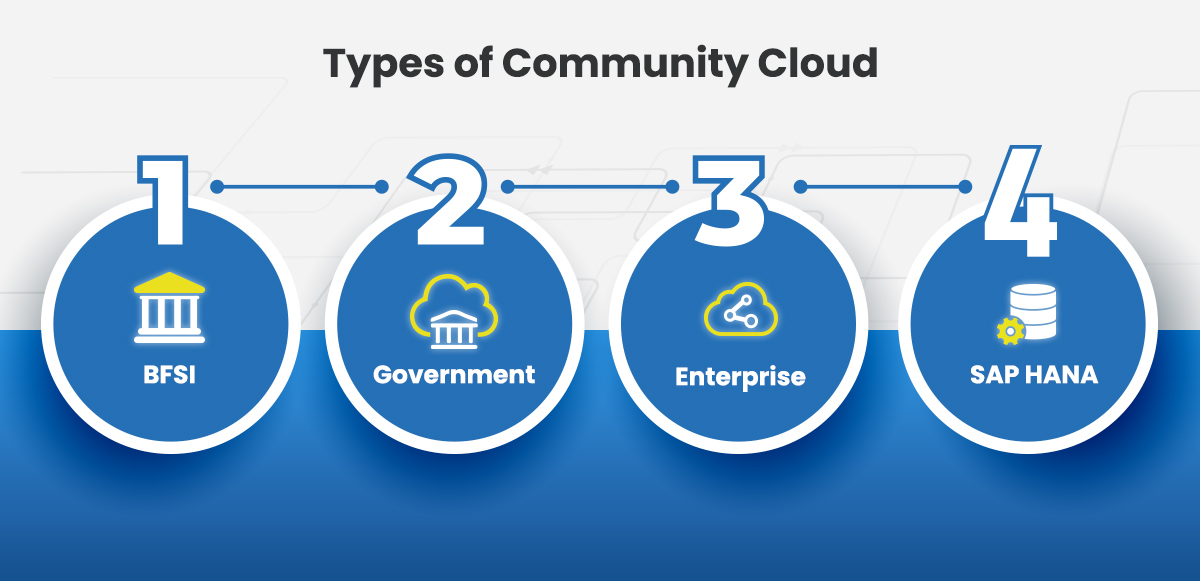 BFSI community cloud operates specifically for banking, insurance, and financial industries by streamlining the entire workflow of the organization.
The community cloud has changed the way banks, insurance, and financial sectors work. It has brought technological transformation in these sectors to a great degree.
Many government agencies are now using cloud computing for work automation. A community cloud platform dedicated to government provides the highest flexibility and scalability required for all government organizations.
Through a stable computing environment and integration of technologies, the enterprise community cloud platform enables businesses to do more. Enterprises aim to fulfill their goals effectively and progressively with the help of the community cloud.
SAP HANA Community Cloud accelerates business operations with its advanced, and powerful technologies. Businesses of all sizes struggle to maintain the control and synchronization required to operate smoothly. Organizations can run the world's leading enterprise resource management software – SAP – on SAP HANA Community Cloud and transform their processes through superior performance.
Some Community Cloud Examples
Community cloud for the healthcare industry
The Healthcare industry requires secure storage for the transmission of sensitive patient data. Hospitals and laboratories frequently share patient records. They could do this easily using a compliant community cloud. It's also appropriate for pharmaceutical businesses that share data internationally. Community cloud adoption is a no-brainer, given the continuing global collaborative medical research during the COVID-19 pandemic.
Community cloud for government
Government community clouds are designed primarily for government agencies. Constant communication and data transactions between many departments are required for government activities and services. They all run on the same infrastructure, and resources and services are shared amongst them.
Community cloud for the education sector
To connect administrators, instructors, students, and parents community cloud is used by various educational institutes. Community cloud for education includes expenditures, licensing management, and the purchase and maintenance of hardware and software. Not every university can afford a private cloud, a community cloud is an option that is being investigated in several countries.
Pros of Community Cloud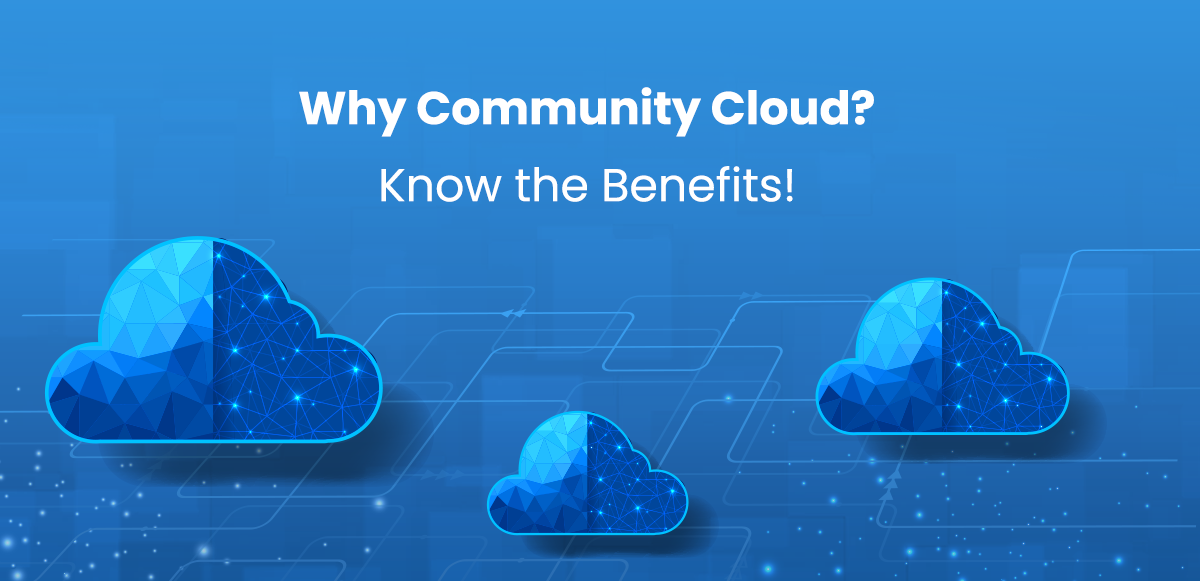 Data security and compliance with relevant regulatory authorities are two concerns when businesses use cloud computing. The community cloud offers the highest security as applications for communities are hosted on the private cloud following all the compliances.
Community cloud enables organizations to:
1. Restrict users' access to certain datasets and prevent them from altering or downloading them.
2. Restrict who has access to sensitive data.
3. Restrict sharing sensitive data that is unique to a business.
Availability and Reliability
Community cloud protects your data by replicating data and applications in numerous secure places to protect them from unexpected events.
You can rely on the community cloud as it ensures that data is available whenever you need it.
Adaptability and Resource Scalability
Community cloud ensures that each of its users is compatible, allowing them to change properties to suit their specific needs. It enables businesses to communicate with their remote workers and support the usage of devices, such as smartphones and tablets. As a result, this form of cloud service is more adaptable to the needs of its consumers.
A community cloud is scalable in terms of physical resources, services, and personnel. It accounts for demand growth, and all you have to do now is expand the user base.
No Overheads for IT Department
Community cloud embeds data, applications, and everything in a single cloud environment reducing the overheads of IT departments. This ease of use eliminates the need for tenants to hire additional personnel to manage the system.
In a community cloud, there are no conflicts over convenience or control. Because all tenants share and own the infrastructure and make choices together, democracy is a key feature of the community cloud. This configuration allows businesses to keep their data local to them while avoiding the complications of a private cloud.
Community Cloud Architecture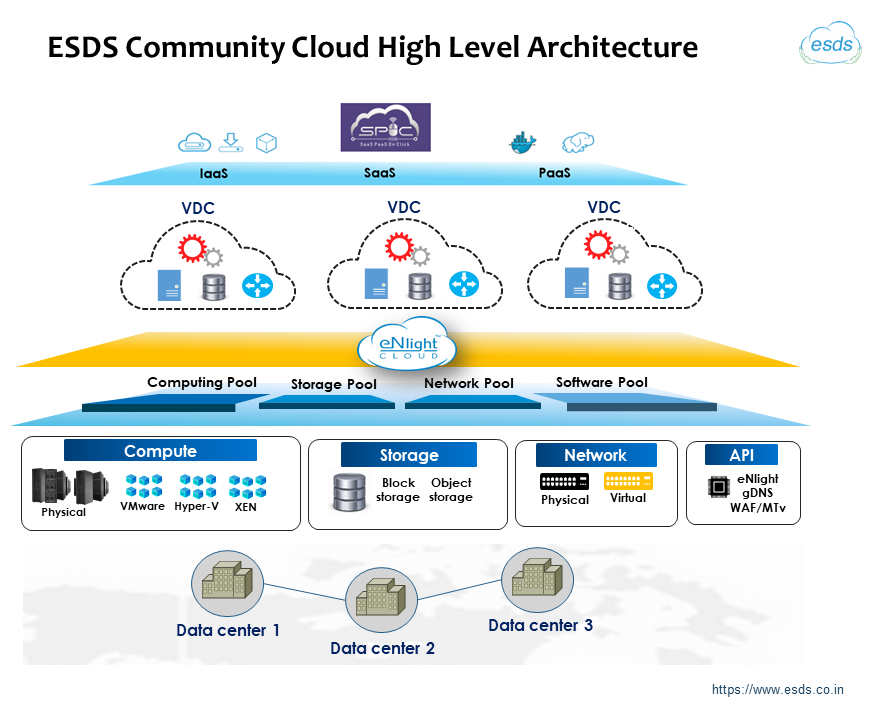 Community Cloud Challenges
The community cloud, like all other cloud deployment models, has several challenges.
A community cloud, which is shared among numerous businesses, provides more security and privacy than a public cloud. This means that dealing with security issues and establishing service-level agreements (SLAs) with other parties could be difficult.
Although less expensive than a private cloud, it is more expensive than a public cloud and, depending on where it is deployed, may require in-house cloud professionals.
Because resources like storage and bandwidth are limited and shared among numerous users, a community cloud's performance may suffer.
Things to Consider Before Adopting a Community Cloud Approach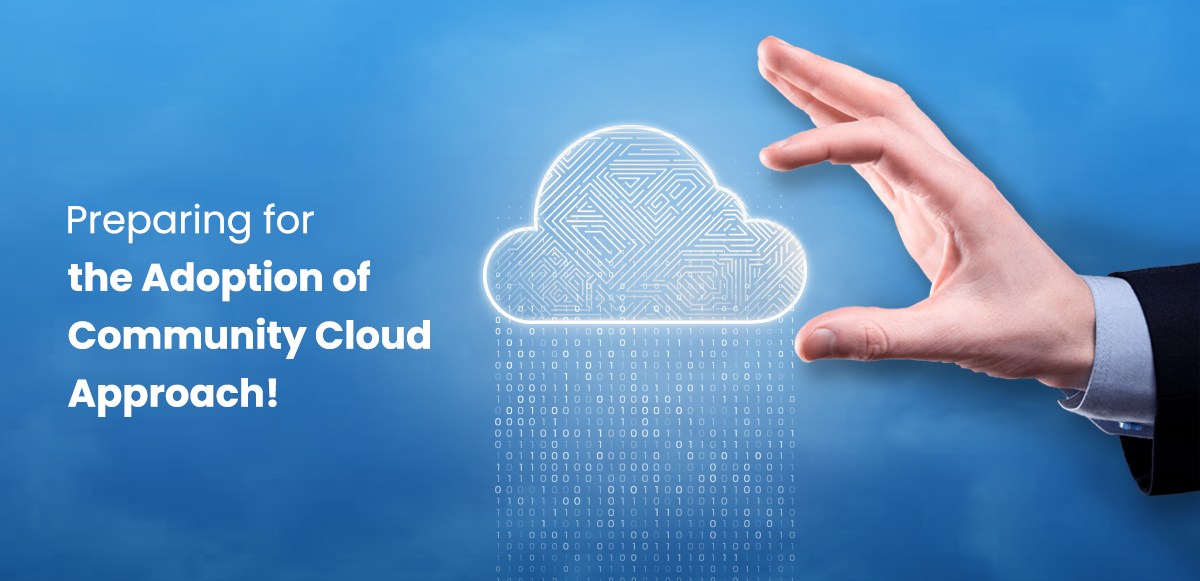 Before moving on to this model, there are a few points you need to clarify:
Payment of maintenance and capital costs.
Service Level Agreements (SLA)
How do tenants address security issues and laws when exchanging data?
Information on service outages.
Final Word!
A community cloud is a whole solution for organizations with similar concerns like security, jurisdiction, and compliance. It can even be used to set the stage for industry-based developments. When it comes to cloud infrastructure migration, private and public clouds are not the only choices; community clouds can also work.
How ready are you to use Community Cloud services to develop your business? Let us know!
Latest posts by Prajakta Marathe
(see all)