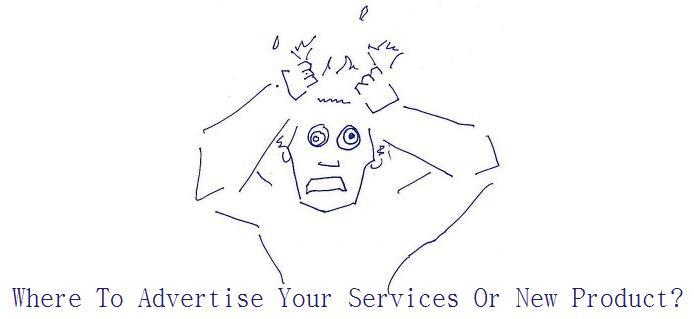 Where To Advertise Your Services Or New Product?
When creating a new product or hosting service, to come face to face with a low rate of visitation or even to boost profits, you've probably considered to announce the hosting company, correct? Me too. And the question of which medium to use must have crossed in your mind, as happened several times in my.
Despite having heard good and bad reviews about the various advertising services, decide to make a comparison between the most popular services and resources to be able to tell you what worked better for me. Here is how I intend to do:
What will I advertise?
I need to announce the test in order to measure conversions (people who actually hired my services). Keep in mind that the keywords are practically the same as well as my audience.
PS: The ad is referring to normal products, not promotional. The interesting thing is that, I intend to announce the same texts (if possible) in all media. Because the aim is to test the visibility, cost and conversion of ads in each half.
How much will I spend?
I thought of $ 00.00 to $ 100.00 per service. However, this value can vary since some services require a deposit or other values using different payment methods.
Where Will I Advertise?
Specific Programs
Adwords
Yahoo Sponsored Links
MSN Ads (even if it is cheaper ad)
Social Media
Twitter
Facebook
LinkedIn
Niche oriented Web Sites
Blogs (technology area or with large visitation)
Forums (technology area or with large visitation)
Sponsoring sites
Other
E-mail marketing – the mailing lists
Newspapers – online and offline
Magazines – online and offline
Other means were not inserted by the impossibility to trace the origin of the visit / conversion.
How will I track?
Each medium will have its own link Analytics or whmcs – that will do me a favor and track visits and conversions.
What will be in the report?
I want to do a weekly diary
How can you help me?
Indicating whether or not recommending any means
Sending coupons to advertise (remember that I already have Adwords account – then that coupon for new accounts not worth)
Offering space for me to advertise on your website / blog / forum / etc
Sending "money" – I can think of a way to compensate (advertising, consulting, development, etc).
Sharing your experience with some means
When the result comes out?
I would like to test ads for 30 days in each medium, it is logical that can be done simultaneously, but not monetarily – unless some generous soul help me. If you cannot do all the means in the range of those 30 days, I'll try to group them by category and launch at the end of each reporting period.
And you've already announced your dedicated servers services somewhere? Gave the desired return? Where you announced?