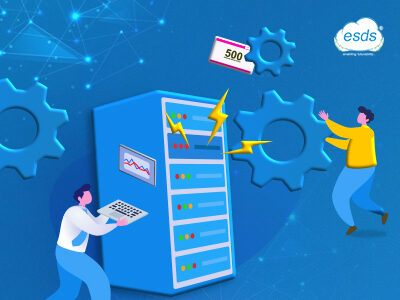 What are the Types of Disaster Recovery?
Documents, files, servers, and apps are essential to the daily operations of businesses. When sensitive data or a critical system is lost or goes offline, it can significantly affect a business, resulting in financial losses, reputational damage, and even legal liability.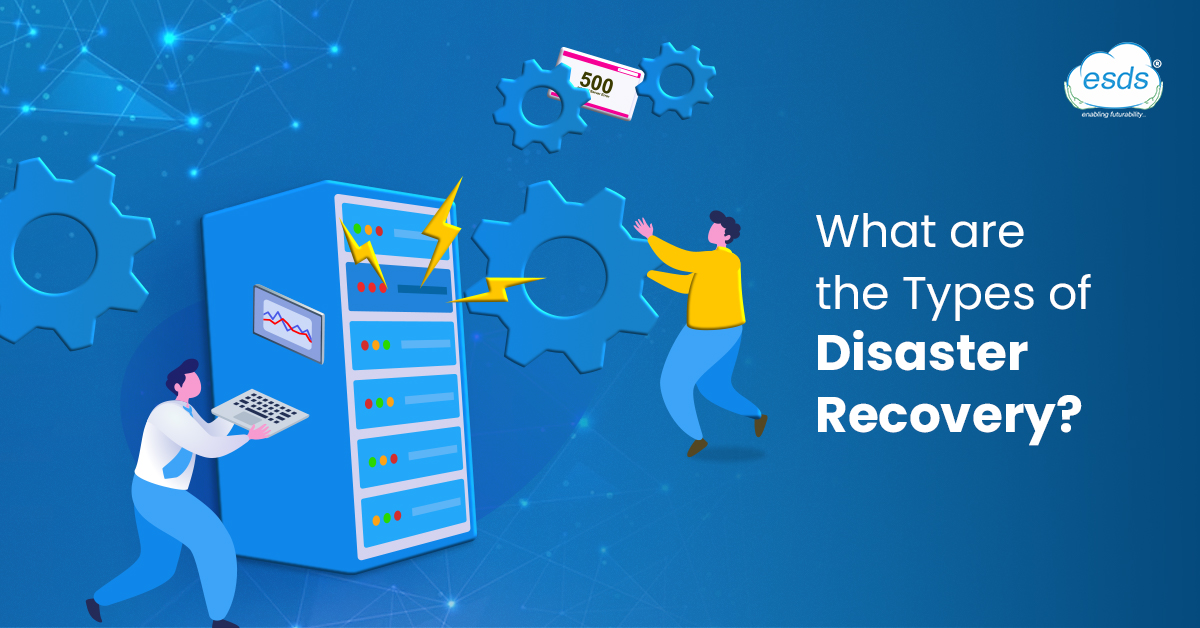 A ransomware attack causes 16.2 days of downtime on average. And, I bet no business can afford that, right?
A disaster is an unanticipated problem that can impede, interrupt, or destroy information technology systems. For example, an earthquake or other natural calamity, a technological malfunction or equipment failure, human error, or an attack by malicious parties, either inside or outside the organization, could all fall under this category.
The cost of disaster events can be substantial. For example, according to the Uptime Institute's Annual Outage Analysis report, 40% of company outages or service interruptions cost between $100,000 and $1 million, with approximately 17% costing more than $1 million. Likewise, a data breach can be costly; the average cost in 2020 was $3.86 million, according to IBM and the Ponemon Institute's 2020 Cost of a Data Breach Report.
To comply with legislation, many firms must develop and implement disaster recovery, business continuity, and data security strategies. This is especially critical for financial, healthcare, manufacturing, and government businesses. Failure to implement DR protocols can result in legal or regulatory consequences, so understanding how to meet resiliency standards is critical.
Here are the types of Disaster Recovery
IT and business leaders must decide how to implement their DR plan most effectively after selecting a DR location and considering DR levels. The IT environment and the technologies the company chooses to support its DR plan will determine this.
Depending on the IT assets and infrastructure that need to be protected, as well as the backup and recovery strategy chosen by the organization, different types of DR may be necessary. Furthermore, depending on the size and scope of the organization, particular DR plans, and implementation teams may be tailored to specific divisions, such as data centers or networking.
Major DR Types include: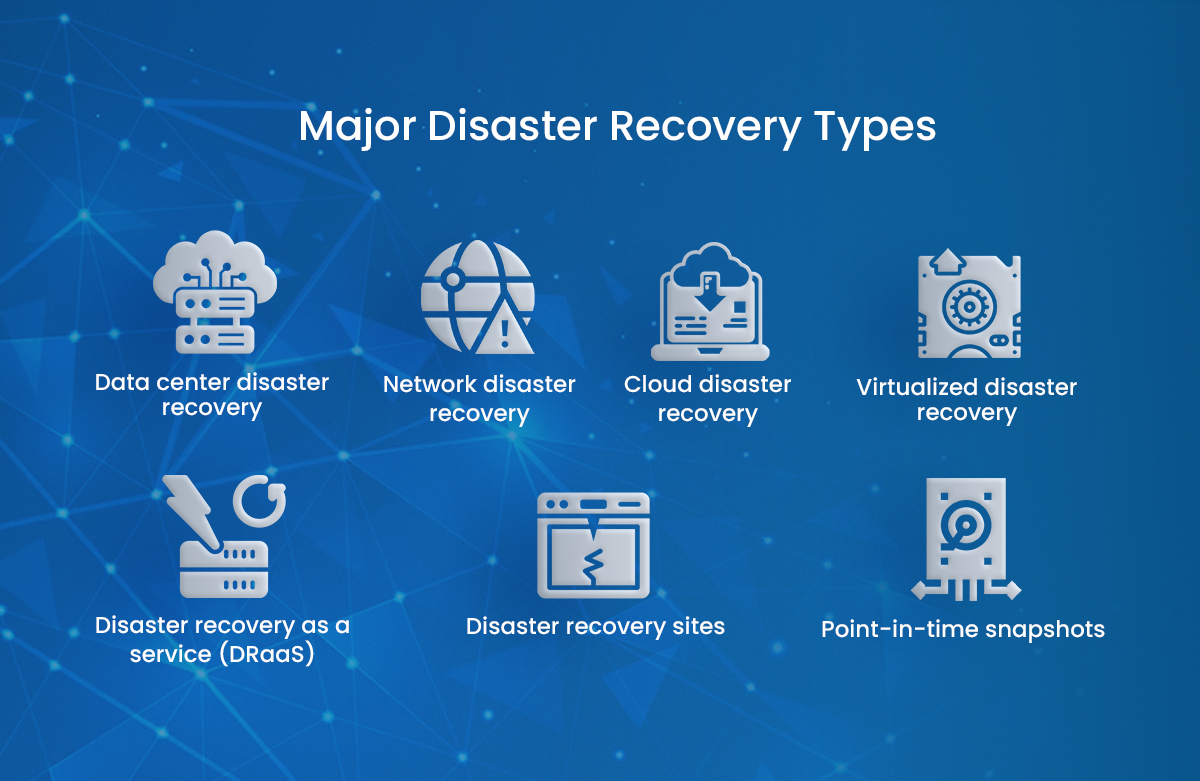 Data center disaster recovery
Organizations with their own data centers must have a DR strategy that considers both the physical structure and the entire IT infrastructure within the data center. For example, many backup plans include a failover site at a secondary data center or colocation facility. Leaders in IT and business should also document various facility-related components, such as power systems, heating and cooling, fire safety, and physical security, and establish backup plans.
Network disaster recovery
During the crisis, network connectivity is crucial for access to applications, data exchange, and internal and external communication. As a result, a network DR strategy must include a strategy for restoring network services, particularly concerning access to backup sites and data.
Virtualized disaster recovery
By enabling enterprises to replicate workloads in a different location or the cloud, virtualization supports DR. Flexibility, ease of installation, efficiency, and speed are some advantages of virtual DR. Smaller IT footprints, frequent replication, and quick failover are all advantages of virtualized workloads. In addition, virtual backup and DR are products offered by several data protection companies like ESDS.
Because of the broad acceptance of cloud services, enterprises that previously needed an alternate location for DR can now host it in the cloud. Cloud DR goes beyond mere cloud backup. In the case of a disruption, an IT team must configure automatic failover of workloads to a public cloud platform.
Disaster recovery as a service (DRaaS)
The commercially accessible form of cloud DR is known as DRaaS. A third party like ESDS replicates and hosts an organization's physical and virtual servers in DRaaS. When a crisis occurs, the provider assumes responsibility for implementing the DR plan based on a service-level agreement.
These are sites where corporations can temporarily store backups of data, systems, and other technology infrastructure following a disaster.
Snapshots, also known as point-in-time copies, are copies of data, files, or even an entire database at a single point in time. Snapshots can restore data if the copy is kept in an unaffected area. However, some data loss may occur depending on when the snapshot was taken.
To Summarize
Given that catastrophe recovery extends outside IT, numerous disaster recovery providers exist. Some vendors sell backup and disaster recovery solutions, while others, such as ESDS, provide fully managed or hosted disaster recovery services and backup and disaster recovery tools. In addition, because disaster recovery includes risk management, ESDS offers additional security capabilities like emergency planning and incident response.
Data protection and backup systems, infrastructure-as-a-service (IaaS) solutions, and add-ons from colocation and data center providers are all instances of DRaaS.
Learn more about Disaster Recovery as a Service in our comprehensive guide (DRaaS)
Latest posts by Prajakta Marathe
(see all)