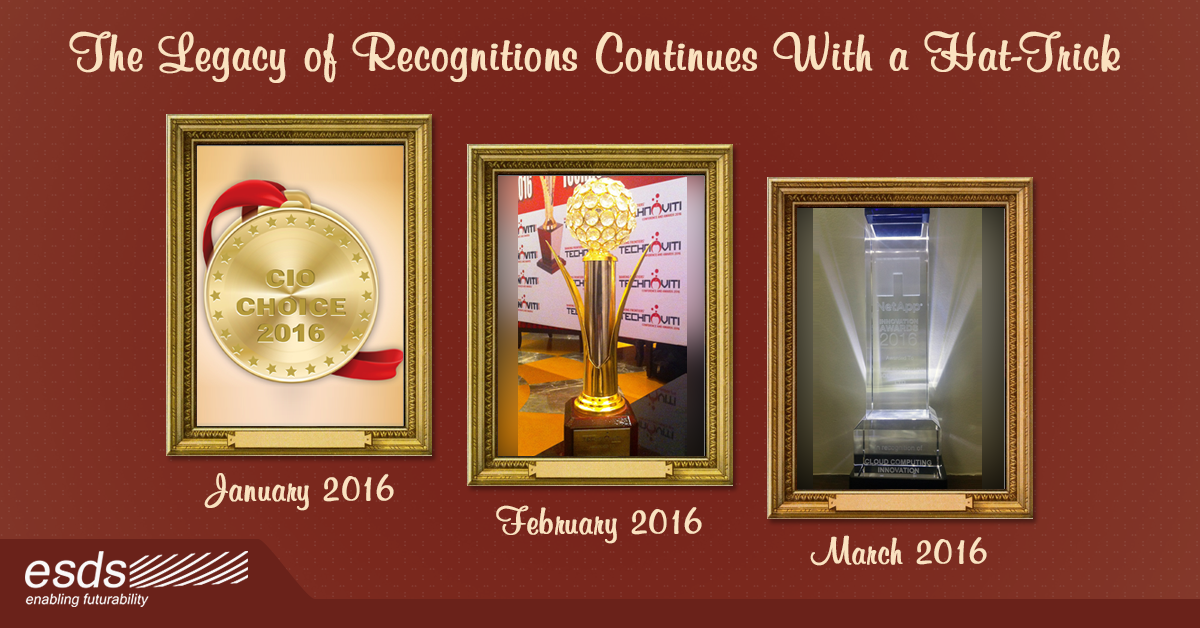 The Legacy of 'eNlight' recognition continues with a Hat Trick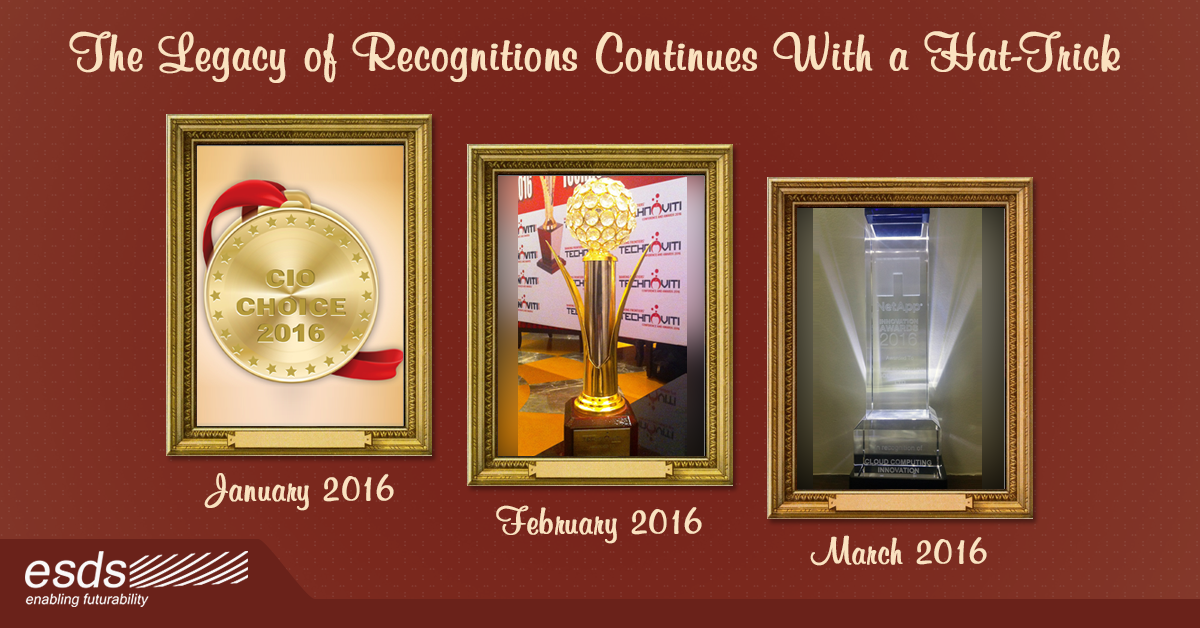 The Legacy of 'eNlight' recognition continues with a Hat Trick
With the advent of 2016 new possibilities and prospects are going to unfold. However ESDS with an innovative range of disruptive Cloud products has bagged a set of three set of recognition, namely: the CIO choice award, Technoviti and Netapp cloud innovation award with the start of this New Year. While this is just the icing on the cake, the cherry on the cake is yet to come.
ESDS as a company has demonstrated excellence by continuously focusing on innovation, translating customer insights in to strong product lines and showcasing a strong, clear road map strategy. Such initiatives enable companies to capture significant market and in the process generate immense visibility among their customers.
ESDS, in addition to being one of the leading Datacenter services and cloud solutions provider, has experienced a consistent growth in an end-to-end management of the cloud market in the global market.
The winner of the CIO choice award (Jan 2016), Technoviti award (February 2016) and Net app cloud innovation award (March 2016) has demonstrated excellence in the technology innovation, delivering high performance, and offering high detection and rapid response solutions. This is a reflection of our efforts to empower enterprises from different industry verticals ensure recurring benefits.
The NetApp Innovation Awards recognize the companies and the people that are aggressively and innovatively leveraging technology to make IT more proactive, productive and essential to creating business value. NetApp recognized ESDS for our Innovation in Cloud. The innovative auto scalable feature of eNlight which has succeeded in eliminating the interruption and the traditional need for infrastructure sizing.
ESDS's eNlight Cloud seized prominent "Technoviti – 2016, Innovation in Cloud" Award from Banking Frontiers.  It is a platform to unveil the unproven yet promising technologies, and a chance for technology companies to showcase their innovations that are relevant to the BFSI (Banking, Financial services and Insurance) sector.
ESDS has also been awarded the prestigious "CIO Choice 2016" Honor and Recognition under the category, 'Real-time Automatic Resource Adjustment' for its patent winning eNlight cloud. CIO Choice is B2B platform which is uniquely positioned to recognize and honor products and to help marketers create a positive brand positioning for their products, services and solutions by being the CIOs preferred choice.
The most flattering part of winning these awards is the vision statement of ESDS, by the founder, MD and CEO Mr. Piyush Somani is "Serve and building lifetime relationship with the customer".
This is just a beginning of a journey and not a final destination!