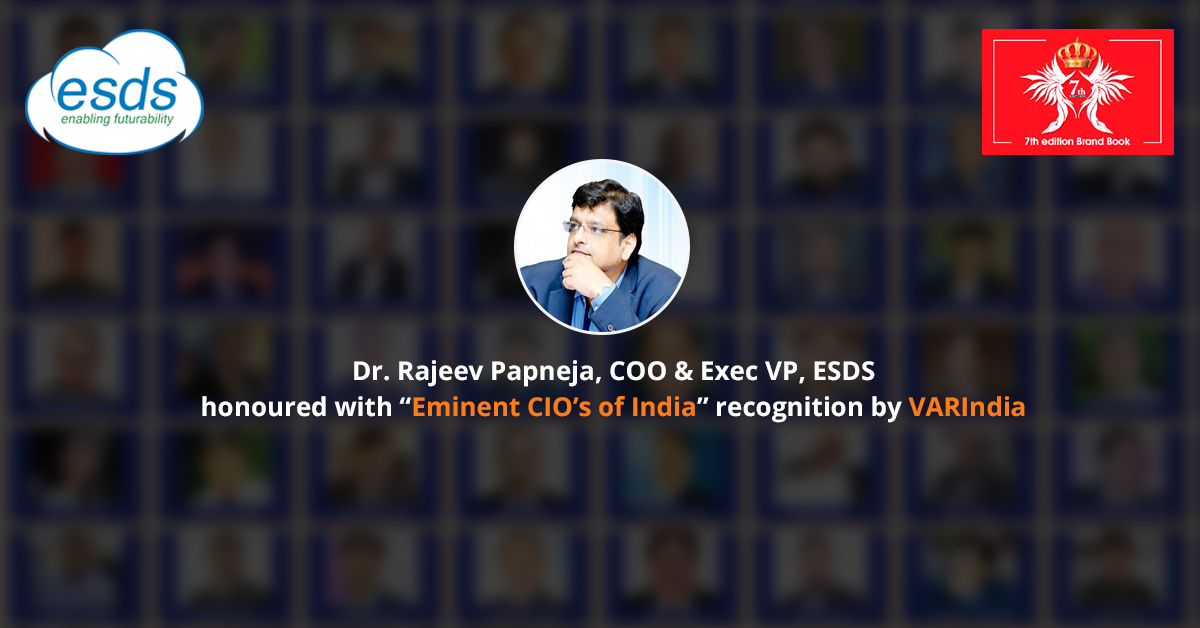 ESDS' COO & Exec VP (Technology), Dr. Rajeev Papneja honoured with "EMINENT CIO'S OF INDIA" recognition.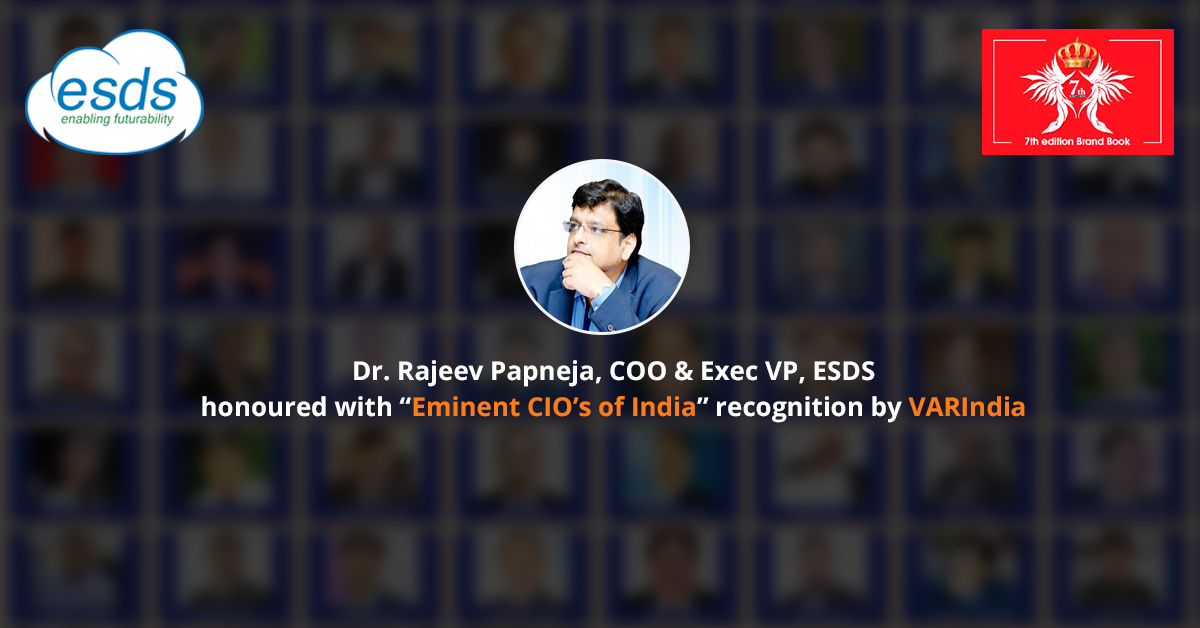 With more than 23 years of experience in technology arena, both on National and Global front, Dr. Rajeev Papneja has made great contributions in the world of Cloud computing and Data Center technology. Rajeev holds Bachelors & Masters degree in Computer Science and while pursuing his professional career in US, he achieved his Doctorate in Business Administration from FTU, USA remarkably at an early age of 27.
Dr. Rajeev has been honoured in New Delhi with some of the very prestigious awards, specifically the "Rashtriya Gaurav – 2015" and "Bharat Ratna Dr. A.P.J Abdul Kalam Excellence Award – 2017" by hands of eminent personalities like Dr. Bhishma Narain Singh (Former Governer, Tamilnadu & Assam), and Smt. Meira Kumar (former Speaker, Loksabha). He has also been bestowed with "Best Golden Personalities of India – 2016" "GEM of India", Bharat Gaurav", "Mahatma Gandhi Ekta Samman" and "Bharat Excellence" award for his contribution to the field of technology.
This week, VARIndia honoured Dr. Papneja with the "Eminent CIO's of India" recognition, adding yet another feather to the cap. VARIndia is one of the most popular magazine amongst channels community, OEM's and media partners. Commenting on this achievement, ESDS Founder MD & CEO, Piyush Somani stated that "It is indeed a very proud moment for ESDS today and we are privileged to have Rajeev as part of ESDS family, who is always leading the teams in the mood of a servant leader".
Besides serving in Fortune 100 companies as technology leader internationally, Dr. Papneja's rich experience also include his active participation in the Board of Technical Advisors for IBM Software Defined Environment and his contribution as a member of Cloud Standards Customer Council. Dr. Rajeev has been reviewer of book on Microsoft Technologies. His reason of moving back to India was simply to have the future generation in his family not to miss out on our National culture and heritage, although technically he remains a Global citizen.
Dr. Rajeev is a staunch believer in the supreme, initiated from Iskcon and is usually found serving the community or seeking spirituality, when he is not at work.
Dr. Rajeev is currently serving as Chief Operating Officer & Exec VP (Technology) at ESDS. He has been one of the strong pillars of ESDS' management team since 2011. ESDS Software Solutions Pvt Ltd., founded by Piyush Somani in the year 2005, is one of India's leading multidimensional auto scalable Hybrid Cloud Solution provider with its patented vertical autoscaling Technology. ESDS has already moved aggressively in the direction of becoming India's No.1 Cloud Hosting Company, establishing a huge clientele. ESDS has its own Tier 3 certified Data Centers in India at Strategic locations and the teams at ESDS carry rich expertise in Managed Data Center Services, Managed Cloud Solutions & Disaster Recovery Hosting, that are backed by exuberant Technical Support helping ESDS build lifetime relationships with its customers.
Dr. Rajeev believes in the future, his extended family of colleagues & associates, and ESDS having the ability to be a Fortune 500 technology company in his lifetime. He is a mentor to many upcoming students and a guest lecturer at many renowned technology and management colleges. He is a frequent keynote speaker, an influencer and a panel expert in IT events around the globe, and has won several awards and recognitions for his contribution as speaker in cloud conferences internationally.

Latest posts by Mahima Ahuja
(see all)