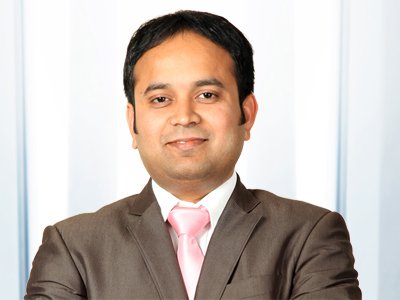 Customer service will always remain at the forefront of our Business, no matter what level of success we achieve, we will maintain same respect and passion for customer service.
Press Releases
Smart Banking Solutions Using Cloud...
ESDS is one of the World's leading Data Center Services...
Read More
---
We have deployed SDN, SDS and NFV to reduce...
ESDS is one of the World's leading Data Center Services...
---
Patented Cloud platform, managed services keep ESDS...
ESDS is one of the World's leading Data Center Services...
Read More
Piyush Somani
Founder, CMD & Chief Executive Officer
Piyush started ESDS in 2005, making him a first generation entrepreneur, through his experience in a variety of roles across ESDS. He has built a reputation in the IT industry for his exceptional ability to build and grow business and nurture long-term relationships.
Family
Piyush Somani, born in a middle class family from a small town of Maharashtra. Father being a bank official and mother being a house wife, Piyush was an average student in academics but overall a very bright child. Since childhood, his family was always on the move due to father's profession. The family came to Nashik in 1989, and finally got settled in the city.
Career
By the time Piyush completed his engineering in 2002, he was just 22. Piyush then moved to Mumbai and took his first job as a Purchase Head at Shanti Instruments, a Mumbai based instrument manufacturing company. Though it was a middle class family, Piyush's father was always supportive as he believed that Piyush had the potential and thus encouraged him for business, which was Piyush's choice. There was no pressure on Piyush from family side. Piyush being away from the family with a low income couldn't support the family. So he decided to move back to Nasik and join an IT company in Nasik. After completing one year at the company, he realized, continuing a job is not his cup of tea. And finally, he started 'Web hosting support' business in the year 2004 with seven partners. Finance being a concern, the team had to start business in a shared space.
Piyush and team could partially utilize the space, as it was shared between two groups. The team bought one computer each as an initial investment.
Dawn of ESDS
Initial phase was challenging. Team strived hard to cope-up with the existing competitive market. It was just the beginning and there was a lot to learn. The pros were good access to the internet and technical expertise. The team was enthusiastic, aggressive and stayed updated with latest trends in technology and the market requirements. In January 2005, Piyush decided to register the company as "ESDS Software Solution Pvt. Ltd.", making Piyush a first generation entrepreneur – with a vision to deliver Exuberant Support and Datacenter Services to customers globally. Initially, ESDS concentrated on providing technical support to web hosting companies from US and UK. Things were going well, but the major difference in US, UK, India time zones gave a tough time to the small team. There was stress and constraints in managing a huge number of international projects, due to which Piyush decided to leave a few. In 2006, there was sudden financial crises that proved to be the most crucial and critical time for Piyush.
He lost all his savings in that phase but never gave up on his dreams. Piyush took up thorough professionalism and launched aggressive sales and marketing teams which brought him success in bagging brilliant opportunities in the international market. Business started picking up pace and acquired more profit and success than expected.  In due course of time, business analysis made Piyush realize that there was little scope for an outsourced technical support business in the near future and he took the plunge. Piyush established a full-fledged Web Hosting Business instead of supporting other web hosting companies. In the process of transformation, ESDS got the opportunity to take over some UK and US based web hosting companies. Team of passionate engineers at ESDS put their heart and soul to make the international companies successful and transform them into profit making multi-million pound and multi-million dollar companies.
(read more )
(read less )