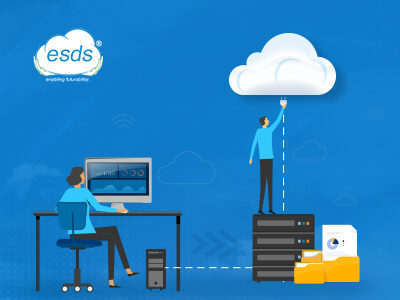 Designing Your Cloud Migration Strategy
Moving data to the cloud can be a difficult undertaking. It might be pricy, drawn-out, and complicated. However, it's frequently the best choice for enterprises that want scalability, agility, and security. By 2024, enterprise cloud spending will account for 14% of all IT sales globally, according to a Gartner estimate. Although businesses assert that cloud migration is crucial to their business plans, many have trouble making the transition.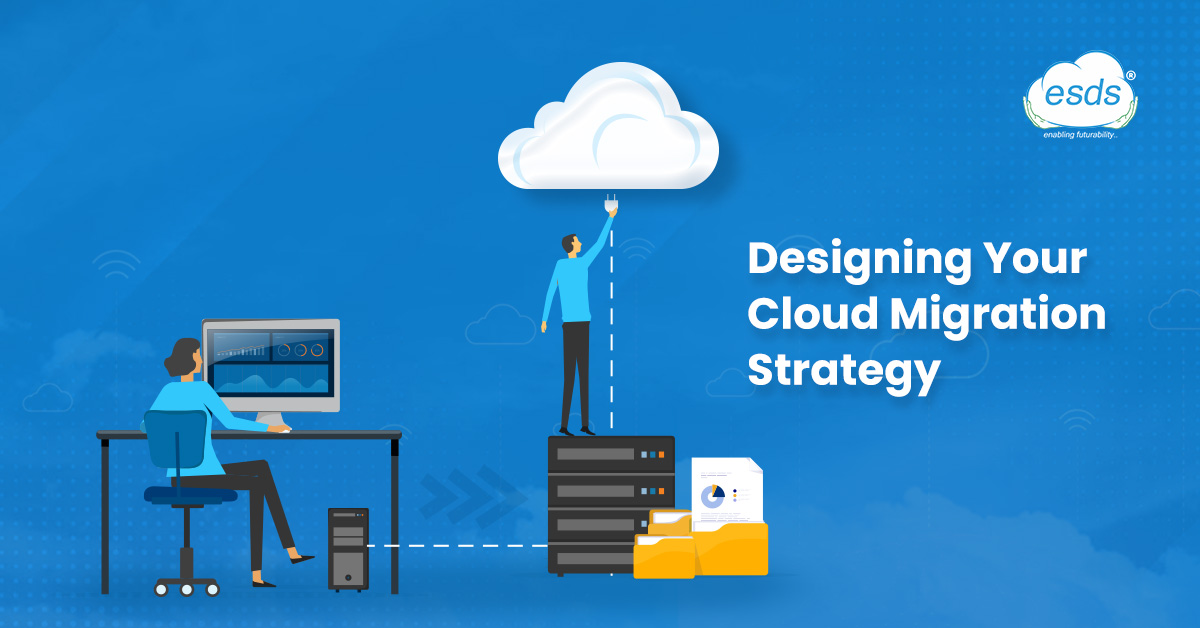 A change in culture, laser-like focus, and a detailed action plan that takes into account the opinions of all departments are necessary for the adoption of cloud computing to be successful. Your IT infrastructure's smallest error or weakness could cause significant, expensive delays.
Consequently, how can you know when to act? And what are the best techniques for a successful migration of cloud data? We'll look into these issues and provide solutions in this blog article. We'll also stress the need to develop a cloud migration plan to help you in selecting the best option for your business. Let's start now!
What does a Cloud Migration Strategy mean, and Why Does Your business need One?
An organization develops a plan known as a cloud migration strategy to move all of the assets in its infrastructure, such as data, services, and applications, into the cloud.
Companies should put in place a cloud migration strategy in order to maintain daily business operations at a higher level of efficiency. Techniques for cloud migration are especially important for businesses making their first move to the cloud and for current cloud customers looking to maximize their investment.
Businesses may find and execute the fastest, least disruptive transition from on-premises to the cloud by implementing a cloud data migration strategy. The ability to replace, stop, rewrite, or keep on-premises certain existing workloads is another benefit of a well-executed migration strategy.
Every organization is unique. Thus a cloud migration strategy should be made specifically for them in order to meet their needs and advance their overall effectiveness. Prioritizing workloads, choosing the best migration approach for each workload, creating a pilot, and updating the strategy in light of the pilot's findings are all necessary components of an effective enterprise cloud data migration strategy.
Cloud Migration Process

We'll go over the four-step procedure for moving apps and data to the cloud in this part. Here are a few fundamental cloud migration procedures that you must follow for a successful migration, albeit the process may vary based on the size and complexity of your environment.
Plan your Migration
Understanding the motivations for your migration and the best method to support them is essential when deciding whether to migrate to the cloud. Assessing the current cloud environment is a good place to start. To prevent purchasing more cloud servers than you need, make sure to determine your requirements based on the current application resource requirements. To obtain real-time insight into your surroundings, you might enlist the assistance of a professional or expert.
Choose your Cloud Environment
Your next step is to decide which cloud migration solutions you want to use now that you have the visibility you need to succeed. Choose the cloud option that best meets your present and future needs, whether it be a hybrid cloud, public cloud, or multi-cloud.
Migrate your Apps and Data
Moving your apps and data to the cloud is a necessary next step. Your cloud application migration should go smoothly if it is properly planned. Nevertheless, continue to consider cloud security issues, including organizing for data backup and recovery and abiding by security guidelines.
Validate Post-Move Success
Once you've switched to cloud migration options, compare the technical and business performance of your applications before and after the move in a low-risk test environment. This will show whether or not cloud migration strategies have been effective.
It's time to comprehend the various cloud data migration options now that we have a better understanding of the cloud migration procedure.
Best Practices for Cloud Migration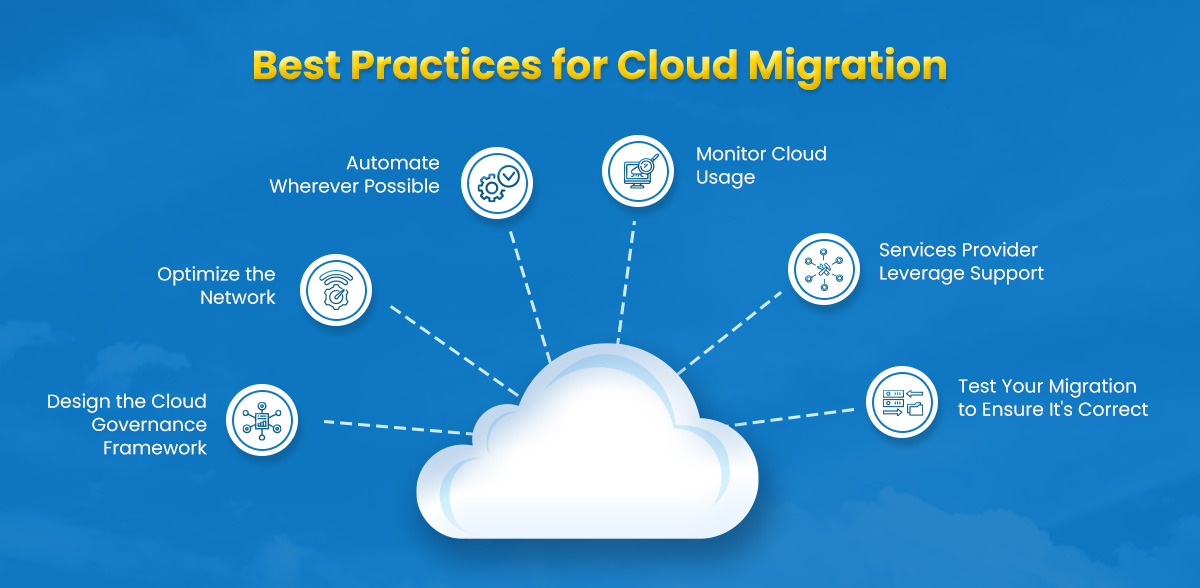 The most important best practice while preparing to migrate to the cloud is to have a well-thought-out strategy, as previously said.
To successfully migrate to the cloud, you must adhere to a few basic guidelines in addition to picking the optimal method for your company. Following are a few of these crucial techniques:
Design the Cloud Governance Framework
It is critical to developing a cloud-based governance structure with defined standards that enables firms to ensure safe cloud use because security and compliance are among the top issues for businesses shifting to cloud computing.
The inherent risks connected to the movement of data and applications to third-party providers are examined by cloud governance. To ensure that the business moving to the cloud will be able to make a shift with the least amount of risk and the greatest amount of benefit, it is the process of establishing methods to do things – procedures, tools, talents, and capabilities.
Optimize the Network
The open internet is the standard network used by cloud service providers. Some businesses, particularly large ones, could be concerned that the internet is too slow and insecure to accomplish their commercial goals.
Some third-party cloud service providers are aware that employing an internet connection might not be the best choice. One instance is ESDS. Through corporate offices, it offers a dedicated internet connection for its cloud infrastructure. By bypassing the internet, Azure's ExpressRoute solution connects your local network and Azure.
Automate Wherever Possible
Any approach for moving data to the cloud should avoid service outages or downtime. Automate repeating patterns whenever you can to reduce interruption and improve the efficacy of the migration. Moving is sped up through automation, which also lowers danger and expense.
The automated transfer of virtual machines and data is facilitated by some tools. They can also be useful if you wish to move an on-premise model's database to a cloud-based one. As you discover recurring processes over time that you may automate in the next migration phases, automation, and the phased cloud migration approach can complement one another.
Monitor Cloud Usage
It's crucial to keep an eye on how cloud services are being used right away. You may do this with the use of a centralized dashboard that can identify active instances across different cloud providers.
It is critical to keep an eye on compliance and security. To confirm that the conditions for information security are met, data will be collected from systems, applications, databases, and network points.
Services Provider Leverage Support
When you've finished your study, you've thought about—or at the very least, you should have—the quantity of assistance you'll get. Any cloud migration project will benefit greatly from having knowledgeable support staff on hand.
Test Your Migration to Ensure It's Correct
Testing ought to be done at every stage of the migration to identify and address any issues. Customers can test out various scenarios and assess the effects of how dependencies between applications and the overall migration process are affected.
Wrapping Up!
According to a market estimate, the market for cloud computing will reach USD 947.3 billion by 2026, growing at a CAGR of 16.3%. Businesses are expected to use these platforms, whether they are private, public, or hybrid, for a variety of objectives.
Businesses today try to improve the speed and agility of their operations. However, the correct technology and the right capabilities are needed to apply the best cloud data conversion plan and finish the cloud migration process.
For businesses across many industries, our team of specialists at ESDS provides the best cloud migration services. To receive the best-in-class cloud migration services, get in touch with us right away.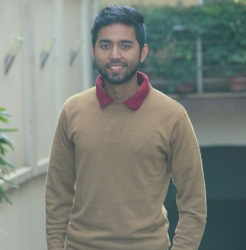 Latest posts by Alston Dsouza
(see all)