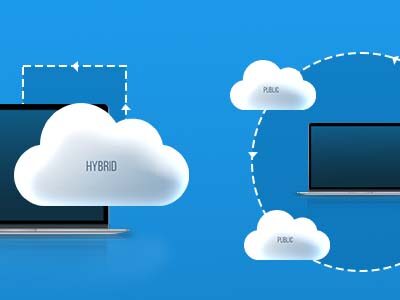 Hybrid-cloud & Multi-cloud – Differences & Similarities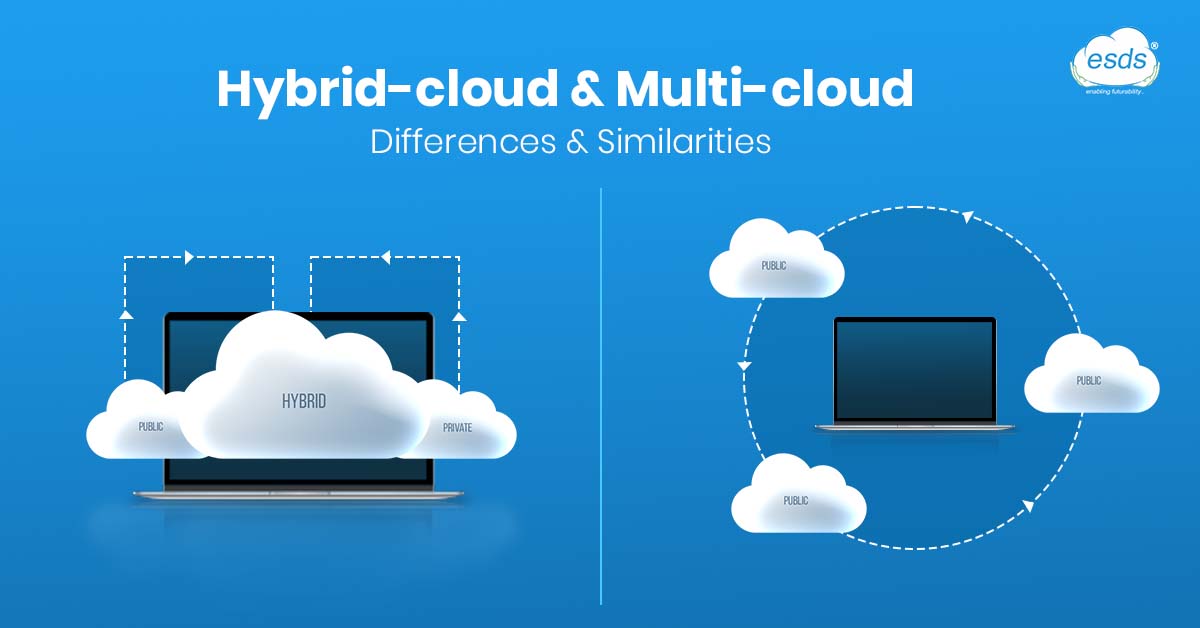 According to sources, small and medium businesses benefit the most from cloud services, as they spend 36% less money on IT. Cloud-based solutions/services are used widely in all the business sectors. Manufacturing, BFSI, government, and various enterprises use cloud solutions for automating the manual work process and ease of work.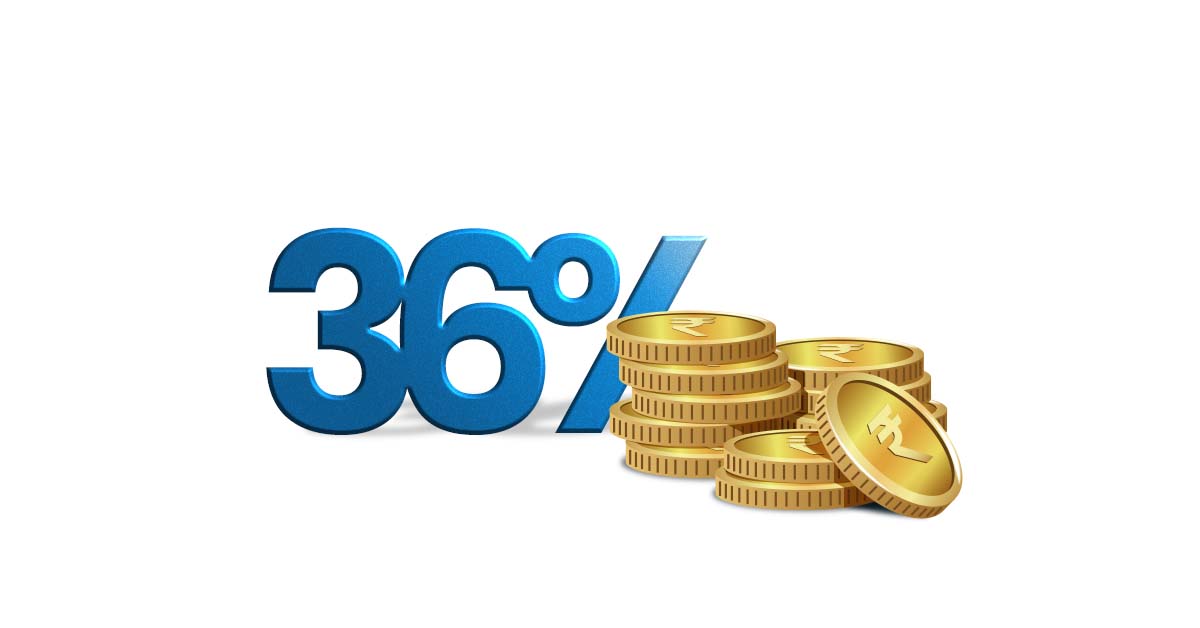 Cloud solutions have helped various businesses to grow regardless of the business size, infrastructure, and finance. Cloud is not just the future, but it is the present! Choosing cloud solutions is your only choice. Basically, cloud computing is a collection of servers whose resources are accessible to you through the Internet. To access the cloud services/resources, you need a cloud service provider who offers you services according to the requirement of your business.
Hybrid clouds and multi-clouds are the two most popular types of cloud computing.
Find out what multi-cloud and hybrid cloud are and how they can help you!
What is Multi-Cloud?
Multi-cloud refers to the use of multiple public clouds. Multi-cloud deployment is when a company uses various public clouds from different cloud service providers. For cloud hosting, storage, and the entire application stack, a company uses services from multiple service providers.
Multi-cloud deployments have a variety of applications. Multiple IaaS (Infrastructure-as-a-Service) providers can be used in a multi-cloud deployment, or a single vendor can provide IaaS, PaaS (Platform-as-a-Service), and SaaS (Software-as-a-Service) services. Multi-cloud can be used solely for redundancy and system backup, or it might include many cloud vendors for various services.
Benefits of Multi-Cloud
1. Reliability and redundancy
If one cloud goes down, customers will still be able to access some functionality via the other installed clouds. A public cloud can be used as a backup for another cloud.
2. Reduced vendor lock-in
Moving to the cloud necessitates relying on third-party cloud providers, and as firms become more reliant on these vendors, it can be harder to break free. A multi-cloud model distributes systems and storage among multiple vendors.
3. Potential cost savings
If a company doesn't want to commit to using one cloud vendor for all of its infrastructure needs, it can pick and select the most cost-effective services from other vendors.
Disadvantages of Multi-Cloud
1. Management complexity
With data stored and processes running in many clouds, having total visibility into the technology stack becomes more difficult in a multi-cloud environment.
2. Increased latency
Depending on how tightly the clouds are connected, how far apart the data centers are physically, and how often multiple clouds need to communicate, latency can be introduced when services in various clouds need to talk to one another to satisfy user requests.
3. More vulnerabilities
The more software and hardware interconnected, the more vulnerabilities are likely to be.
What is Hybrid Cloud?
A hybrid cloud mixes the public cloud with a private cloud dedicated exclusively to the end-user. Traditionally, private clouds were established on-premises, within the user's firewall, but they are now more typically built off-premises, in rented, vendor-owned data centers.
Hybrid clouds have a variety of applications. A company may use its private cloud for some services and its public cloud for others. Or may utilize the public cloud as a backup for its private cloud. They can also use the public cloud to address peak demand while maintaining their operations in their own private cloud.
Benefits of Hybrid Cloud
1. Flexible
Hybrid clouds enable you to switch to another cloud deployment method.
2. Backups to avoid downtime
If one cloud fails, the other will continue to function, preventing service interruptions.
3. Wider variety of technology
Hosting data in a public cloud allows a business to include technologies not possible in a private cloud, such as big data processing.
4. Potential cost savings
An organization can save money by moving some operations to the public cloud instead of maintaining as much infrastructure on-premises.
5. Data Sensitivity
Keeping sensitive data on-premises is a good idea for organizations that handle credit card numbers, healthcare information, or financial details. Sensitive data can be stored on-premises, which gives the company much more control over security measures. An organization can use a hybrid cloud deployment to store sensitive data in a secure private cloud and use public clouds for running the rest of its applications.
Disadvantages of Hybrid Cloud
1. More sophisticated integrations
It's critical to connect and orchestrate several types of clouds. As a result, implementing a hybrid cloud requires more steps than adopting a single public cloud or a single private cloud. Implementing a hybrid cloud includes connecting technologies – such as a VPN – which must also be set up and maintained.
2. Complicated to secure
A hosted private cloud or public cloud does not run behind the company firewall, but an on-premises private cloud does. To keep their data safe, a firm may need to use different security technologies, some for on-premises cloud and others for public cloud. Furthermore, validating a user's identity across several clouds might be difficult.
Differences Between Multi-cloud and Hybrid-cloud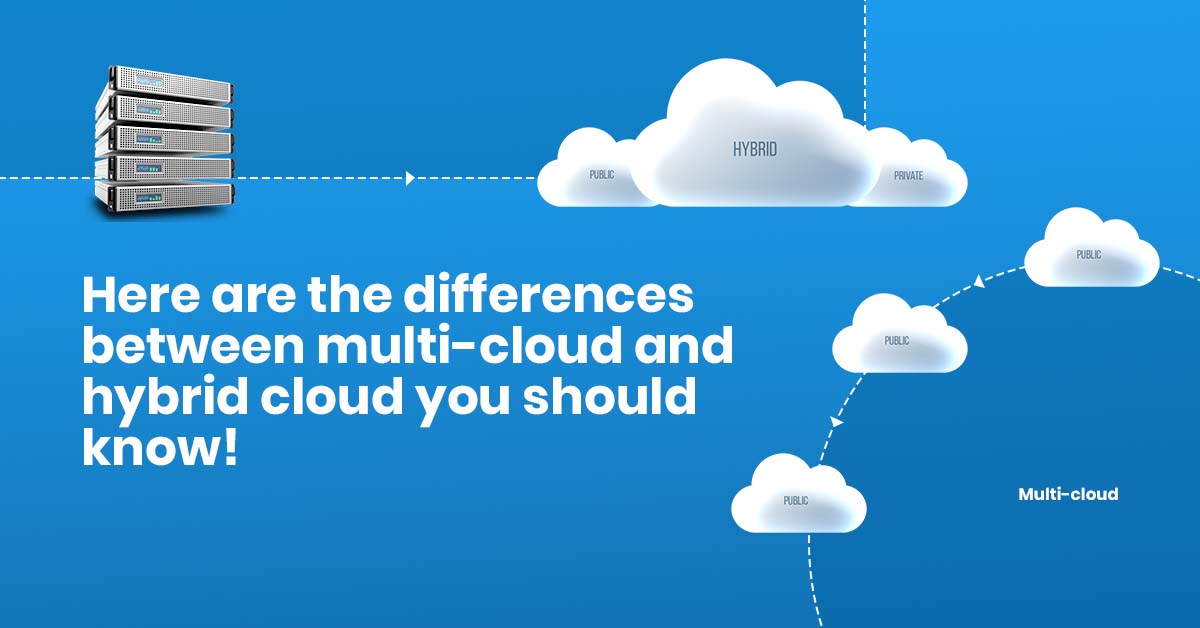 The difference between multi-cloud and hybrid cloud is that the multi-cloud architecture comprises any cloud architecture model from different service providers. The hybrid cloud is created by combining public and local clouds or privately hosted clouds.
Apart from the above differences, the following are the other differences
1. Cloud Integration
The hybrid cloud architecture integrates local on-premise private cloud to an extent to the public cloud.
In a multi-cloud environment, various clouds might not be connected due to different workload distribution on different clouds.
2. Cost Management
The hybrid cloud model is more expensive than the multi-cloud model as the hybrid cloud involves additional infrastructure and resources for the private cloud.
In terms of upfront investments and architectural setup, multi-cloud environments depend primarily on the public cloud platform that is more cost-effective.
3. Structural Differences
Multi-cloud involves multiple public cloud integration from one or more service providers. Multi-Cloud infrastructure is a comprehensive methodology enabling organizations to administer and leverage the billing and management of the services.
A hybrid cloud involves the integration of a public cloud and private cloud that enables fast system workflow. Hybrid cloud architecture is best suited for specific tasks and workload handling tasks.
Similarities Between Multi-cloud and Hybrid-cloud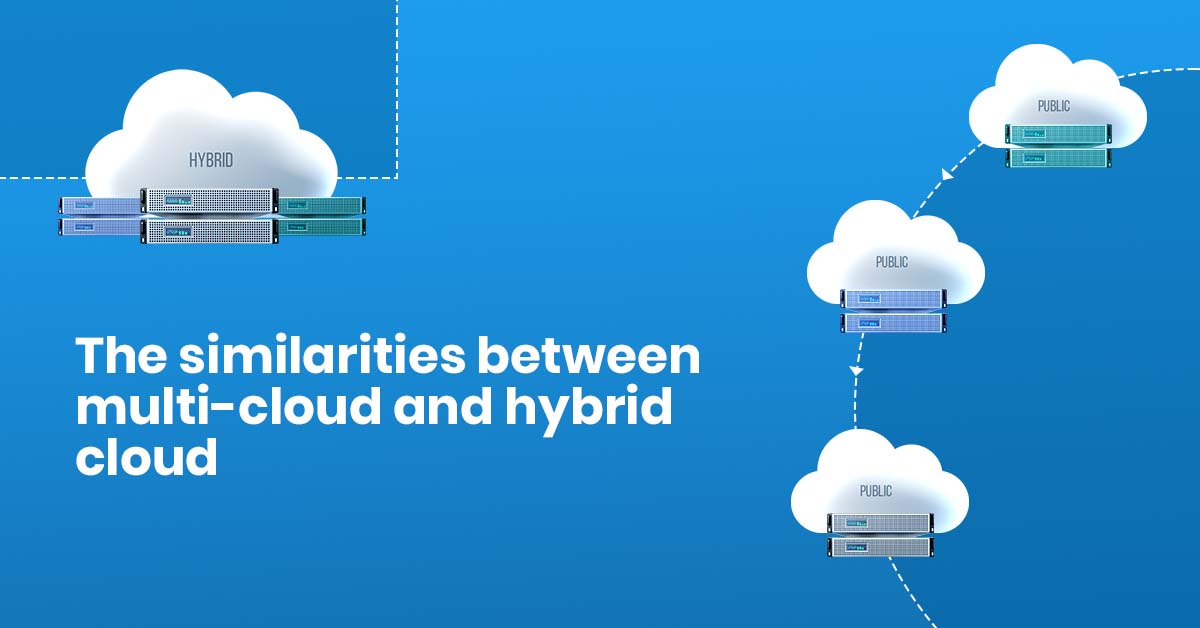 1. Platform Scalability
There may come a time when your business requirements for physical infrastructure and resources increase dramatically. To cope with the growing business requirements, you get scalability of infrastructure and resources with both multi-cloud and hybrid cloud environments.
2. Flexibility
Both multi-cloud and hybrid clouds offer flexibility in terms of infrastructure and resources.
3. Customization
You can alter the plan based on the budget of your organization's requirements. The cloud-based strategies will change your capital expense into an operational expenditure. Instead of investing in hardware and software, you can pay-as-you-go for what you need.
Points to Consider While Getting the Hybrid Cloud or Multi-Cloud
Before finalizing the cloud environment, pay attention to the pricing model. Also, see what all resources, infrastructure, and services are offered at the said price.
If there are industry-specific data retention and storage standards, not all cloud providers will be able to meet them equally. Inquire about the provider's specific assistance in meeting these standards.
A hybrid cloud solution works well if your organization needs low latency.
Geographical considerations
Multi-cloud solutions with data centers in several areas work well when you have offices in various geographical locations.
Choosing the Best Amongst Multi-cloud and Hybrid Cloud for You!
When to get a hybrid cloud?
When looking for reliable data access, improved resource/infra scalability, highest security, risk management, mitigation, and reduced cost, you can rely on a hybrid cloud solution.
When your priority is getting the best security, risk management, automation, scalability, and competitive cost, you can go with a multi-cloud solution.
The Best Hybrid Cloud Solution Provider
ESDS, one of the best cloud solution providers in India, offers the most reliable and cost-efficient cloud solutions catering to your growing business needs.
eNlight Hybrid Cloud by ESDS blends the best of public and private worlds to deliver an intelligently scalable, secure, and easy-to-manage architecture for streamlining and orchestrating business activities. In order to achieve operational excellence, organizations can easily prioritize their workloads between Public and Private Cloud platforms with increased flexibility offered by ESDS.
Final Word
Knowing if your organization needs a multi-cloud or hybrid cloud is crucial for the growth of your organization.
Are you still confused about which cloud solution is apt for your organization?
Comment your points and know what is best for your business!
Latest posts by Prajakta Marathe
(see all)