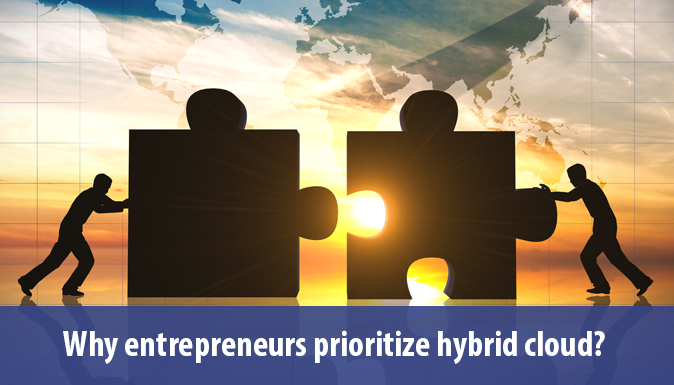 Why Entrepreneurs Prioritize Hybrid Cloud?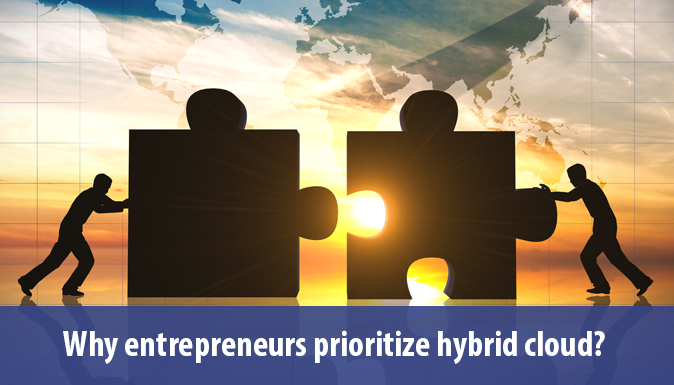 Hybrid Cloud
Organizations were skeptical of cloud computing. Having their data stored on a remote location created trust issues & hesitations. Some organizations have implemented cloud computing completely while some are reluctant. Pushing ahead, with enhanced profitability the need of the day, IT companies and CIOs that acknowledge hybrid cloud situations will have the capacity to acknowledge distinctive levels of adaptability while augmenting the proficiency of cloud administrations.
In specific scenarios, IT organizations need the security & safety of a private cloud and cost-effectiveness of a public cloud for such organizations Hybrid Cloud delivers the IT significance of flexibility & control.
The question is how an organization should plan the implementation? Before starting a new IT project every organization needs to consider the following factors the initial feedback, examining the system, get the system in sync before carrying out the implementation. Public cloud enables a quick start for such organizations.. It is really that basic. There are no firewalls, no arrangements or data transmission reflections to contend with, building an application in the cloud can begin in a split second.
Public cloud is truly the fastest approach to frame essential models. Additionally, it provides an extremely optimized platform for mobile phones. If a company wants a mobile app developed public cloud is the best choice for them as it provides a right platform.
According to a survey by Forbes magazine on cloud computing
Around 59% of cloud, workloads will be SaaS workloads by 2018
More than 60% of organization will have at least half of their infrastructure transferred over cloud
Cloud technology is inevitable but which cloud is right for your Enterprise is the question
In a public cloud, the IT infrastructure – that implies hardware, networking, storage, services, applications, and interfaces – is possessed and worked by a service provider, for example, Amazon, Google, Microsoft, and others. In a private cloud, the IT base is claimed and worked by a service provider, for example, IBM, Citrix, Cisco, and so on for the exclusive utilization of one undertaking. A hybrid cloud is a blend of both private & public. One or a few touch focuses exist between public and private cloud situations. In India, ESDS is the main supplier of private, public, and hybrid solutions.
As anyone might expect, companies are careful about moving their workloads to the public cloud on account of information security and protection concerns. In such cases, a hybrid cloud is a convincing option.
In a hybrid cloud, the Public Cloud and private cloud infrastructures operate independently of each other and communicate over an encrypted connection. This implies an organization can store sensitive information on the private cloud and still influence or run register assets or applications from the public cloud to run applications that depend on that information. This guarantees no critical information is stored long haul on a public cloud. The hybrid cloud offers three clear favorable circumstances for big business processing. One, the private cloud segment empowers an on-premise or outsider facilitated private infrastructure that is completely accessible from anywhere without accessing the public internet. This incredibly decreases access time and latency in time-delicate situations, for example, a stock trade.
Two, hybrid cloud permits you to have on-premise IT base that can bolster the base workload for your business and still empower you to overflow spikes in IT request, for instance amid an occasion surge, to the public cloud. Opting the public cloud is a less expensive suggestion than putting resources into a private base that sits idle for most of the year.
Three, working out the private end of a Hybrid Cloud permits organizations to influence their current IT foundation.
Conclusion
A hybrid cloud implementation is an effective option for the enterprises that have security concerns or need to have their IT infrastructure on premise. For them, Private Cloud can handle the base workloads while public cloud can prove to be cost effective
Organization mostly prefers hybrid model. According to It research firm Gartner almost half of huge enterprises globally will have deployed a hybrid cloud by the end  of 2017, while 2016 is considered to be the year of migrations from private to hybrid clouds.