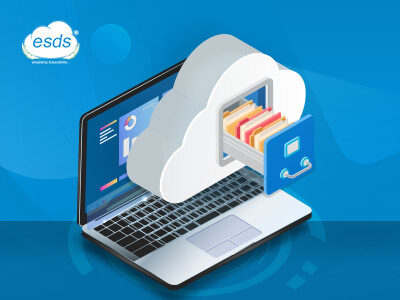 9 Facts that Drive the Need for Cloud Hosting
The growing need for technological advancement has mandated 44% of traditional small businesses, 66% of tech-based small industries, and 74% of large enterprises to move to cloud hosting services (Ref- TechRepublic).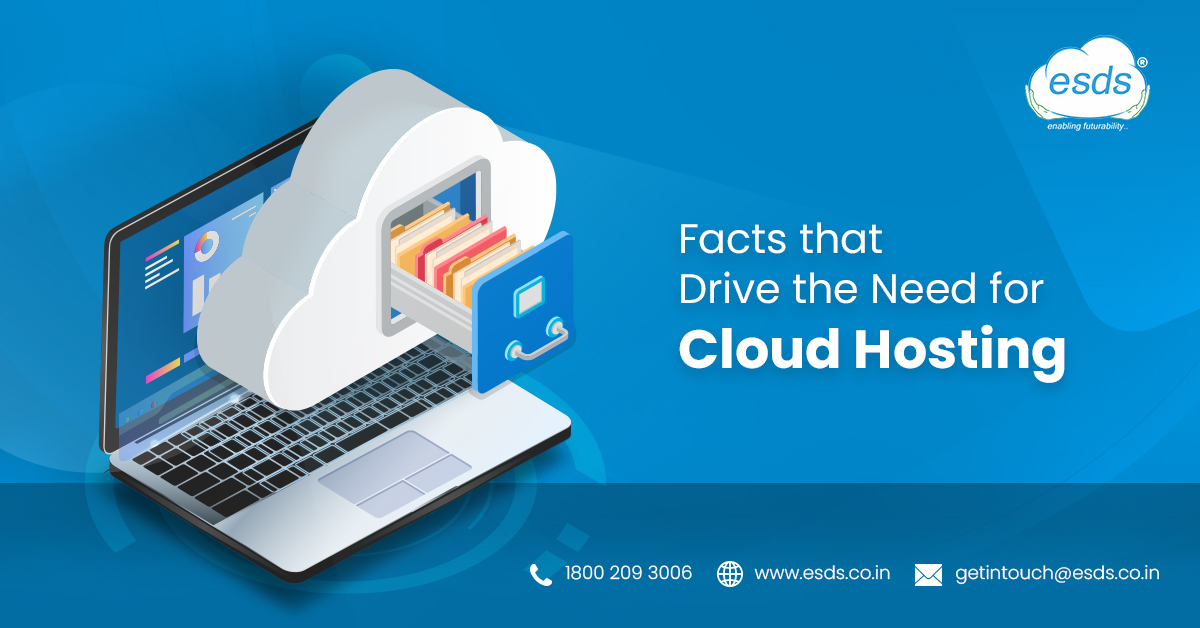 Cloud services have changed organizational workflow 360-degree with virtualization technology.
But, what does 'Moving to the Cloud' mean?
Moving to the cloud, in simple words, refers to relocating your data, applications, email, or software to the cloud, where it is available from anywhere on the planet.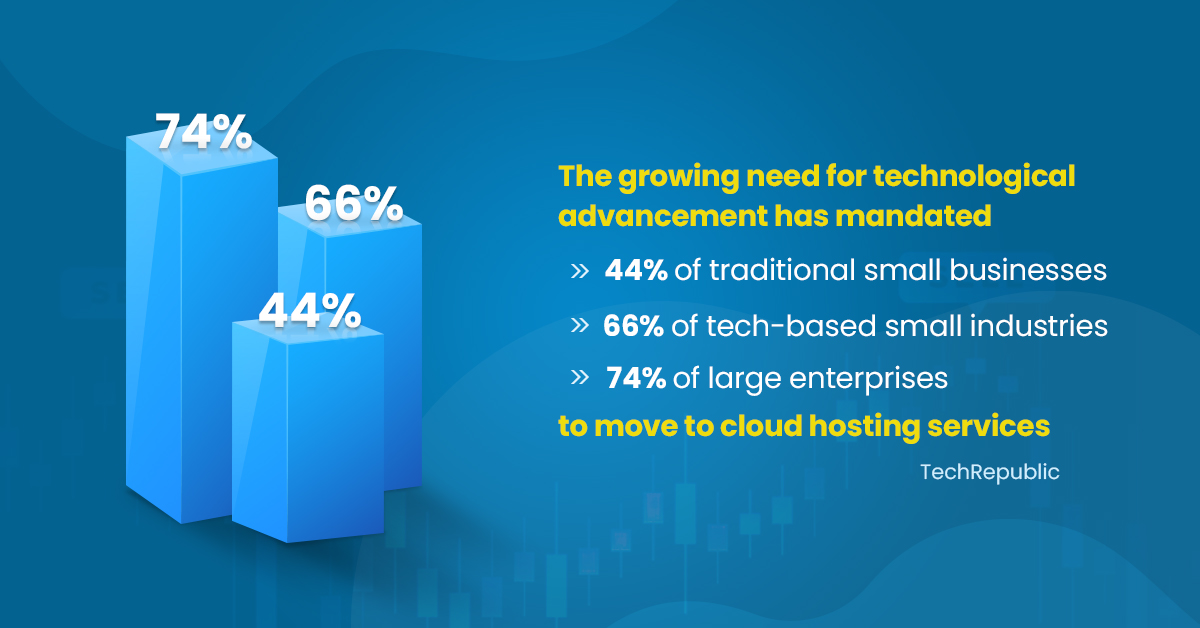 The cloud makes data and applications accessible from anywhere on the go, making our lives easier. It may also do phenomena for your business.
Cloud Hosting Gist
Cloud is a network of servers acting as one. Rather than hosting websites, applications, and data on a single machine, the cloud allows you to distribute your data among several networked servers spread across a large geographic area.
Talking Cloud hosting is a hosting type that enables a website to use the resources of multiple servers resulting in improved performance. Cloud hosting works through virtualization, which converts a physical server into multiple virtual servers that connect to create a single network for hosting a website. Therefore, cloud hosting is also called cluster server hosting.
Cloud hosting is a cloud delivery paradigm that uses Infrastructure as a Service (IaaS) to provide remote/virtual services. These services are provided on-demand and are hosted on a cloud-computing infrastructure.
Because cloud hosting uses the computing power of multiple machines, you have far more potential than traditional hosting.
Implementing the cloud has significantly impacted BFSI, the government, healthcare, or any other industry.
Let us dive into the details of how cloud hosting benefits your organization.
Facts that Drive the Need for Cloud Hosting
1. High Availability
In cloud hosting, when one server fails, the rest servers still work, making your website available to the users 24×7 regardless of the circumstances. Clusters are used to achieve high availability in cloud hosting. A high availability cluster is a collection of servers that work together as a single server to ensure continuous availability. Several servers share the same website data, so if one goes down, the others will handle it. The number of servers in a high-availability cluster might range from two to dozens.
2. Traffic Load-balancing
High availability clusters not only enable failover but also load balancing of workloads, ensuring that no server in the cluster is devastated and that you may give a more stable performance. In addition, when the website experiences high traffic than average, the Infrastructure across the cloud servers is expanded, improving the site performance.
3. Greater Security
Cloud hosting companies adhere to stringent security requirements and industry-standard best practices. As a result, each node in the private cloud hosting provides a secure barrier for your information. In addition, cloud hosting is less prone to disaster and malfunctioning as it uses multiple servers in a single virtual environment. Also, the load balancing feature prevents DDOS attacks.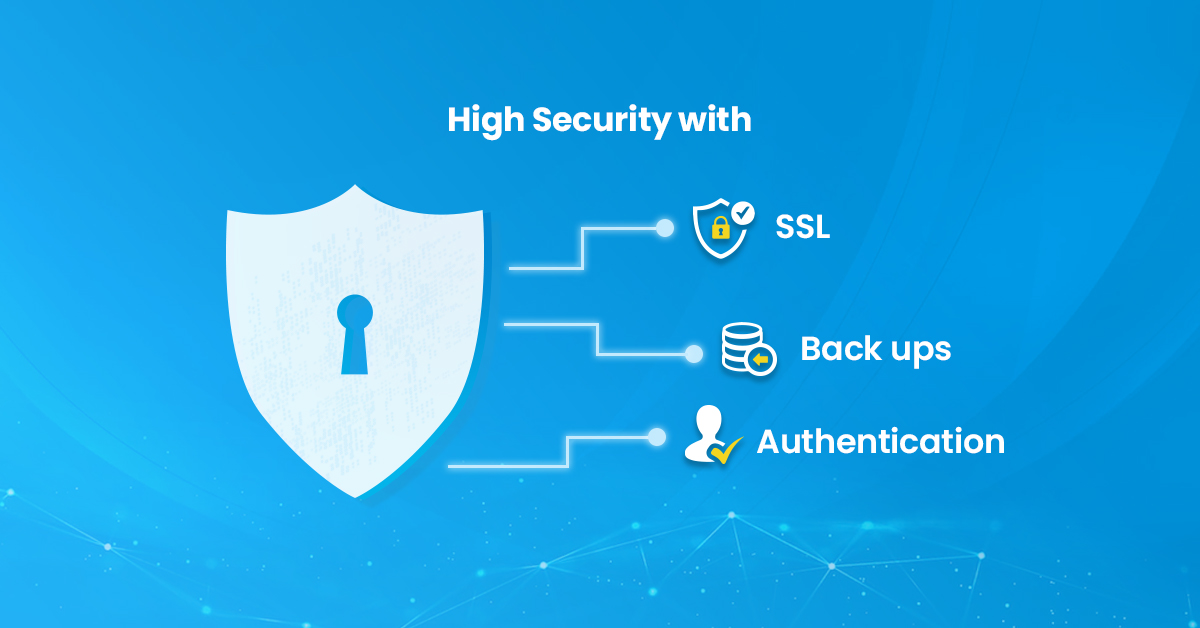 Cloud hosting services include
1. Secure socket layer (SSL) protection
2. Backups and data encryption
3. Resources with a wide range of capacities
4. Authentication with many factors
The cloud-based distribution also offers a layer of failure tolerance. So you're no longer hampered by a single point of failure or attack.
4. Resources Scalability
It is extremely easy to assign resources to meet the changing needs of an organization with cloud hosting. Storage, bandwidth, and RAM can be added or removed from the cluster of servers based on the available resources.
Traditional hosting has strict requirements and limited resources. So if a condition emerges, you won't be able to ramp up resources.
5. Reliability
Cloud hosting is most reliable than traditional hosting as it offers a 99.995% uptime guarantee. The app or service is 24×7 operational. You can get to anything you need anytime and from any location using any device. There are no outages or interruptions, and your connection is safe and sound.
6. Extended Accessibility
Business tools and resources are accessible from everywhere with cloud hosting. All you need is a means to connect with everyone, whether over the phone or on a computer, in-house or abroad.
There will be no downtime as a result of scheduled maintenance. There are no hiccups due to a lack of Internet connectivity. The tools and resources are ready for you and your team no matter when or where you need them.
7. Cost-Effective
There is no need to invest in infrastructure, so there are no capital expenditures. Your OPEX is also lower because you pay only for the resources/services your website consumes.
In a typical hosting approach, you must pay a fixed monthly fee regardless of whether or not you use the services.
8. Location Independence
Traditional hosting servers are bound to a single region, so you must be careful when selecting your server since the server location significantly influences a website's loading speed.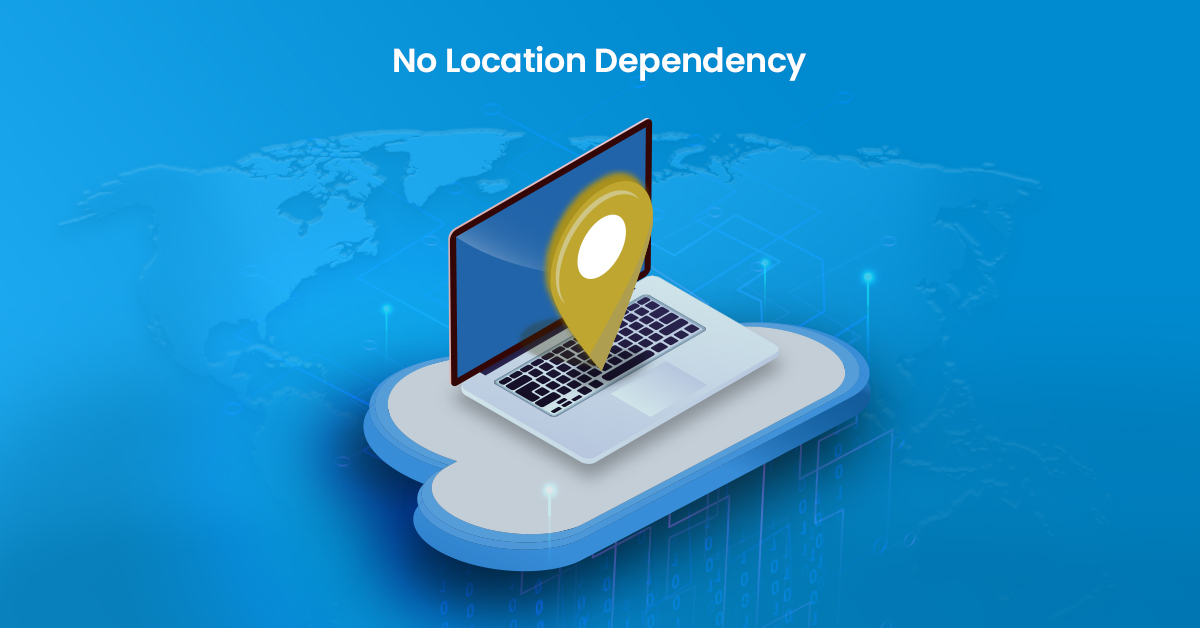 Cloud hosting servers are located all over the world. Cloud is accessible worldwide using an internet connection and any device (PC or mobile).
9. Cutting-edge Technologies
Cloud hosting makes use of the most up-to-date technologies. It lets you personalize and integrate your software programs according to your business's needs and preferences.
Traditional hosting does not allow for automatic upgrades or customizations.
Types of the Websites Using Cloud Hosting
1. E-commerce stores
2. News publications
3. Search engines
4. Social networks
5. Any other high-traffic projects
Cloud hosting is the best for all websites needing plenty of processing power, bandwidth, RAM, and all the resources required for a high-traffic website.
The cloud hosting architecture makes it easy to anticipate traffic surges happening during sales for e-commerce websites or when a blog post goes viral, suddenly increasing the website's traffic. However, the traffic does not overwhelm the resources of the virtual servers.
In addition, many websites require tighter security to secure business-critical and confidential data like payment details and customer information. In this case, a user may also opt for private cloud hosting that offers dedicated cloud infrastructure and a private network.
Wrapping up
Cloud hosting is an excellent web-hosting alternative for your developing business and websites. It will help you scale in case of any business requirements.
Having a cloud-hosting server with distributed cloud arrangements is beneficial for businesses that are expanding dramatically.
Let ESDS help you migrate your organizational workflow to the cloud at ease!
Latest posts by Prajakta Marathe
(see all)