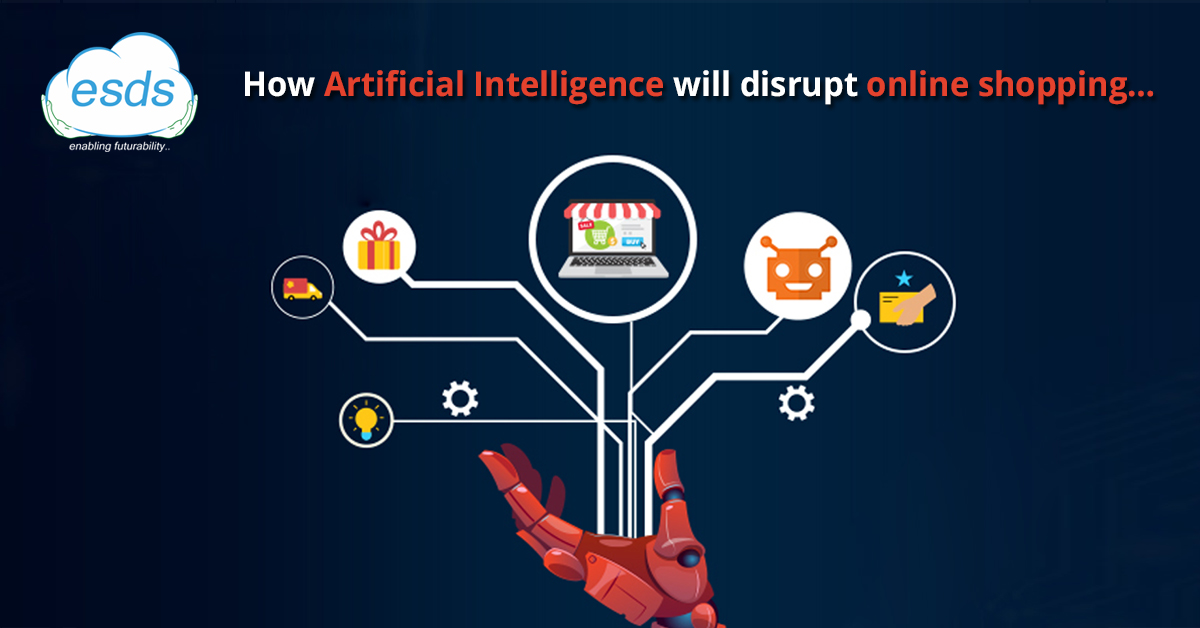 How Artificial Intelligence will disrupt online shopping
Artificial Intelligence & Online Shopping

Introduction
How many of you think that e-commerce is come of age? A friend of mine was telling me how she finds browsing through 80,000 dresses online to find that one perfect dress for a date the most tedious thing to do. And rather prefers to go to one store with 20 limited and options and pick one dress that is the best from among them. The dilemma of choosing from thousands, lakhs and crores of products to find that one particular things has put online shopping at the risk of saturation. In this world of fast entry and exit, continuous updating of technology is a must in any sphere and for e-commerce the ship will soon sink if it doesn't change its current strategy and include disruptive technology as a part of its growth plan.
Like in every field from Smart Cities to banking and finance, use of Artificial Intelligence (AI) is getting the edge back in online markets. AI coupled with Inter Of Things, Big Data Analytics, Deep Learning and Machine Learning is being increasingly used to especially enhance the customer experience by getting more insights in to their behavior pattern. All major companies like Amazon, IBM, Apple, Google, Facebook, etc. are incorporating AI in some manner or the other to get the maximum bang for their buck.
Many e-commerce businesses are already using forms of AI to better understand their customers, generate new leads and provide an enhanced customer experience.
Chatbots
One AI-technology everyone is talking about is Chatbots and related programs. These are those chatboxes that pop up and are eager to assist you on many websites you browse. These can help e-commerce retailers not only assist their customers 24×7 but also quickly collect valuable information, understand behavior patterns and conduct seamless brand continuity.
A study by Business Insider predicts that by 2020, almost 85% of customer interactions will be managed without a human. Customer service through 'conversation commerce' can be real catch for retailers to integrate Chatbots in their system. Taking on several responsibilities, chatbots, that are essentially computer programs meant to converse with humans, can automate several processes for online shoppers like order processes, shopping cart integration and customer support.
However, these virtual assistants may have reached their boiling point. Proof of fact is that Facebook recently scaled down their chatbot ambitions after recording a 70 per cent failure rate. . In the retail business, inclusion of chatbots can be bothersome for many unless used subtly. More innovative ways are needed to incorporate them without being too pushy.
Visual Search
Imagine clicking a picture of that great vase you spotted at your friend's house party and uploading it on an app to find exactly the same or similar vases for your home! Yes, a software science called 'artificial intelligence with a vision' is enabling this product-search innovation through live and real-time image classification.
Pinterest, the largest visual bookmarking site, has come up with Pinterest Lens, a service that enables people to hold visual searches based on items they might have spotted in the everyday world. Not just art or furniture, you can even try to find the exact same shoes you saw on a man walking on the sidewalk! Apparently, Amazon's new app has already integrated this AI technique to help people find similar things from its online shopping catalogue.  Gilt and Etsy are two other companies that deploy the similar image-detection tools to find similar items of clothing.
Meanwhile, players like Adobe are letting people sketch images of the products they want with an image-editing tool that can turn a rudimentary outline of a wallet or dress into a photorealistic and tweakable image. The software also taps on a database of similar images and turns the drawings into pictures.
Similarly, tools integrating deep learning into offerings are becoming a big hit among retailers. Using AI to predict customer behavior, you must have experienced the 'suggestions factor'! So when you choose a smart phone, etailers suggest what cover, earphone, accessory you can purchase with it. Against, restraint and subtlety are key to nudge people and not be pushy.
AI Assisting in the sales process
An intelligent sales process is driven truly by data. Analyzing vast amount of information collected by e-tailers over a period of two to three years and then applying AI disruption to it can do wonders for an online business. American activewear and outdoor sports gear company and e-tailer The North Face is successfully using AI to understand their customers better. It is using IBM Watson AI-enabled chatbot that can help online shoppers find THE product they are looking for. Watson, that has been enabled on their website, asks the consumer appropriate questions like "where and when will they be using the bag?' through voice input AI technology. Hundreds of products are then scanned to find perfect matches based on real-time customer input and its own research like the weather conditions in the mentioned area.
This petabytes of data is being and can be used by brands to predict customer behavior and offer relevant and helpful recommendations to individual consumers. This also makes the online shopping experience much more personal. You no longer have to scan through 80,000 dresses, even after applying boring and faulty filters, to find that perfect date dress. A personalised shopping experience is at your screen-step.
Café brand Starbucks has launched 'My Starbucks Barista' that utilises AI to enable customers to place orders with voice command or messaging while suggesting them their personal favourites. Integration of a variety of inputs like account information, preferences, purchase history, third-party data and contextual information helps the coffee giant deliver a more personalised experience to its customers.
Conclusion
AI and ML in e-commerce are extremely vital because of its potential. Driving change in areas of search and customer service, AI technique of Neuro-Linguistic Programming (NLP) can be applied to solve a number of problems with speech recognition, question answering, natural language understanding, product recommendations, dialogue systems, product search, etc. NLP that garners its technology on how human think, the linguistics they use and behavior patterns can provide a real-like experience to consumers akin to asking for help in a store.
However, like the early days of the Internet, a lot of work remains to be done to integrate AI seamlessly into the daily lives of online shoppers. Several experiments are going on and seems like we will certain see much more unique and creative tech in the domain with the IT industry ready to change how online shopping is done.