The 5WH Approach to Cloud Computing

Who provides cloud services?
Many of the leading IT industries provide cloud service. All of them vary in their services with unified motive of providing cloud services. But, yes! It is completely an end users choice who to choose as best partner. It should ideally be "the one who provides a  (vertical & horizontal) scalable, secure, highly compliant, high compute and flexible cloud service".
ESDS's eNlight proudly offers an auto-scalable infrastructure with vertical and horizontal scaling capabilities.
What is Cloud computing and what are its costs?
Cloud computing is a computing paradigm with virtual network of remote servers allowing users to store, process and access data; providing on-demand computational services with features like elasticity, scalability, security and redundancy.
Cost of cloud varies in accords with the type of services and the extent of its practice. Many leading cloud providers are providing pay per consume cloud services.
What are the various types of cloud services?
Cloud service providers, mainly provides with 3 types of services, they are:
Infrastructure as a service (IaaS): This service provides user computing utilities over the internet or web as servers and storage, also called as utility computing.
Platform as a service (PaaS): This service enables user with applications supported by web based tools to run on different platforms.
Software as a service (SaaS): This service Provides a broad application access to user (irrespective of type of OS on user's system), when it is running on another host system.
However, deployment models of the above services are categorized broadly as:
Public cloud: It is an open cloud made available for general users by the cloud service provides. Users shares resources in this cloud.
Private cloud: It is a dedicated cloud, say for an organization that can be hosted internally or externally.
Hybrid cloud: It is a composition of two or more clouds (Private cloud, Public cloud, Community cloud).
Considering your requirements, many cloud service providers delivers fully customized cloud solutions to fit in your sets.
Where can I find cloud services?
To find appropriate cloud service for your requirements, you must first decide upon type of service best suited for your business. If you are confused about the services and offerings, you can talk to sales support of an experienced cloud service provider. You can search for best cloud service provider fulfilling your cloud-needs and fitting in frame of your budget. You can consult with organizations and businesses, already using cloud or best is to search an appropriate cloud provider (again, by appropriate I mean, the one who provides a scalable, secure, highly compliant, high compute and flexible cloud service to meet up all your needs) on internet (where you can get precise information on almost anything).
When is the right time to adopt cloud computing?
If your business is up for touching pinnacles and you are inconsistently running short OR exceeding the set limits of IT resources and you want to place your business on elevations, you can adopt cloud computing without any worries. This will certainly prove catalyst in your success. Many SMBs have already adopted cloud and the digits are increasing rapidly each day. According to the survey by RightScale in year 2014, more than 80% of organizations are already using one or the other type of cloud.
Furthermore, Gartner predicts that Infrastructure-as-a-Service (IaaS) will achieve a compound annual growth rate (CAGR) of 41.3% through 2016, the fastest growing area of public cloud computing the research firm tracks.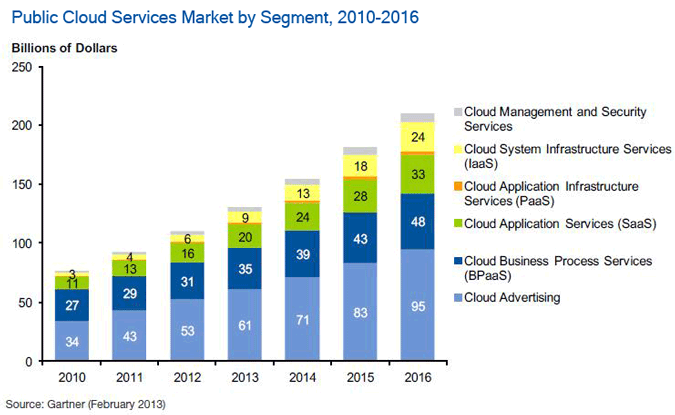 Why to adopt cloud computing?
Cloud is not just a service but a Business catalyst providing with many benefits. It helps reduce cost significantly, increases business agility, Provides flexibility, CAPEX free, provides comfort of working from anywhere, secured and backups your data with automatic software updates. In short a complete package to stress free business productivity.
How to choose amongst different cloud services?
First step is to know your business requirement, once you are pretty clear with the need of your business; you need to analyze how your requirements will be fulfilled by cloud, check out types of services provided in Cloud and if any of it is not fitting your requirement talk to an exuberant support by cloud service provider, They always have customized plans for you to fit in your sets of expectations.

Latest posts by Vaishnavi Kulkarni
(see all)