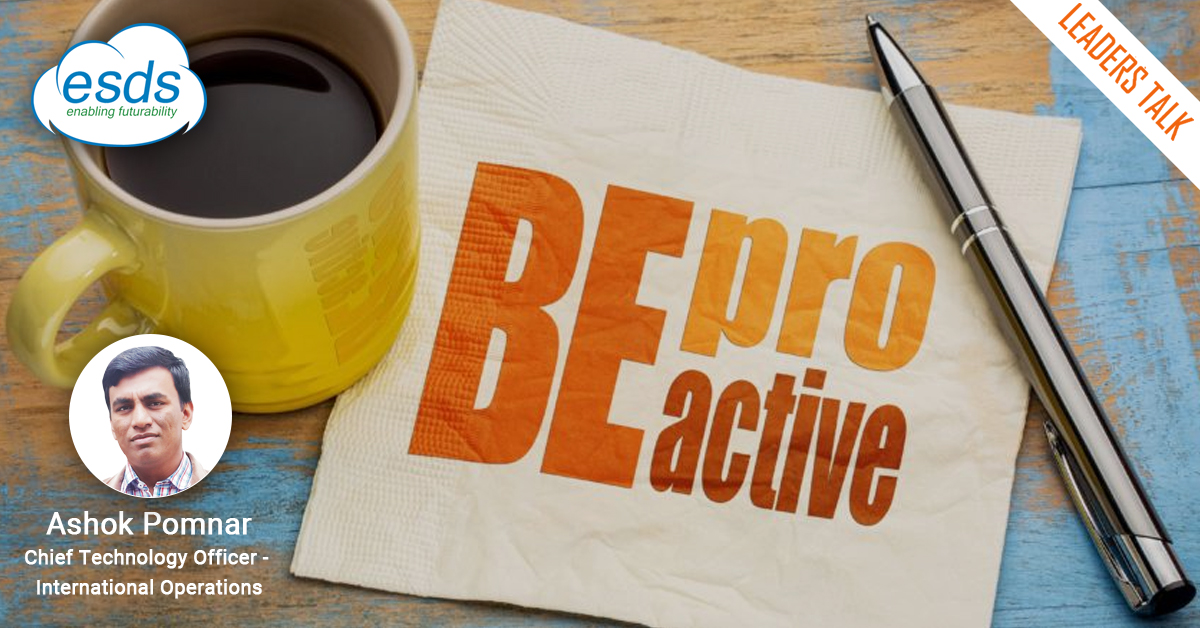 Proactive Approach: The key to drive success
Proactive & Reactive Approach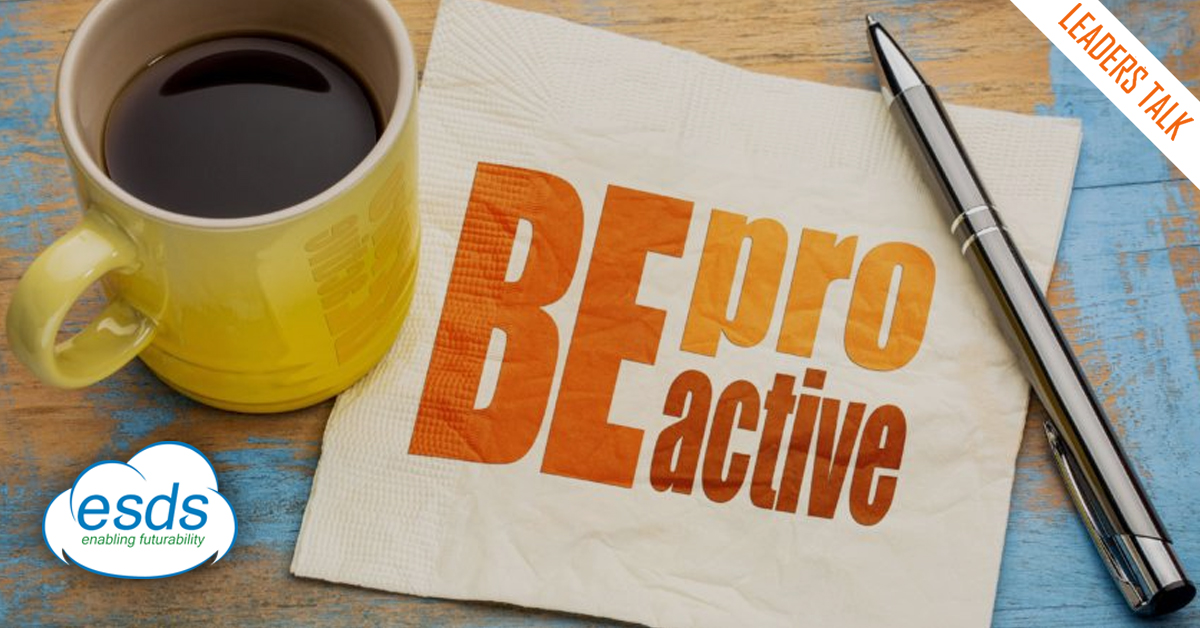 For many businesses, the default approach to customer service is to respond to clients/events after a problem arises. This reactive method might satisfy the customer and solve the problem temporarily, but it won't surprise or delight them. Instead, imagine if you could solve problems even before customers have to call you. Or even better, if you could address issues before they even became aware of them. This Proactive Approach is a core value of ESDS and ESDSians. It is a practice that must be implemented by everyone willingly. Having a proactive attitude towards every issue will not only escalate one's personal growth but it will also enhances performance in day-to-day tasks.
Acting before a situation becomes a source of confrontation or crisis is called being proactive. To be proactive, one must have an awareness of future conditions so that they can take advantage of promising situations in the future. Without this awareness, being proactive is difficult in any situation. People who are proactive are usually precise and organized.
First of all, proactive customer service allows you to detect and react to customer problems. You can catch them before they grow into these big, impossible to overcome customer pain points. This means that you don't have to wait for customers to become annoyed with something. Instead, proactive customer service allows you to reach out to them before they reach the pain point and become annoyed.
ESDS' world-class products like eMagic and MTvScan proactively generate alerts and help teams take proactive access.
Sr. No.

Key points
Proactive

Reactive

1

Action

Proactive Approach is where actions are taken before a small difficulty turns into an issue or a problem.
Reactive Approach is when actions are taken after the issue arises and this increases work pressure and load.
2

Resolution

Identifying and resolving any difficulty that a customer would face and fixing it right away is the benefit of this approach and is faster in having resolutions for problems too.
This approach involves identifying and solving a technical issue once it has occurred, i.e. when you are directly reacting to the problem after it has already impacted a customer's business. Providing resolutions for such problems would require more time and would ultimately be a slow process.
3

Business Impact

In Proactive Approach, the business impact would be low as you would have already taken care of any issues even before they turn out to be a problem.
In Reactive Approach, the business impact is high and would affect not only the customer's business but also our work.

4

Downtime

There would be minimal or a scheduled downtime if this approach is implemented by each one of us.
A major downtime will occur if reactive approach is practiced in day-to-day tasks followed at work.

5

Problem Analysis

It is identifying and resolving any difficulty that a customer would face which can later turn into a big problem.
It involves identifying and solving a technical issue once it has occurred, that is, when you are directly reacting to the problem after it has already impacted a customer's business.

6

Problem Solutions

This approach would make sure that there is a solution to every issue even before they arise as one important way is by creating knowledge bases. It helps to reduce the research time for issues that occur repeatedly. This includes strategic planning and help in all future tasks.
Being reactive means waiting for the issue to arise and then making a strategy and devising a plan to resolve it. This approach would not provide immediate solutions to problems and that would have an impact on both customer's trust in us and on our own personal growth.

7

Knowledge Enhancement

By being proactive, you would increase your knowledge as you would have solutions to problems prior to their occurrence and would make sure these problems do not arise in future.
Being a reactive person would not help gain much knowledge because all the solutions you come up with would be either after the issue arises or after the customer has come to us with a complaint. This would delay the process of solving it.

8

Time/Time Saving

Proactive approach involves self-initiated tasks and tasks for which we would have to take up responsibility, in return saving a lot of our time so that we could focus on other tasks as well.

The proactive approach saves time for customers that would be spent on finding a solution. It also allows customers to access the value that your business is offering that much quicker.

Reactive approach means no responsibility and there would be little to no self-initiative from one's end leaving us with no time to complete the other tasks that are assigned or that can be self-initiated.

9

After Impact

The after-impact would be as good as not having any major effects or any major issues which would mean having many people involves for solutions. It would be a stress-free work environment and there would be no impact that would put the customer's business in danger.
The after-impact would be greater if a reactive approach is carried out, affecting yourself and also your work. By being reactive, you will need to answer every question that is raised and would have to provide explanations for why the issue was not taken care of when it could have been done before.

10

Workload

Proactively handling issues will reduce workload and impact that could affect the customer's business. It will also help you manage your other daily tasks and will help you have enough time to complete the other tasks allotted to you.
The workload is not distributed as there would be a lot of issues that would require a resolution. Reactively participating in tasks would only increase the workload and will equally disturb the environment around us.
11

Work Environment

The work environment will always be filled with enthusiasm as being proactive lowers mental pressure because all the tasks are already taken care of and the workload is balanced. Solutions to problems would be provided within the given timeframe and this will make the customer happy and will not have positive effects on our work environment.
The work environment would always remain stressful if reactive approach is practiced. Due to imbalance in workload, the pressure of completing work would keep environment around everyone tensed.

12

Customer Satisfaction

Acting prior to an issue not only builds confidence in customers but also within one's self and benefits each one in every task at hand.

Proactive customer service will allow you to build customer loyalty through amazing customer service experiences.

Acting once the difficulty becomes a problem not only develops a delayed attitude to reacting to things but also lessens the confidence for problem solving.

13

Company Business

The company's business will not be impacted if everyone would have a proactive attitude as there would be no customer escalations and no issues would arise that make the customer unhappy. This would benefit the company's growth and would also keep the customer confident about our responses to every situation.
Being reactive creates a situation where the customer has to come to us for every major and minor issue. This impacts business as loosing even one customer's faith and making him unhappy can cost companies a lot.

14

Approach

Anticipating customer issues and addressing them proactively would be beneficial. In other words if you tend to offer solutions to problems before they force the customer to ask for help would be best for us and for the customer too. Proactive approach allows you to detect and react to customer problems at proper time with no delays. Self-initiative tasks would boost our own confidence too.
In reactive approach, you tend to wait for an issue to occur and then find solutions to monitor them and solve them. This portrays a sense of no-responsibility towards work attitude and would not benefit us in the long run.

Latest posts by Ashok Pomnar
(see all)