Save Money with eNlight's Vertical & Horizontal Scaling Options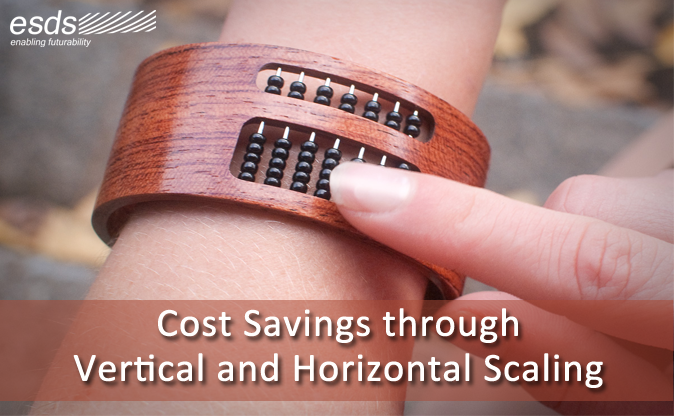 One of the most important features of cloud computing is scalability. As a business, you are constantly growing, and so are your cloud needs. That's why it's important that your provider allows for some form of scalability.
The need for a scalable cloud is clearly demonstrated by the results of the 2015 ComputerWorld Forecast. That was developed following the conversations with IT decision-makers who said that their storage needs increased by 38% in 2015.
As a consequence of this increased storage among other factors such as data security costs, these IT executives predict that their IT budgets will increase by 43% during 2016. It is likely that your business will experience the same rise in IT costs.
If there was a way you could bring down cloud storage costs and in effect lower IT costs, would you use it?
Fortunately for you there is a way. ESDS offers you the chance to save money with automatic scaling on its eNlight service through the pay per Consume feature. Before we look at exactly how you can do this, let's look horizontal and vertical scaling and how they work.
Horizontal Scaling
Horizontal scaling is the ability to scale to accommodate traffic growth. In this type of scaling, you have the ability to connect several software and hardware entities so that they work as a single unit. It is time intensive and, therefore, can't be implemented immediately.
Vertical Scaling
With vertical scaling, you get to increase or reduce the size of your server without changing any code. You're increasing the size of your software or hardware by increasing resources. Because you don't change the code, you can only increase resources as far as the server can allow. In this case, your scalability is limited by the available size of the server.
Now that you understand exactly what scaling is, let's see how eNlight's auto-scaling feature can save you time and money.
eNlight's Auto Scaling and Its Pay As-Needed Feature
Intelligent auto scaling is eNlight's secret when it comes to cost saving for our clients. Our system knows when, how and why your business needs additional or less storage. These changes are then automatically made to a user's account depending on their needs.
Here's how you save money. Our services are offered on a 'Pay per Consume' basis and because they are so customizable, you only pay for what you need. If you consider the fact that many businesses pay inflated cloud fees for storage they don't need, this is a very valuable benefit for our clients.
Our system of automatic horizontal or vertical scaling to correspond with your needs also saves you a lot of time. You don't have to keep adjusting the parameters of your cloud. You can focus on the business aspects of your company and leave the tedious IT infrastructure management to us.
With eNlight, you don't have to know the specifics of scaling. Our automatic system simply adjusts to your storage needs and you only pay for what you use.
In this way, your costs will only increase if you need significantly more storage and so resource waste is limited.
How much do you spend on your cloud computing and how do you think automatic scaling can help you save money? Share your thoughts with us!