Heterogeneous Hypervisor Management with eMagic
Heterogeneous Hypervisor Management with eMagic
Presentation
Management of various hypervisors could be a time-consuming challenge. So here, we will explore the answers to common questions of Heterogeneous hypervisor management.
Today, the heterogeneous hypervisor environment has become a widely adopted practice among IT departments of large and medium sized companies. To tackle the trickiest problems of integrated multiple hypervisor management, companies must have a unique approach and appropriate tool required to run those hypervisors.
But why are companies inclined towards Multi-Hypervisor?
The answers are as varied as the infrastructure themselves. However, we all know companies usually tend to have more than one operating system environment to use. Now many of them are likely to have multiple hypervisors as the deployment of this architecture provides them more flexibility and ease the monitoring and maintenance tasks of the infrastructure. Basically, the goal is to organize hypervisors in tiers, just like storage tiers.
Anyway, the desire to have management tools for this requirement continues to grow and this is where eMagic comes into play. ESDS has developed a tool called as eMagic, which draws all the capabilities of a variety of important aspects of data center infrastructure management and one of them is heterogeneous hypervisors support.
What

hypervisors

eMagic

, supports?
It can manage multiple hypervisors such as VMware, Hyper-V, Virtuozzo, Xen, eNlight. User can provision virtual machines through eMagic. All operations like Create, Recycle, Power Off, Power On, Suspend can be performed via eMagic on anytime of virtual machines.
Ease to use and Powerful Cloud Orchestration
Flexibility:

eMagic

supports

orchestration of VMware, Hyper-V,

eNlight

platforms, where user can create and manage virtual machines from

eMagic

.
Creating and Managing VMs: User can manage operations like create, start, stop, remove, etc.… Also can monitor resources like CPU, RAM, and Bandwidth along with managing a cluster.
VM Monitoring: Cloud discovery operation enables system admin to cross check VMs on the actual cloud and VMs in the

eMagic

.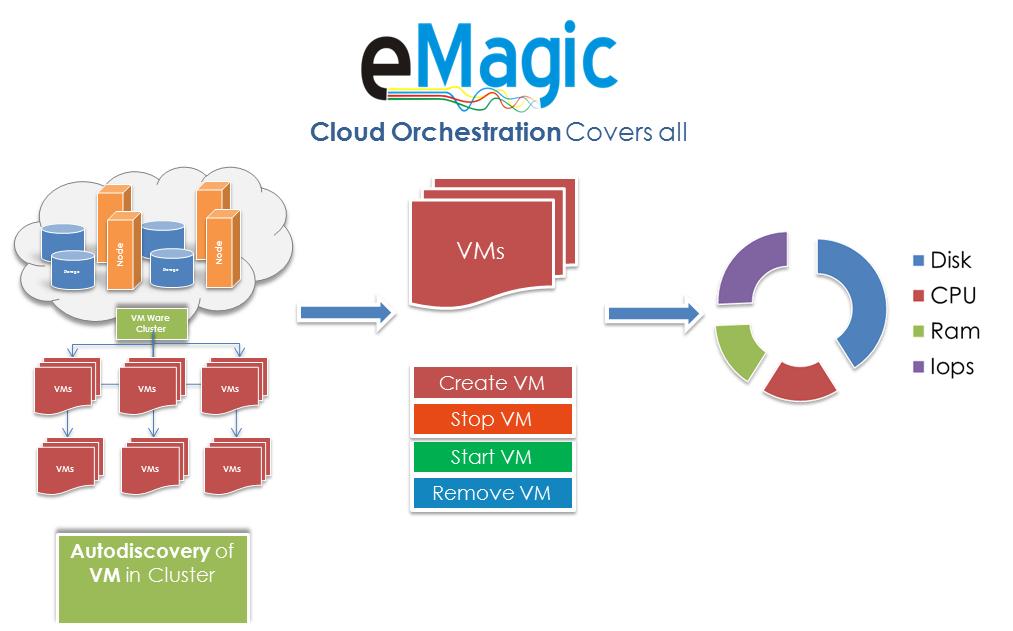 4 Highlights of

eMagic

Heterogeneous Environment Management Tool
With eMagic, ESDS has begun to compete with the multi-hypervisor Data center trend and designed, easy to use tool to make admissions live easier. It performs almost all administrative tasks, such as creation of VMs, settings editing and powering them on and off. These 4 elements are the most popular in the market.
Though, there are many other tools available in the market for multi-hypervisor management, but many of them fall short of when it comes to the performing critical functions such as cluster management, resource pooling, provision of storage and other networking operations. With eMagic deployment, you can plan management accordingly; hence you can easily manage your infrastructure with multiple hypervisors.
What to expect from

eMagic

Multi-Hypervisor Manager?
eMagic has involved mixed data centers environment trend and recognizes the legitimacy of demanding hypervisors in the market. eMagic has the ability to manage various hypervisors and planning to support KVM in the future release. Ultimately, eMagic is more targeted towards multi-hypervisor management.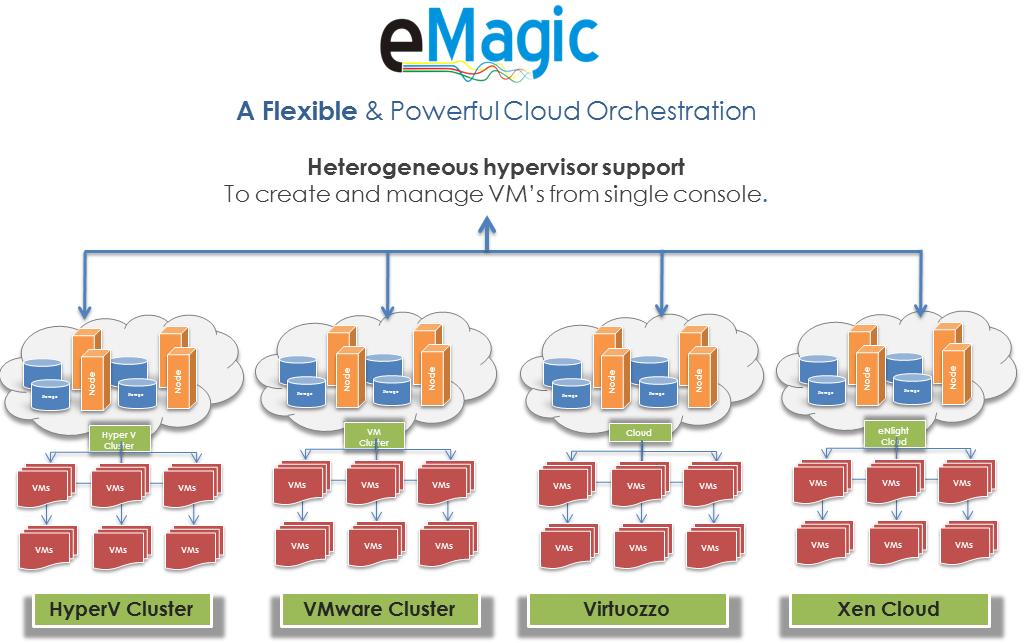 Conclusion:
Is a multi-hypervisor on your to-do-list in 2015? Share your thoughts on our social channels. For a note: implementation of this architecture in your infrastructure would be a budget friendly decision, as your IT department can choose an expensive hypervisor for critical applications and can save cost by using a cheaper option for less-critical application. Though, it is not surprising that multiple hypervisors management of the infrastructure often seems challenging, but it's not hard to manage.