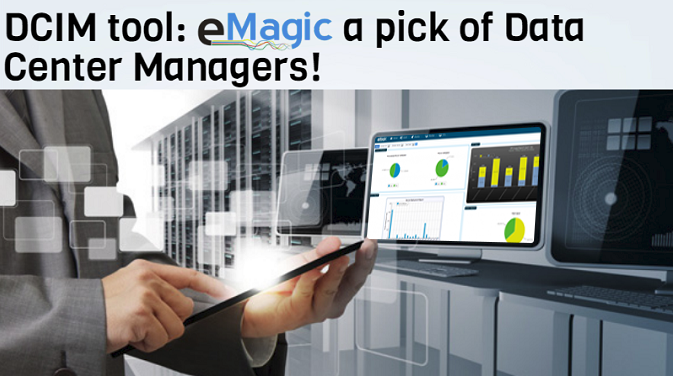 DCIM tool: eMagic a pick of Data Center Managers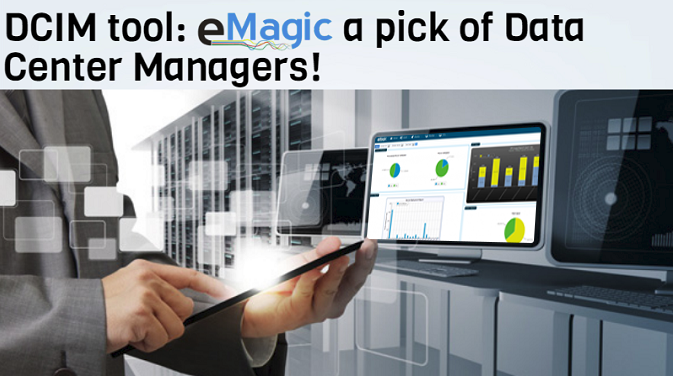 DCIM Tool
Today market has become comprehensively mature; with customers and providers both well informed and aware of the technological advancements. This has certainly led to the competitive approach between manufacturers for the conception of sustainable products in Market. Knowledge, awareness and experiences have made CTOs and CIOs more particular to the selection and implementation of new progressions in organizations. Range of selection for DCIM tools with various features is available now.
eMagic a complete data center management tool by ESDS has many combined features and benefits that makes it an ideal solution for Data center management. Data center managers were conservative, initially there was hesitation in adoption of DCIM tools, but now the scenario has turned towards DCIM deployment, due to an increased understanding of its benefits. This awareness has also turned up to the increased primary IT budgets in organizations.
The muddle created after a decision of DCIM software implementation is of choosing perfect DCIM software in a range available. To make this task simpler here is the approach that may simplify this state of confusion
Create a checklist of the features that you nonetheless want in your DCIM
Divide your needs in 3 categories Primary, Secondary and Last choice
Search for DCIM that is fulfilling Primary needs and also providing with Secondary
Check with your budgets
The perfect fit is that which is providing all primary features and also is able to provide secondary, in planned budgets.
eMagic carries potential to handle Data center operations with mere 3 clicks Build, Deploy and Manage. It not only monitors DC but helps IT managers manage it as well. Virtual machine operations can also be controlled using eMagic, i.e. it not only helps in DC operations but also in Cloud operations supporting various virtualization technologies or hypervisors.
Driving factors that is leading to the DCIM adoption and making eMagic a pick of DC managers are:
Management of physical and virtual assets
Capacity Planning/Management
Change, Incident, Problem management
Managing virtual infrastructure clusters
More efficient for heat density cooling
Energy efficiency enterprises
Well, eMagic has catered Banks, enterprises and Government sectors to handle DC operations efficiently; it provides varied modules of operations that effectively carry all required DC operations. It provides with customizable plans and user friendly dashboards to making it operable for even a non-technical person. This makes eMagic a perfect pick of DC mangers. Checkout this link to know more about eMagic.

Latest posts by Vaishnavi Kulkarni
(see all)