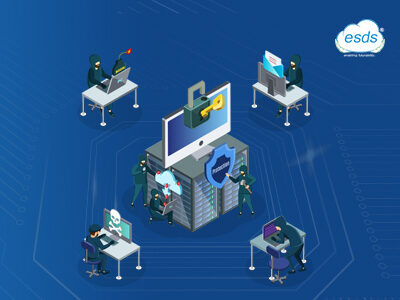 Cybersecurity Mesh – How does it impact your business?
As digital transformation is rapidly accelerating, more businesses are adapting to this current trend. Now the hybrid work environment is also catching up, organizations are faced with new challenges as we are steering away from the traditional network infrastructure. While the hybrid work model comes with its own set of comfort, flexibility, and productivity it also brings in certain risks and complexity. A majority of the staff is working remotely, and control over data and its security has become less rigid leaving the vulnerabilities exposed. Now how to keep the security intact and not let the vulnerabilities prone to hackers? Cybersecurity Mesh, which acts as a cyber-defense strategy with a more holistic approach. While regular security practices use a single perimeter to secure an entire IT environment, Cybersecurity Mesh on the other hand secures each device with its perimeter independently.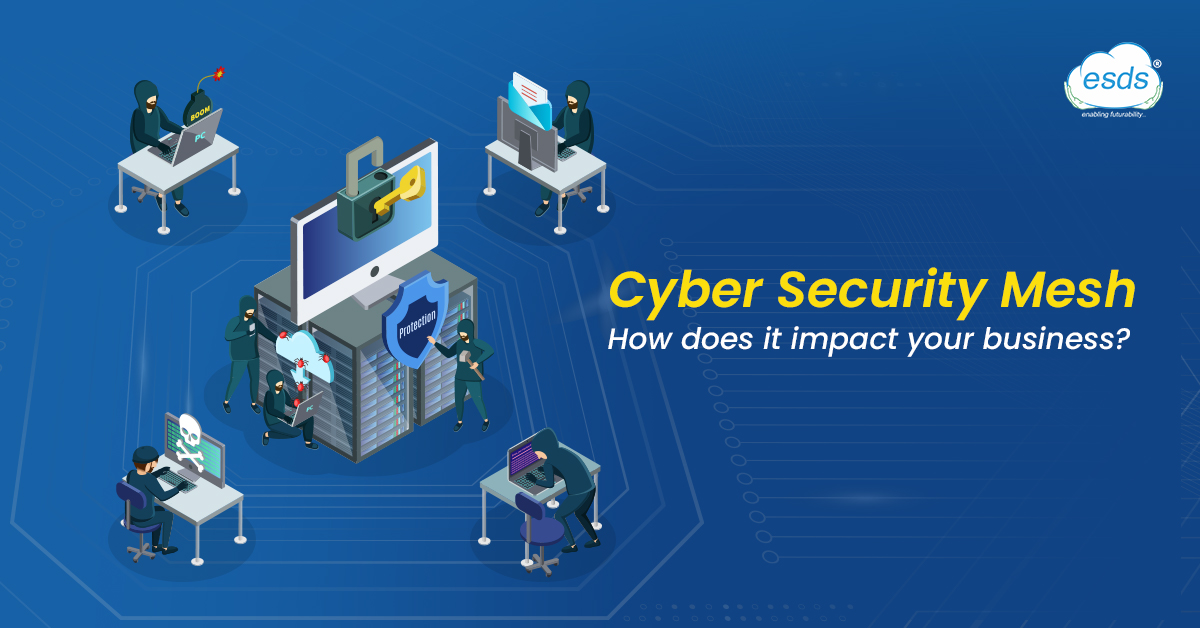 The traditional network perimeter has now become a diverse network that manages infrastructure, remote machines, and their uses, cloud technologies along with IoT devices. Organizations that are adapting to this approach with their remote work model gain access to data and more control over policies implementing new technologies. Industries such as banking, manufacturing, or government are still very much following the traditional practice. Businesses of larger sizes have complex IT architecture hence they need a more distributed model. To run the business smoothly in today's competitive market organizations are inching more towards a data processing edge and relying on multiple cloud implementations.
Now that we have understood what Cybersecurity Mesh is, let's understand its top benefits…
What is the main purpose of Cybersecurity Mesh also known as a Cyber Security Mesh Architecture CSMA for an organization?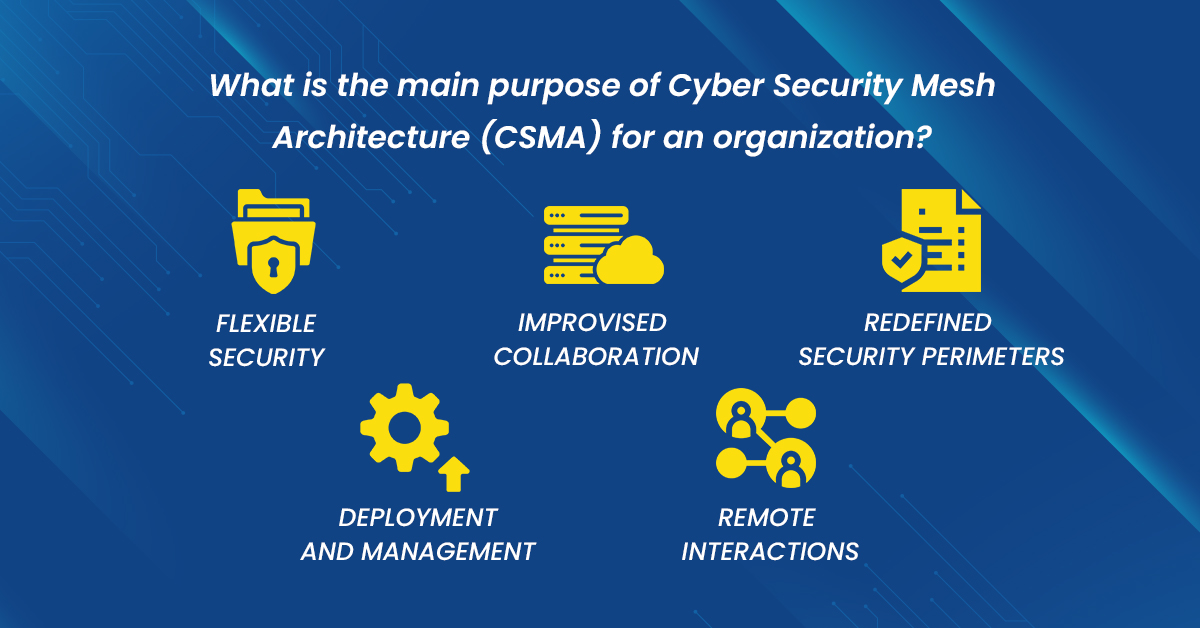 To provide the best of cyber security it takes the approach of helping organizations evolve to the new and latest security systems rather than the outdated ones. The crucial aspects of it include increasing the operability of various security tools while improving their agility and strengthening the overall security systems. Given the market pace and unpredictability, with the help is cybersecurity mesh organizations get a more distributed architectural approach. This also helps in getting a standardized responsive security pattern. Apart from the basic important aspects such as scalability, flexibility, and more reliable, Cybersecurity Mesh also prevents the network from hackers.
Flexible SECURITY
Organizations are exploring a more real-time threat control approach to defense systems that has less to no impact on data or financial loss. A cybersecurity Mesh provides a smart design that increases the agility and resilience of an organization's security setup. With a more reliable approach, CSMA manages controls and access to digital assets for better-unified access management.
IMPROVISED COLLABORATION
The pandemic has introduced all to the new remote working culture for the better which has led to the shift towards hybrid-cloud solutions by organizations. In the efforts of securing all the third-party applications and services, the CSMA approach can help. With extended security systems, CSMA allows the IT departments to secure the entire organizational network as well as secure access points with a single set of tools and technology.
REDEFINED SECURITY PERIMETERS
Now that digital transformation is rapidly increasing, remote working and hybrid working have become regular, security has become a major concern. Businesses are investing heavily in terms of money, technology, and manpower to ensure absolute data security and the lesser impact of any cyber-attack/threat activity. With these security measures in mind, CSMA becomes a vital approach, as applications, data, devices, and other users are operating either outside the organizational network or on a third-party network. With CSMA proving a more distributed approach, it reduces the usual time taken to deploy security measures.
DEPLOYMENT AND MANAGEMENT
One of the best benefits of the CSMA or any business application tool is saving up the precious time of the team. With CSMA organizations are enabled to adapt improved security structures for their growing business. In this competitive market, businesses need higher and better security standards that are swift and easy to deploy. CSMA meets those needs with improved security structures, tools, and operations. 
REMOTE INTERACTIONS
For businesses adapting to the new remote and hybrid work system, the need for implementing enrolments and recovery procedures will increase. This is to reduce the risks and identify between valid users and malicious hackers. Overall, CSMA can be used to make day-to-day operations safer, simpler, and faster with enhanced security. 
We have so far established the need for Cyber Security Mesh and how it impacts a business. Now, how do we understand the prospect of this need, and what factors are promoting the need and impact of Cybersecurity Mesh?
Firstly, evolving from the traditional technology spectrums to a new and advanced approach that matches the ongoing needs and demands of a growing business.
Secondly, data security and prevention from malicious hackers can lead to a major setback for any organization. Data security has become an utmost priority for businesses across sectors and to be able to match the security needs organizations are taking crucial steps.
As the security standards for data are increasing so is the size of the data. With each day passing data is becoming vast and, daily transactions of data have manifold. Organizations are open to exploring applications and tools that can help in churning this data swiftly yet smartly.
In conclusion, Cybersecurity as a concept in the coming years will be considered fundamental keeping in mind the security approach it brings to the table from the traditional practices. On that note talking about the cloud computing technology that supports the new hybrid and remote work structure, is only expected to grow beyond from here. During the difficult times of lockdown, businesses adapted to the cloud to be able to function as well as make profits. Cloud technology in itself is a broad spectrum covering public, private, hybrid, SaaS, PaaS, and much more, that businesses today are infusing with their business strategy.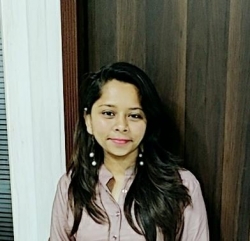 Latest posts by Harshada Parmar
(see all)