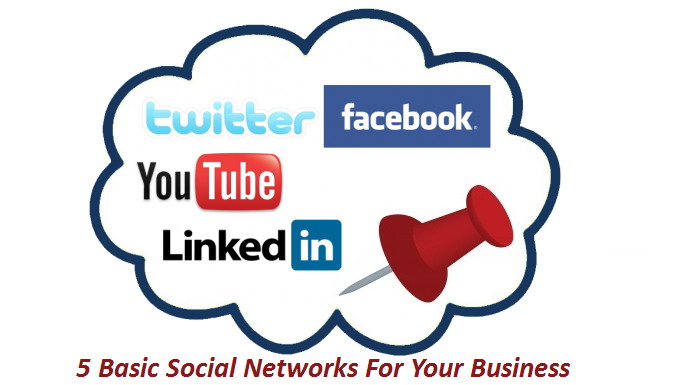 5 Basic Social Networks For Your Business
Social networks have become a fundamental tool for the performance of each company, either by the strategies of marketing we can promote through them, or for any other reason or business area we can strengthen through these media, here are five basic social media to use for building your business.
The following are the five basic Social Networks to use in your business, discover the benefits they offer and see how you can use them effectively to achieve your goals and develop your projects.
1. Facebook
This powerful Social Network was created in 2004 by Mark Zuckerberg and which was designed primarily thinking in the public university, currently this social network has 955 million users with all the social profiles, which is why this is an excellent niche for all types of businesses.
2. Twitter
This is a micro – blogging social network in which users post messages that are no longer than 140 characters, this is among the five basic Social Networks to use. This is the ideal way to update all your followers.
This search has systems and mentions that allows you to identify what users say about your brand, and also lets you quickly viralize your content, with the Retweet option.
3. LinkedIn
LinkedIn is one of the 5 basic Social Networks to be used by companies as this is the most professional social network that you can use, individually this network allows you to open a profile in which you specify your training and your experience however at this also offers several advantages such as the business page and thematic groups.
4. YouTube
YouTube is a video platform created in 2005 and which was bought by Google in 2006, this allows to addup audiovisual equipment to the network quickly and easily, the content uploaded to this network can be illustrated with your own video and thereby increase the possibility that these elements become viral.
If you have a Gmail account you can use the login on YouTube and start customizing your channel, and you can start creating your own content and share with your clients as well as tutorials, webinars, making of, among others, and you can Bookmark third party content that you find interesting. Finally you can also monetize your videos.
5. Pinterest
Pinterest has most recently appeared in the field of Social Networks, since it incepted in March 2010, this has brought together more than 10 million users, only a few days ago the network has confirmed that Pinterest accounts can be opened by invited users only, it is expected that the number of users will increase significantly.