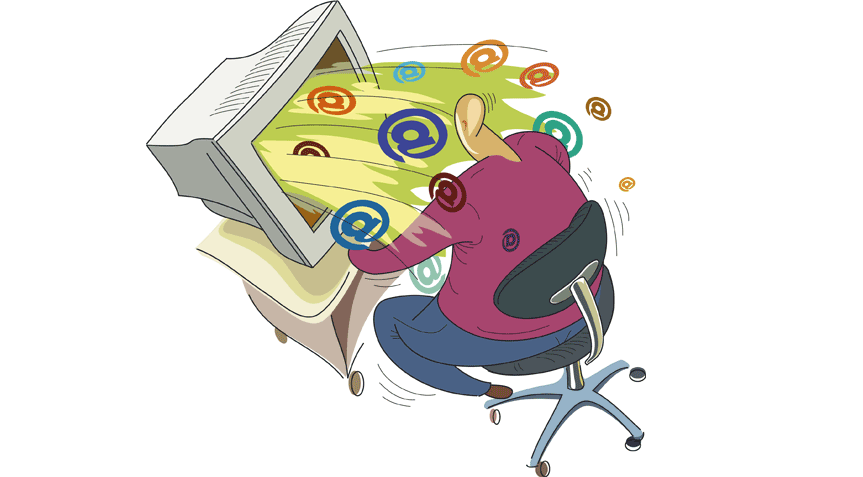 Spam is the term used to refer to unsolicited e-mails, usually sent to a large number of people. When the content is exclusively commercial, this type of message is also referred to as UCE (Unsolicited Commercial E-mail).
What are the problems that spam can cause for an Internet user?
Users of electronic mail service may be affected in different ways.
Some examples are:
Not receiving emails.
Much of Internet service providers limit the size of the user's mailbox on your server. If the number of spam received is too large the user runs the risk of having his or her mailbox crammed with unsolicited messages. If this occurs, the user can no longer receive e-mails, and until the user frees up the space in your mailbox, all messages received will be returned to sender.
The user can also stop receiving e-mails in cases where the anti-spam rules being used are inefficient, for example, sorting legitimate messages as spam.
Unnecessary waste of time.
For each spam received, the user needs to spend a certain time to read, identify the email as spam and remove it from your mailbox.
Increased costs.
Whatever type of Internet access used, who pays the bill for sending the spam is the recipient. For example, for a user who uses dial-up Internet, spam is every few seconds longer connection he will be paying.
Lost productivity.
For those who use email as a business tool, the receipt of spam increases the time dedicated to the task of reading e-mails, plus there is the chance that important messages are not read, be read with delayed or deleted by mistake .
Inappropriate or offensive content.
As most spam is sent to random sets of e-mail, it is likely that the user receives messages with content they deem inappropriate or offensive.
Financial losses caused by fraud.
Spam has been widely used as a vehicle to disseminate fraudulent schemes, which try to induce the user to access pages cloned from financial institutions or to install malicious programs designed to steal personal and financial data.
This type of spam is known as phishing / scam. The user may suffer great financial loss if he provides the information requested or follows the instructions in this kind of fraudulent email.
Learn how to identify fake messages
• Be wary of any messages that request personal information or banking activities;
• Do not open or execute files attached.
• Do not click on links in suspicious messages.
• Do not believe in prizes and free products;
• Do not download files and programs;
• Be wary of messages that ask for confirmation of receipt;
• Attention to grammatical errors and quality of images.
How do spammers get email addresses?
Spammers use various ways to get e-mail, from the purchase of databases with different emails, even producing the lists of e-mails obtained by malicious programs, harvesting and dictionary attacks.
The acquisition by malicious programs is possible due to the strong link between spammers and those who develop these programs. A malicious program, is often also designed to scan the computer where it was installed in search of e-mail, for example, in the address list (address book) of the user. The email addresses collected are then passed on to spammers.
Since the harvesting is a technique used by spammers to scan Web pages, archives of mailing lists, among others, in search of e-mail.
Often, e-mail appear so dim. Examples are web pages or mailing lists that have the e-mail with "@" replaced by "(at)" and points replaced by the word "dot."
It is worth remembering, however, that the programs that implement the techniques used by spammers harvesting may provide these replacements.
Dictionary attacks, in turn, form the spammer e-mail from lists of names of people, words found in dictionaries and / or combination of alphanumeric characters.
As spammers confirm that an e-mail there?
Spammers use various artifices to confirm the existence of e-mail.
One of these artifices is to send messages to addresses graduates and dictionary attacks, based on responses sent by dedicated servers that receive email messages, to identify which addresses are valid and which are not.
Another artifice widely used is the inclusion of an alleged spam mechanism for removal from the list of emails, which may be a link or e-mail. Upon receiving a removal request, confirm that the spammers email address is valid and actually someone uses it.
Another way to verify addresses is the Web bug.
Web bug is an image, usually very small and invisible, which is part of a Web page or an e-mail, which is designed to monitor who is accessing this Web page or e-mail.
When the Web bug appears, various information is stored on the server where it is hosted, such as the IP Address. The computer that accessed the complete URL of the image that corresponds to the web bug, the time it was viewed, etc. .
For example, a spammer might use Web bugs to validate e-mail as follows:
• Creating a Web bug image with the name of the e-mail you want to validate;
Example: fulano.png
• Hosting the Web bug on a server where you have access to information that will be generated when the Web bug is displayed;
• Creating an e-mail in HTML format, which takes its content complete URL of the image corresponding to the Web bug;
Example: http : / / www.domain-example.org/fulano.png
• Created by sending the message to the Address, the email to be validated.
Example: [email protected]/
When the user opens the message sent by the spammer in the mail reader program, the Web bug is accessed and the spammer has confirmation that the e-mail the "X" is valid.
To prevent this artifice to succeed and avoid an e-mail is validated by a spammer, it is possible to disable the program reader e-mails display mode in HTML format.
How to filter e-mails in order to stop receiving spam?
There are basically two types of software that can be used to stop spam: those that are placed on the servers- they filter the emails before they reach up to the user, and those that are installed on users' computers, which filter the e- mails based on rules of each individual user.
It is also worthwhile checking with your ISP, or your network administrator to see if any anti-spam feature available and how to use it.
To whom should I complain when I receive a spam?
You should complain about spam to those responsible for the network who left the message. If this network has an acceptable use policy, the person who sent the spam may receive penalties that are contained therein.
Often, however, it is difficult to know the real source of spam.
Spammers often send their messages through misconfigured machines, which allow third parties to use them to send emails. If this occurs, the complaint to the originating network of spam will serve to alert those responsible for problems with their machines.
It is worth mentioning that it is recommended not responding to spam or send a message requesting removal from the list of emails.
Generally, this is one of the methods that spammers use to confirm that an e-mail address is valid and actually someone uses it.
Emerged as the Spam
Unlike many terms used in computing, spam is not abbreviation of some kind of matter, in fact, the word " spam "is a brand of canned ham, and its manufacturer to write uppercase SPAM, as shown in Fig.

It turns out the analogy in a scene that takes place in a restaurant where every dish on the menu were served with " SPAM " (canned ham), and when the waitress read the menu for customers, much repeated the word " SPAM " and a group sitting at the next table, were singing " SPAM, SPAM, SPAM, SPAM, SPAM, SPAM, SPAM, SPAM, lovely SPAM! Wonderful SPAM !, "the waitress interrupted.