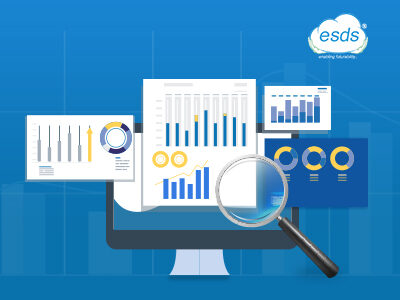 IT Monitoring – Your power to predict and prevent
The efficacy of how you identify and proactively prevent downtime frequently depends on how much of your IT infrastructure you can see and how current your analytic data is. Therefore, you're bound to require a monitoring system to fulfill these standards.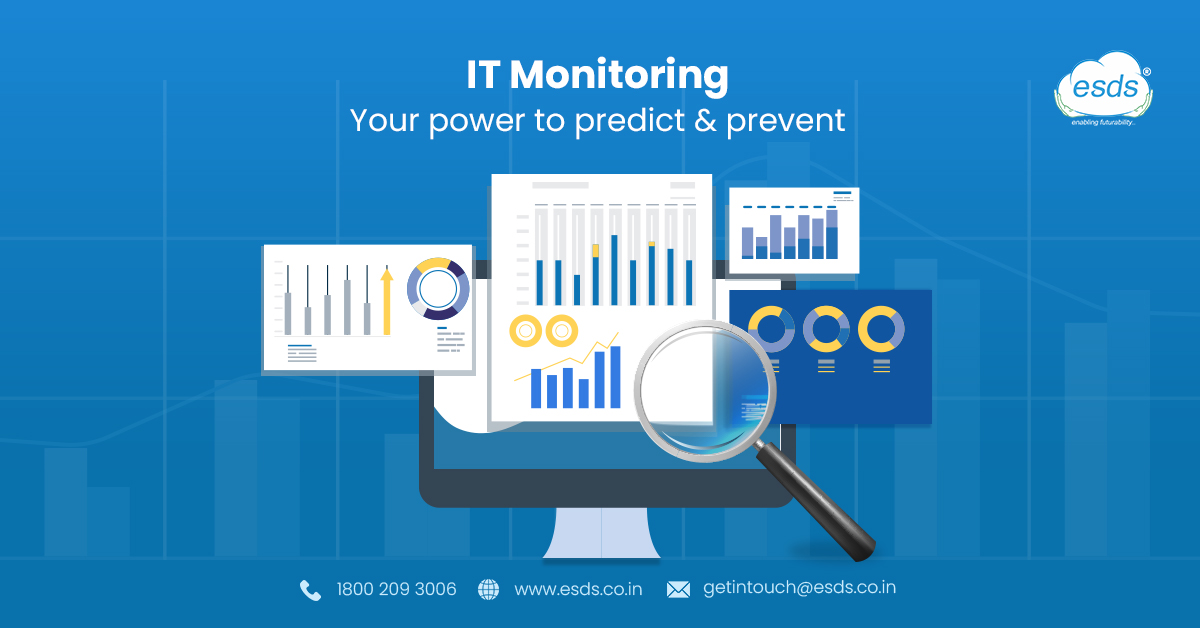 The capabilities of IT monitoring solutions vary, while some can automate the detection and correction of equipment problems, apart from a basic assessment of the equipment throughout an IT environment. Although monitoring tools can benefit your business, careful consideration is required to maximize their value. Because if your business is aware of the monitoring technologies accessible to it and their advantages, it can utilize them to monitor its IT equipment around-the-clock efficiently.
Monitor what matters the most

System monitoring assesses the functionality of network physical-layer infrastructure elements:
The influence on network performance is assessed by monitoring each server separately and then analyzing the data collected from all network nodes. Hardware problems are located and dealt with appropriately. System monitoring, which addresses parameters like server uptime and CPU performance, is also known as availability monitoring.
External integrations are necessary for data processing, resource capacity, and other functional activities in modern apps and services. Integration monitoring is employed to determine the availability and uptime performance of third-party integrations.
This monitoring analyses how your web-based service responds to a user request at the client side of the network, specifically how websites that are moving portions of your service behave. Data transmission errors, page load times, loading errors, and other metrics are measured. Although checking to verify if a host is up or down may seem like a fairly straightforward task, the potential repercussions for an organization dependent on IT systems can be significant.
Monitoring of Application Performance (APM)
Applications play a significant role in business. APM monitors how well the apps function within the current IT environment. The dependencies and underlying infrastructure components are included in the monitoring's purview. When apps run abnormally, APM gathers and analyses incoming network data to assess the condition of the IT environment and pinpoint the root cause of the issue.
Monitoring for security breaches and other strange activities is done through security monitoring, a very specialized form of IT monitoring. Numerous subsets of security analysis tools fall within the broad, high-level category known as "security monitoring."
Network monitoring has become a crucial IT monitoring type because servers and storage are worthless without a LAN and WAN (like the internet) to connect them. Switches, routers, firewalls, and gateways are examples of special network devices that depend on APIs and widely used communication protocols to deliver configuration information like routing and forwarding tables.
Monitoring is more than an alarm in case of an error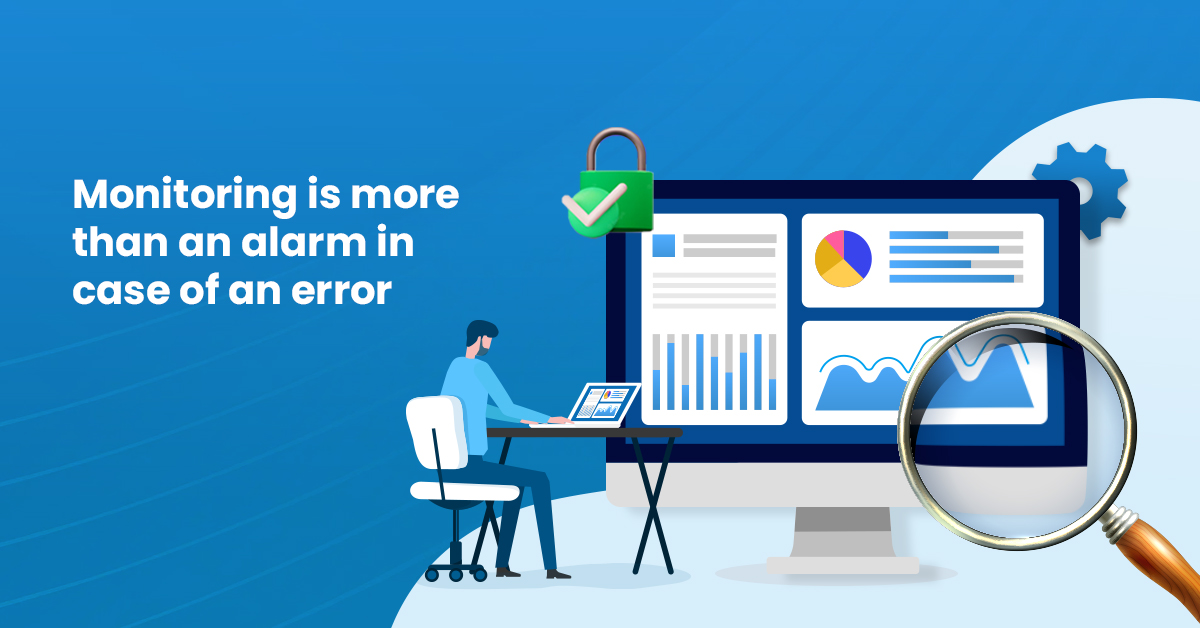 Here are Monitoring management benefits that are beneficial to your businesses.
1. Early Detection of Problems
Finding issues with IT infrastructure has grown to be a significant difficulty for businesses in the modern day due to the expanding infrastructures, technologies, and users. The IT team is responsible for keeping an eye on user-owned, remote, cloud, and internal equipment and services.
Regularly monitoring your IT infrastructure is crucial because it enables you to respond to any warning indications that could lead to a catastrophic disaster much more quickly.
2. Real-time Notifications
One of the main benefits of using IT monitoring systems is the ability to receive notifications in real-time. They will not only let you know about any performance problems, but they will also make it simple for you to fix them.
One of the main benefits of using IT monitoring systems is the ability to receive notifications in real-time. They will not only let you know about any performance problems, but they will also make it simple for you to fix them.
3. Performance Monitoring
Your ability to control the efficiency of your complete IT infrastructure is strengthened by IT monitoring, which also enables you to gauge the precise performance of your system. It gives you an overview of other channels that might soon require adjustments in addition to concentrating on the performance problems that are already occurring.
4. Avoid Network Outages
Outages on the network may be internal or external. While internal outages may result from altered network setups, external outages may be caused by DDOS attacks, hacking, etc. When you have IT monitoring in place, you can see important statistics and data right away to help you spot problems that could be warning signs of a potential network assault or penetration. Before hackers are able to carry out their deeds, network administrators can respond to them fast.
How to use monitoring systems to grow your company?

Continuous IT monitoring is also possible, as well as periodic monitoring that runs on a daily, weekly, or monthly basis. This monitoring provides a measurement of how well the tools or solutions used by your firm are accomplishing the objectives set forth by the company.
1. Gain your clients' views.
The services your clients use are the first and most crucial assets you need to keep an eye on. Keep track of the costs your clients incur. For example, If the ports don't respond appropriately, you can presume that your client is experiencing some form of an outage. You are in a position to fix the case when you are pre-informed about the same.
2. Lessen erroneous alerts
The process of reliable and efficient monitoring is constantly changing. To reduce pointless and annoying alerts, you should constantly delete any checks you don't need. You are lost if an alert arrives and you are unsure of how or whether to respond or even if it is real. You'll start to ignore the alerts and cautions, turning your monitoring into a spam quagmire, rendering it essentially ineffective. It is also beneficial to make a clear distinction between alerts and warnings.
3. Keep an eye on all of your potential weak points.
Every system configuration contains key failure spots or parts that can "switch off all the lights." Consider your switches and routers. If they fail, your entire setup could be affected. Even though those devices are not directly under your control, you still require an immediate alarm when they malfunction. It will assist you in anticipating and responding in advance to additional alarms that may accompany a core-router outage.
4. Automate your backup supervision
Monitoring your backups is a step that is frequently skipped but is essential for successful monitoring. Your ultimate goal is to use your backups. If your system crashes, they are your last line of defense. Make sure you have a routine, automatic process that runs at least once a day to verify that you have a working, recent backup of your data.
5. Increase ROI for Business
The ROI of your company can be significantly impacted by IT monitoring. The IT team will be able to focus more on providing value to end users and less time on maintaining your IT infrastructure.
This will considerably improve your bottom line by increasing productivity and your company's overall growth.
ESDS Monitoring Management suite covers everything you need.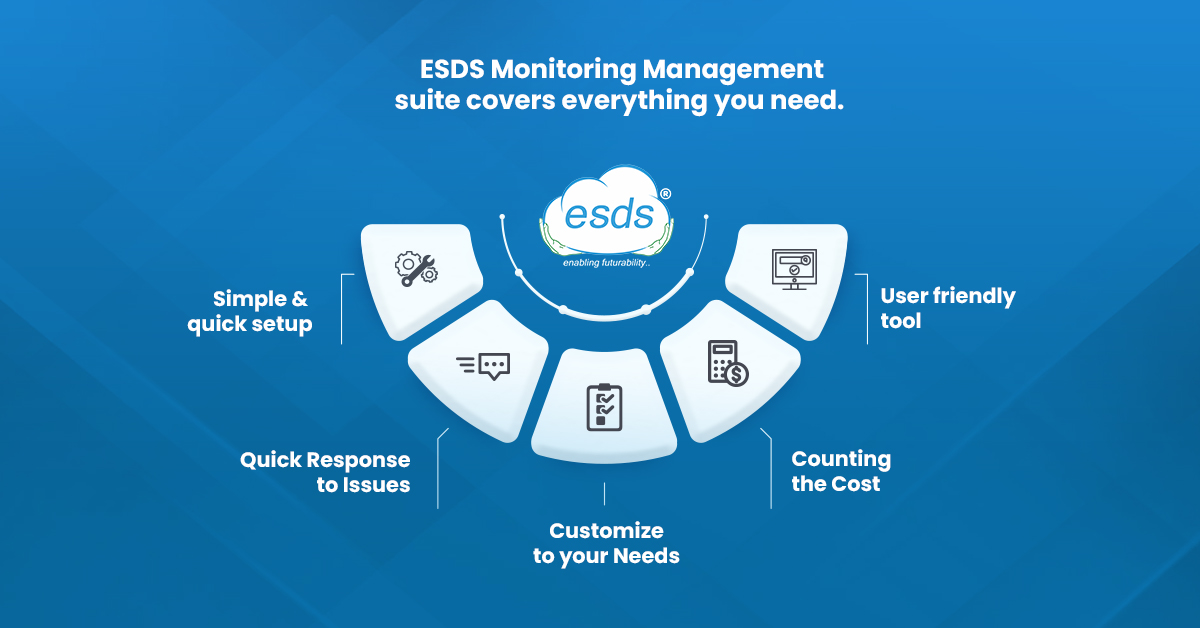 ESDS offers a server monitoring solution that eliminates those headaches and frustrations. It has been designed to be a reliable partner – taking out the hassle to allow you to focus on your main business. Here is how:
The lengthy setup and configuration processes are one of the greatest problems with monitoring systems. The tool typically needs to be configured for days or even weeks before it is consistently configured and doesn't keep you up at night with false warnings. Valuable time from the team's most experienced experts assist you with a quick and easy setup process.
ESDS notifies you and your team wherever you are by sending alerts and warnings to a variety of available notification channels and routing them to your team members according to simple configured criteria. All of the application's features, including the alarm channels, function on any.
Our balanced default configurations enable a quick and dependable start. You can totally customize your settings to meet your unique demands in any areas where they don't completely meet your expectations.
Cost is, after all, an important consideration, made much more so in the present when budgets are closely inspected. ESDS gets you covered with the best monitoring suite more economical than ever.
In addition to being difficult and time-consuming to set up, complex monitoring technologies also call for a certain amount of specialized knowledge and training to use and maintain. Any team member can use ESDS easily because of its user-friendly design to increase the team's efficacy.
ESDS makes Monitoring radically simple
Complete awareness of your IT infrastructure is crucial for preventing problems and assisting you in making decisions. Although this may seem like a fairly straightforward task, the potential repercussions for an organization dependent on IT systems can be significant. It has become crucial for IT administrators to build solutions that enable them to stay up as IT infrastructures have grown more complicated. With ESDS Monitoring Management, you can significantly enhance operations along a wide range of parameters, from basic service availability to assuring high performance and overall business profitability, by formally integrating IT monitoring into your entire ecosystem. contact ESDS on Toll-Free No. 1800 209 3006 or email us at [email protected] for a free consultation.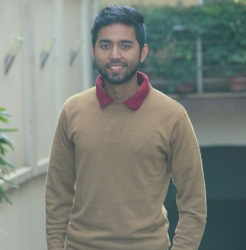 Latest posts by Alston Dsouza
(see all)