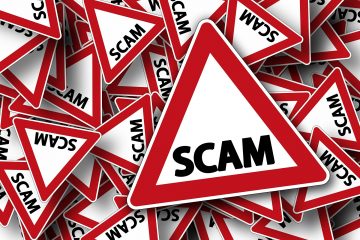 Are you aware of all types of online scams prevalent nowadays?
The general rule of thumb when working on the Internet is If you feel suspicious about any email at all, do not open it, and for sure don't open any link provided inside it.
Online phishing scams have been around a while and as we turn more towards Digital Technology for almost everything. Right from social interaction to banking and shopping online, Identity and banking information thefts are running rampant.
The problem seems to be growing even more like a lot of our personal information is publicly available on Social media channels and other data collecting websites.
The problem is only growing, as more personal information is now publicly available on social media channels and websites, and hackers can easily craft personalized phishing attacks for their preys and be very convincing and easily bypass many Security systems. In recent years we have also witnessed an increase in bank fraud cases where using stolen identities, and Aadhaar information scammers have stolen money from individual bank accounts.
Kaspersky Lab a cybersecurity firm investigated the Dark Web Market and found out that personal data of any person, their complete digital life is worth even less than $50 nearly just Rs 3500.
This information includes social media accounts, personal banking information, and even remote access to desktops or servers. In most situations, this data will also include personal information from popular services like Uber, Netflix, Amazon, to dating apps, gaming websites, and porn websites which might consist of sensitive credit/debit card information. This causes severe problems for any victim, who may end up losing all their money and reputation, find themselves in a problematic situation like perused for debt these scammers have incurred using stolen identity, or even be suspect to criminal activity done using their identity as a cover.
After constant reports of ATM skimming frauds, State Bank of India (SBI), India's largest nationalized bank sent emails to all their customers warning them the scam. The SBI letter not only alerts the users against this fraud but also tells them how to report it and other redressal methods. In fact, the bank has also reduced the ATM withdrawal limit to Rs 20,000 per day.
The Income Tax Department is warning Indian citizens to be aware of phishing attacks carried out through fake IT returns SMS'. Messages appear to be legitimate Income Tax Department messages.
The messages end with a Bitly link to fake online banking website mostly SBI. This phishing attempt is meant to steal your SBI internet banking login details.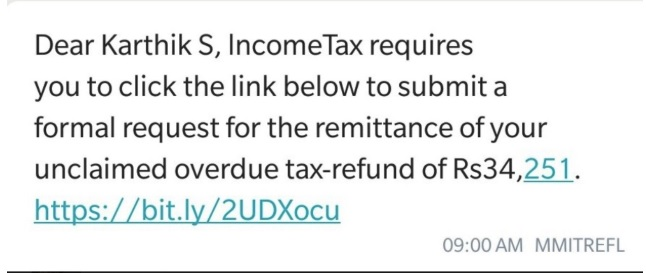 "Note: The Income Tax Department will never ask anyone for banking login details for accessing any service".
Phishing attempts are not the only problem innocent citizens are facing, another popular scam in India at the moment is the SIM card Swap. SIM Swap is basically registering a new empty SIM with your number, once it is done, the SIM card you have will become invalid and you will stop receiving a network signal. Now they can receive OTPs on their SIM card and using that they can easily initiate bank transfer and shop online with ease until you block that number.
Recently, a Noida resident lost Rs 6.8 lakh from his SBI account via UPI banking through the SIM Swap fraud. Interestingly, the victim does not even own a smartphone.
Some common scams online can be avoided by staying aware and alert about online scams and education the ones around you.
Work Online Scams– Any online work scheme that charges you in advance before giving you any actual work is definitely a scam. Online work websites like 'Freelancer' and 'Upwork' only take their cut when you have been paid by any employer online.
Training Program Scams: The same goes for online training programs when if you are asked to pay in advance before getting a peek or a detailed demo of what you are about to learn, it is a Scam, do your research on legitimate websites and approach them for certified training courses. And almost anything you want to learn is available online for free.
Recruitment Scams: Legitimate companies don't ask for money. If you get calls or emails from reputed Job portals like 'Naukri' or 'Monster' demanding even a small amount of money for premium services, it is a scam. These websites have started issuing warning messages to their subscribers alerting them about these scammers.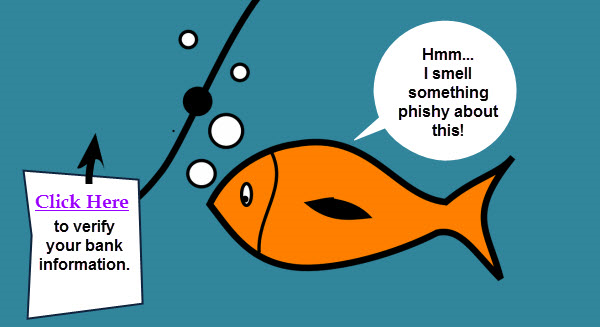 Matrimonial Website Scam: A large number of fake account has surged matrimonial platforms like 'Shaadi', 'Jeevansathi' and 'Bharatmatrimony'. These are organized crime syndicates including Indian and Nigerian citizens duping vulnerable or easily gullible people for crores of rupees. They pose as lucrative international prospects and create a robust online relationship before asking you any money. Once they have you trapped in their trust, they will pressurize you into transferring small to large amounts of money under the pretext of expensive stuck parcels at the customs office or urgent medical emergency and many other such believable narratives they have pre-planned with their team. Once they receive your money you can never get in touch with them, they will disappear without leaving a trace.
'Easy Money Online Real Fast' Scams– If you are going to work online You have to work hard. Any schemes that promise to give you any 'get rich quick' formula for a small amount of money is a scam. You have to use basic common sense to understand. If something sounds too good to be true, it is probably a scam.
The Social Network Trap– The social network trap is an elaborate one where huge teams of fraudsters work in collaboration to narrow down prospective individuals that can be tricked or blackmailed easily. Some members of the team will befriend you on social media while others will keep track of your emails and net banking usage. A complete analysis of you will give them enough information to carry out the online heist.
The best way to keep safe from such phishing attempts is to always keep your personal financial data secure and only in your own possession and don't share it with anyone. Following the above tips and staying alert of new and upcoming such scams can keep you safe from scammers and Identity thefts.