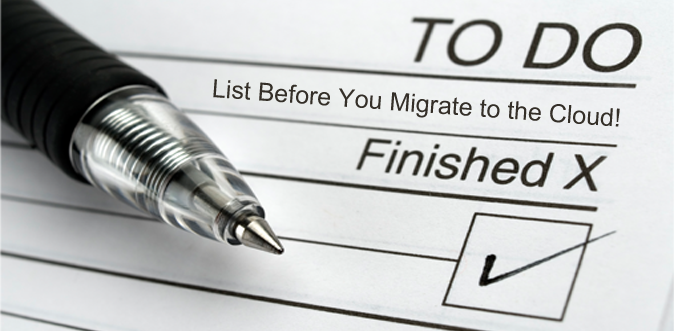 Your To-Do Checklist Before You Migrate to the Cloud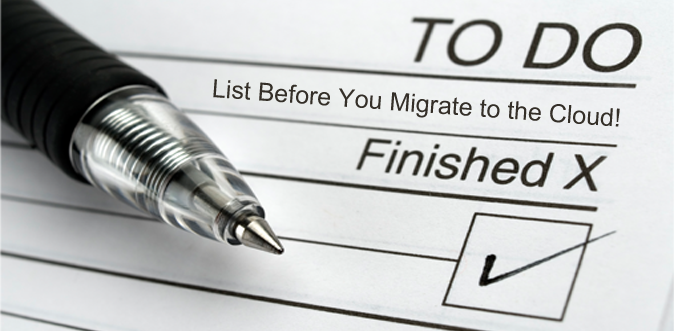 Checklist Before You Migrate to the Cloud
There's no denying the fact that cloud services have provided businesses and organizations with a flexible and versatile platform that's quickly growing popular among companies looking to save money and increase efficiency.
Even with cloud technologies recent advancements, migration of your organization to the cloud and then adapting to it is still a difficult process. As for any other journey, you'll need to prepare for the trip. Being a business move, you'll also need to think about your cloud migration strategy and do some careful planning.
Here are a few points that you should consider and address as you start migrating to the cloud.
Choosing Your Cloud Flavor
The first and most important thing that you need to do is decide what cloud platform and flavor you're going with.
1. Assess Your Requirements
Consider your organization's characteristics before you choose a cloud service. You should know the workload that you're going to be transferring. Look for the cloud services that can deal with that load.
Is the platform's bandwidth compatible with your needs? Get these questions answered before you choose your cloud service.
2. Choose a Flavor
You could go for a public cloud, a private cloud, or a hybrid of both cloud types. Choose what works best for you.
Public cloud providers will provide you tools to monitor and control your servers. Their service is scalable and easy to setup. However, ensure that they are suitable if you have sensitive data to protect.
Private clouds can be more secure, because you have more control over the setup and all the maintenance and other requirements of the cloud.
A hybrid has advantages of both the above. But performance issues can arise, along with the increased complexity of managing the mixed service.
3. Keep Your Existing Tools in Mind
Don't forget your current equipment. Adapt what you already have, to be compatible with your cloud service. On top of that, choose a cloud service that allows you to use your present resources as much as possible.
4. Thoroughly Analyze the Cloud Service
Know what tools your service is going to provide. Make sure you know problems concerning your compatibility and adaptability towards the cloud service. Discuss your concerns with your service provider. Resolve them or make plans to resolve them in the future.
Also carefully check prices – make sure you know what you're getting into!
Checklist before Migration
There are also tasks you need to check off to prepare after you've selected your cloud flavor.
1. Be Ready for Changes in Running Your Organization
Migration of your organization to the cloud is not a small move. If you migrate to a Public cloud, your control over maintenance and security lessens. It is actually a trade-off, your trading control for better performance.
Take into account how your organization will run with this shift in control.
2. Evolve Your Applications
Networking and communications are not the same in the cloud as they are in on-premises organizations. Modify your applications and data to be able to cope with this.
3. Train Your Staff
Prepare your staff for your migration. Your employees' efficiency in using cloud services is a key to your success. Keep training them before and after the migration, to keep them up to date and efficient.
4. Prepare Backups
Make sure you have the latest backup of your data and applications available before you migrate to a cloud service. Also, keep updating this backup in case you ever experience problems with your cloud platform.
5. Transfer Smaller, Less Valuable Applications First
Use your smaller, less important programs for a test run. Moving slowly into progressively more important territory gives you a firsthand experience of the services you're using, before you migrate.
Checklist for the Migration
Finally, here are the things you need to take care of for your migration.
1. Distribute Data Transfer
Medium size data can be easily transferred through the internet. Larger data may be transferred physically to reduce transfer time, or this data can be compressed and transferred to a temporary location in the cloud. Later it can be moved easily to its intended destination.
2. Check Security for Each Stage
Make sure your data is safe during the transfer. Again, make sure you have plenty of updated backups.
3. Prepare for Possible Delays
Transferring your whole organization to the cloud won't happen overnight so make sure you have planned in for any unexpected downtime.
If you have made sure of every point on the above lists, then just relax and enjoy the journey! You won't regret your move to a more efficient, less expensive platform that will have your business running more smoothly than ever before – at least once you've gotten there.
Have you migrated to the cloud? What tips do you have to share? Comment with your thoughts – we'd love to hear them.