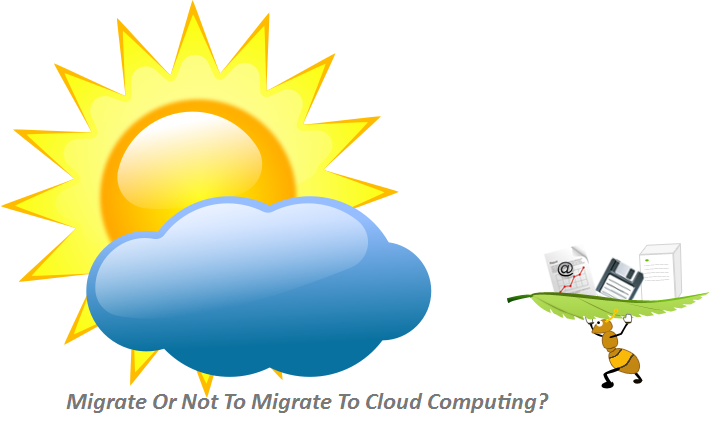 Migrate Or Not To Migrate To Cloud Computing?
First we must understand what is Cloud Computing .
The term refers to the idea of using independent platform, the most varied applications over the internet, as if they are installed on our own computers.
There are three types of Cloud Computing Services:

In this article we will prioritize and detail the Private Cloud Services.
The current market, within the concept of centralized applications and securely shared information, have invested in Information Technology (IT) in order to improve the quality and control of their services, reduced TCO (Total Cost of Ownership ) and achieving faster ROI (return on investment).
Thus comes the Cloud to help these premises.
Even before planning to migrate to Cloud Computing Services, it is necessary to evaluate certain points, such as:
Search for a company certified in virtualization, to help and define the scope of the project;
Amount of physical servers to be virtualized;
Check the mass data for defining acquisition of Storage; (remembering that for the full use of the features of storage virtualization is required);
Analysis of network architecture, logical and physical;
Review of applications such as the need for CPU, memory and I / O disk and network;
After reviewing each of the points above, it becomes possible to start the migration strategic plan, which among other things defines which servers are eligible to receive a virtualization infrastructure and which should remain as physical servers.
Advantages of Virtualization
Virtualized Environments can offer numerous advantages which would not be possible on a physical server infrastructure, such as:
Flexibility in creating servers for simple tasks (3 clicks have a new server);
Linear growth of physical infrastructure;
Creating a structure for approval, being faithful copies of the production structure;
Drastic reduction in hardware cost, power, space, among others;
Constant load balance the servers, eliminating the concept of clustering, installation and management part becomes difficult;
Concept of 'Resource Pool';
We can conclude, before we migrate to a private cloud structure, it is important to ensure advantages in comparison with the physical structure, and the project must be prepared by qualified professionals.
The bad initial setting can cause various problems, such as the physical server does not support the virtual structure, the structure becomes inoperative or even becomes quite slow.