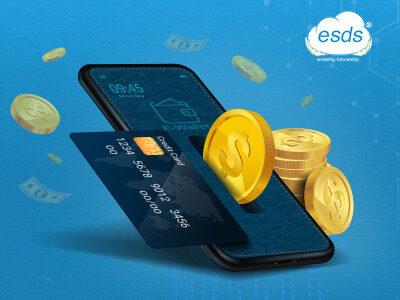 Why IoT is the future of banking?
The global availability of a variety of digital devices and sensors is made possible by the Internet of Things business proliferating. According to Statista, the number of Internet of Things (IoT) devices worldwide will triple from 9.7 billion in 2020 to more than 29 billion in 2030. In light of this growth, the banking industry is attempting to leverage loT in banking and get some advantages. So, let's look at why you need loT in banking and other financial services and why it is the future of banking.
What is IoT?
The internet of things, or IoT, is a system of interconnected devices and sensors that can collect and share data. Banks are beginning to use IoT to improve customer service, detect and prevent crime, and streamline operations.
IoT in banking means increased security through the use of devices like surveillance cameras and biometric scanners. It can also mean greater efficiency in operations. And finally, it can improve customer service by providing personalized recommendations and real-time account alerts, thus making it vital for the future of banking.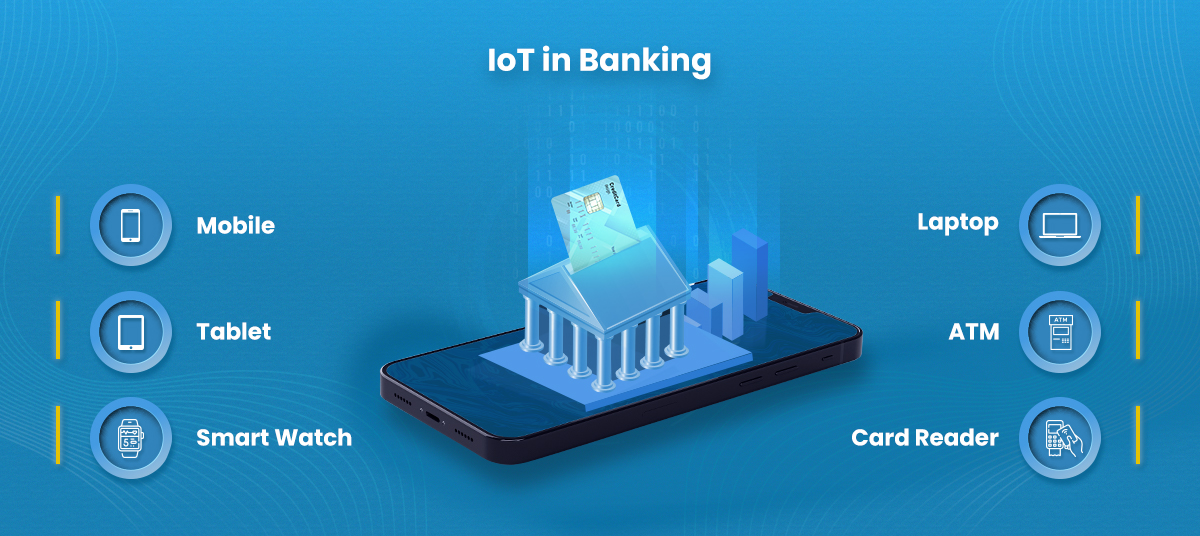 Applications of IoT in Banking
IoT in Banking comprises many exciting applications, including personalizing banking experiences, capturing and understanding customer behaviors, improving how and where financial services are provided, and promoting inclusive growth through information-enabled inclusive finance. Here are some of the prominent IoT applications in banking that make it the future of banking.
Voice banking
Voice assistants allow users to complete many banking transactions: pay bills, check balances, buy items, and more.
Smart branches
Branches with smart technology provide their clients with a fully digital experience. It's possible to withdraw money from ATMs without cards, receive bank cards immediately upon request, chat with bank employees via built-in video in the ATM, and so on.
Autonomous wearables
According to a study, smartwatches grew at 173% in the first quarter of 2022. This ever-increasing growth in smartwatches led banks and financial institutions to make wearable payments crucial for the future of banking. Consumers can purchase products or services using IoT-enabled wearable devices. This method doesn't bind users to bank cards. Also, in the era of the COVID pandemic, contactless payments have gained additional popularity and relevance, given their widespread acceptance.
Interestingly, one of Korea's largest bank card companies aims to create an IoT-based payment method with facial recognition technology. As a result, the client experience will be simplified, and the company will use plastic less.
Fraud Detection
Banks can predict credit card fraud and debit transitions, enabling them to take appropriate action to prevent the problem. For example, if a consumer swipes their card, the machines will provide the account holder's verification, and the bank can then accept or decline the transaction based on this information.

New authentication methods
Identity verification can be as simple as uploading a selfie from a smartphone with IoT technology. This allows clients to obtain a user ID without fear of data leakage quickly.
Dedicated smart wallets
Having specialized pre-installed wallets linked to a particular gadget might become a new rising trend as common household appliances like refrigerators, clocks, and vehicles become digital smart devices.
An offline automobile wallet, for instance, might be used for expenses like rent, parking, petrol, or upkeep. Any individual network-capable gadget may include a prepaid wallet to control the costs related to that device. In addition to being practical, it offers a clear grasp of prices and expenses and can improve people's comprehension of their spending patterns.
Benefits of IoT in Banking
Here are the main benefits of IoT in banking

Improves customer service
Customer service is enhanced with the use of IoT in financial services. Financial aid may strengthen customer service by providing tailored messages, guiding customers as they arrive, and more with intelligent, context-sensitive devices.
Increases the standard of the banking experience
The Internet of Things impacts banking customer services by offering customers immediate data and a tailored experience. Because of connectivity, a visitor might set up an appointment and verify it on their smartphone. Clients won't have to wait in line since they will know when it's their turn at the counter this way. On the other hand, a service provider can keep track of a client's previous visits, the services they are currently utilizing, and their most frequent inquiries. One of the leading banks in India has already implemented an IoT beacon-based Bluetooth system that enables users to use ATMs around the clock.
Increases the effectiveness of branch banking
As soon as the user enters the bank, biometric sensors will collect his data and notify the central system. Bank managers will be able to minimize maintenance and staffing expenses, shorten customer wait times, and establish a linked communication network across branches spread across different regions with the help of smart branches.
Upgraded ATMs
Sometimes, modern ATMs may appear dated. However, by tying ATMs to bank branches and making them entirely controllable through a smartphone, the Internet of Things can change this experience.
A user will be able to locate the closest ATM to their present position using motion sensors. A linked model will immediately transmit any machine failures. This will enable a service provider to speak with an engineer quickly and minimize equipment downtime.
Automated business processes
IoT systems are capable of answering requests, disabling credit cards automatically in the event of late payments, transferring asset ownership, and other tasks. Instant loan processing and collateral monitoring will be possible because of automation provided by the Internet of Things.
ESDS IoT Offerings for Banking Industry
ATM Switch
ATM and Recycler Mobile VAN
Cards (EMV and Biometric)
Wallet
Mobile Banking
DIGITAL LOCKER
AML
Final Word
The importance of the BFSI sector is increasing more than ever. It will alter core banking, retail banking, and other financial software in the future. The Internet of Things in banking has combined customer management, corporate automation, and revolutionized transactions. an IoT has great potential in the BFSI sector, and it is, without a doubt, the future of banking. If you are looking for a suite of IoT solutions for your banking needs and don't know where to start, contact ESDS on Toll-Free No. 1800 209 3006 or email us at [email protected] for a free consultation.
Latest posts by Jyoti Karlekar
(see all)