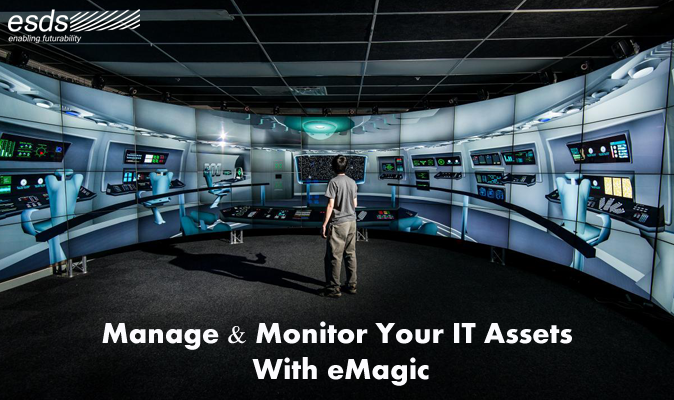 Manage & Monitor Your IT Assets With eMagic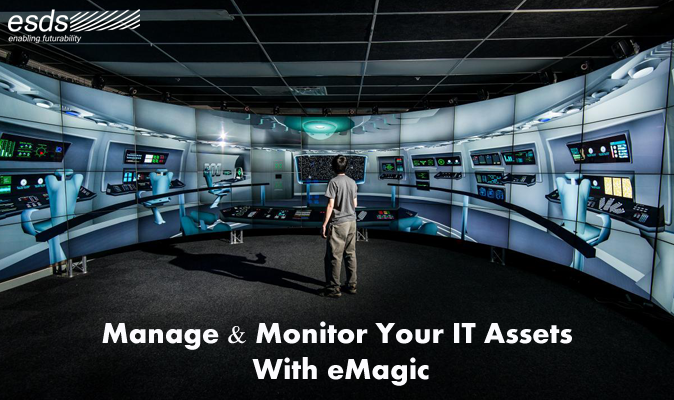 Build, Deploy & manage your IT assets with eMagic a complete datacenter management tool.
Inventory Management
Auto discovery in eMagic enables faster deployment of devices in eMagic system. Once auto discovery is done all the devices in given network are deployed in eMagic on a single click.
The inventory management enables users to manage IT assets like server, its detailed parts as RAM, CPU, HDD, Cards, Power Supply and so on.
Device Auto discovery options provide following information about device in network

Chassis – Manufacturer, Serial No.
Processor – Manufacturer, Current Speed ,Core, Type ,Series ,Cache
Ram – Size, Type, Speed, Serial No.
HDD – Type, Capacity
Ethernet , IP
Credentials, Deployment Type.

It provides capability of auditing & understanding exact scenario of entire network in given frame of time.
Management of assets in entire network become easy & a few click process.
Monitoring
eMagic provides detailed SNMP monitoring as well as socket monitoring. In SNMP monitoring all SNMP supported monitoring functions like RAM, CPU, Disk, Network, and load are monitored.
Socket monitoring enables users to monitor the services like Web, email, FTP, SQL or any other custom service.
Performance monitoring – Bandwidth, CPU, Memory, Power, Uptime.
Uptime Report – Current and Historical
Customized alert system, Alert console.
Service monitoring – HTTP, FTP, SMTP, POP3 and all ports.
Syslog monitoring – Monitoring any type of logs, custom files.
Net-Flow Monitoring
Netflow or SFlow enables users to have detailed monitoring of network traffic based on standard protocols. Detailed reports and search functionality give complete information of network traffic.
Information of traffic based on protocol, ports, IP, Network, Conversation and application is provided by NetFlow monitoring module.
Net flow Analysis, provides detailed real-time network traffic.
End-users application monitoring provides exact reasons of network slowdown experiences of end-user.
Dashboards
Centralized location for the organization to access the live information and expedite the data driven decision making process. Below are the dashboards available through eMagic
Management Dashboard
This is specifically designed for the top management. It provides an overview of entire IT infrastructure spread across all Business Units and Business Verticals. Information like Power Utilization, DC Utilization Hardware Utilization etc. is available through this dashboard. Business unit or business vertical wise device count is available and can be further drilled down with just a click.
Home (Main) Dashboard
Designed by keeping all day to day needs in mind Recent Alerts, ISP Report, Device Group Report, Device Hardware Alerts and Subnet reports etc. are  available. These alerts can be classified by users as per business needs and severity.
Network Monitoring Dashboard
For Network Monitoring team Information related to Switches, Routers, Firewalls and Links. Heat maps for all these devices are provided here with color coding as per device status. High Latency devices, devices which are consuming high RAM and CPU are also listed here.
Servers Dashboard
Servers, VMs, Storage and Hypervisors are monitored through this dashboard. List of devices with high consumption of RAM, CPU and Disk Partition is also available on this dashboard.
Network Topology Dashboard:
This particular dashboard plots all the connected devices around a core router. It also highlights the devices with alerts.