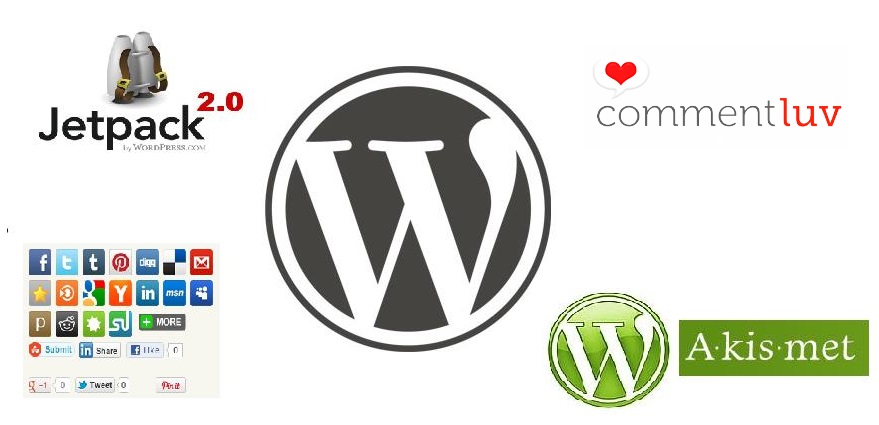 8 Best Free Plugins for WordPress that Every Blog Should Have!
WordPress is a widely used content management system and is a favourite of all the bloggers. While many people are quite familiar with managing their many who do not know how to do many important things like optimizing the blog.
WordPress is quite famous for the sheer number of plugins available for it that allows users to perform many tasks with ease which would otherwise have been quite tedious.
I have made a list of some of the essential plugins that would be beneficial for every WordPress website:
Jetpack
This is a multi-purpose plugin packed with lot of cool features and is another must have for your blog.
Get stats for your blogs
Allow comments using social networks
Embed media from popular sites like YouTube and Vimeo.
Automatically post to your social networks by integrating your blog posts.
Spell checker and Grammar Checker also included.
Optimizes your website for mobile devices with a mobile theme.
Jetpack plugin is something worth every blog.
Akismet
This is a must have WordPress plugin for any website. Akismet is used by millions of WP users to prevent their website from spam. It automatically filters spam comments and prevents spammers from posting without your permission.
Simply install the Akismet plugin and then register so you can get an API key. Once you receive your API key you can validate your account from the plugin configuration page and you are good to go.
Google XML Sitemap
Now generating and submitting sitemaps is not a mush of a task. You can use the XML sitemap plugin which will automatically generate a search engine friendly xml sitemap of your blog and also submit it to Google. Sounds good, isn't it?
All in One SEO
This is one of the best plugin for all your SEO needs. You can optimize your post with the relevant keywords and Meta tags. It also optimizes your website by allowing you to rewrite the site title and description.
All in One SEO plugin helps users with little knowledge about SEO to do basic on page optimizations without much trouble.
Sociable
Every blog needs to have social share buttons which allow the visitors to easily share the content across their social networks which in turn increase the traffic to your blog.
Sociable is a great plugin which provides social buttons of almost all the social networks including the top ones like Twitter, Facebook, Google+, Pinterest and Reddit.
To increase your traffic and allow easy sharing of content this is something you really need.
Easy Custom Auto Excerpt
This is one of my personal favourites. Most WordPress blogs have complete posts on the homepage which take up lot of space and often best the purpose of going to the individual post. Using the Excerpt plugin you can shrink your posts on homepage to show limited text and pack in higher number of posts on the homepage and get more exposure.
CommentLuv
Increase interaction on your blogs and provide a incentive to your visitors. The CommentLuv plugin allows a reader to post a comment on your blog with a link to their latest blog post. This motivates readers to comment and also benefits them.
However, make sure that you moderate these comments so that readers do not simply spam your blog.
Fancy Author Bio
If you are accepting Guest posts on your blog and want to have author bio for the authors then Fancy Author Bio is the right thing for you.
It allows you to show author bio of each user on their posts and does this in a very stylish manner.
Resources:

Latest posts by Naresh Puro
(see all)