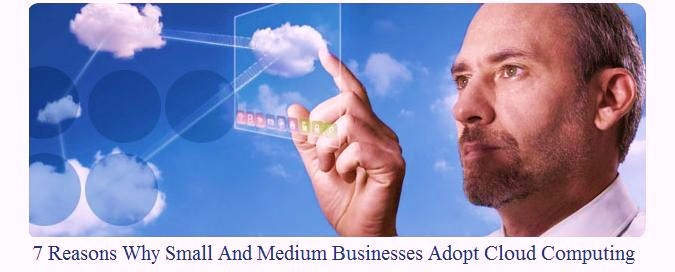 7 Reasons Why Small And Medium Businesses Adopt Cloud Computing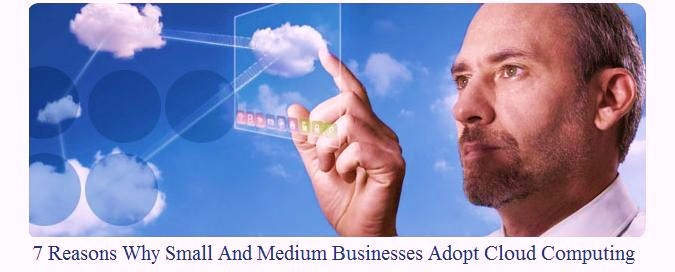 The concept of cloud computing services is growing between the departments of information technology. According to a survey, 98% of respondents said that the cloud is no longer seen as a passing fad and that the concept is here to stay. In Asia, India is an example of this growth, according to this study, the country tops the list with 20% of medium and large sized companies that already have some application in the cloud. For small, the scenario is still a little different.
According to projections, the number of adherents to the cloud applications are expected to grow between 30% and 35% in the next two years. Being a simple solution to online backup services or outsourcing, the use of cloud computing is an unavoidable reality, especially for small and medium enterprises, which may use it according to demand and pay for what they use, all with security, reduce costs and without worrying about infrastructure, web applications, web professionals and maintenance.
Thinking about it, company that specializes in cloud computing and outsourcing, has the seven main reasons for small and medium businesses that adopt cloud computing.
Possibility to hire "rent" the hardware and services:
Purchase of equipment and maintenance support teams are the expenses that small businesses cannot always maintain, despite a growing demand for hardware. By hiring this type of input as a service, these companies have a world-class infrastructure, charged according to use. This reduces the company's fixed cost, obviates the need for constant updating of equipment with newer technology and faster access to more effective solutions.
Management globalized way from the main communication tool used by companies: e-Mail
The e-Mail is a major communication tools of any organization, and by increasing the amount of information, the tendency is to look for spaces on the Internet that offer security and availability. This option makes it easy to manage via the web, making it global, transversal, collaborative and focused on its customers and partners without the need to pay software and licenses.
Access to storage and backup technologies that previously only large companies could afford
Like e-mail, the volume and sophistication in data format, such as texts, videos and photos, the guard of the information has become a major challenge, especially for small companies. Today, there are backup services security, continuity of service e-mails and uninterrupted access to data even during periods of inactivity, assisting in security and information management, even for those who have not budged for a multinational.
To enlarge agility's infrastructure :
The purchase of equipment can be a lengthy process, which can slow the growth of a company. Moreover, with the speed that the business grows, it is difficult to predict the demand for technology equipment while idle for several months. With the hardware as a service, organizations can have access to workstations (fixed or mobile), Switch, Router, Firewall, VPN, UTM without having to invest in the acquisition of hardware for users or local network infrastructure. The technology upgrade of equipment, such as installation and configuration of the same, and support the local microcomputer with pre-defined SLA and telephone support through tools called via the Service Desk are advantages for companies that definitely do not need to worry about the functioning of these equipment.
Access to technologies that bring intelligence and increase competitiveness:
For a small company, have access to an Enterprise Resource Planning (ERP Hosting) as well as complementary solutions Management Vertical (different markets with different processes and controls) is just a wish. With the possibility of purchasing the service, they can also integrate all data and processes and bring intelligence to customer information, which improves the ability to compete with larger players.
Tax compliance, which is increasingly linked to technology to gain competitiveness:
With the creation of obligation and the issue of electronic invoices, there is a need to formalize and scan some of these processes that ensure a business environment without many frauds, more organized and much more competitive. There are solutions that enable integration with the systems of accounting, tax and budget, without any investment in technology infrastructure.
Security Guarantee:
All data generated in the cloud must have a virus protection, but the virus that circulate in our personal computers are not the same system used in cloud computing. Small and medium businesses can rely on a system that ensures the security of information stored in the cloud, beyond the low cost of deployment, the system integrates multiple scan engines and monitoring to provide comprehensive protection, increasing server performance of companies.
The small businesses have access to technologies that were previously available only to large players, provides improved ability to compete more evenly. This new scenario will allow an acceleration in technological development of the country.