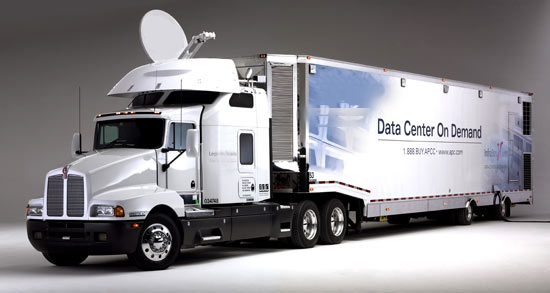 The Concept of Mobile Data Centers
Data Center (DC) is becoming one of the main points of the efforts to increase energy efficiency in IT and telecommunications. "Green" technology increases the cooling efficiency, reduce losses and allow the use of alternative energy sources. In turn, this leads to a rapid replacement of traditional technologies in the data center to new, with improved energy efficiency, as well as the development of new product niches, such as container, or as they are called mobile or modular data centers (MDC). The fact that the dimensions of mobile containers should allow their transport by road and rail. In addition, they must be strong enough to withstand the loading and unloading and delivery in a complete state. There must be a constructive element for operation and maintenance (air, cable entry, the passes of sufficient width, etc.). These requirements can be satisfied through the use of standard shipping containers (20 and 40 feet).
Generally speaking, the concept of containerized data center is very attractive. After all, this solution provides organizations with limited resources, to increase their computing capacity without building a new data center. All tested and debugged the IT data center equipment can be placed, for example, a standard container of ISO, which can only be installed in the right place and connect to the cooling system (water), electrical power and communication channels. However, according to IDC, the market of container data centers is still small. However, the market is growing rapidly. A key feature of its data centers became the third generation modular approach. The concept of novelty under the name of IT PAC (IT Pre-Assembled Component) involves small independent mobile containers that are going off-site data center and can be connected together to form a holistic data center. IT PAC container contains, in addition to cooling modules, one to 10 thousand packed into a series of servers.
Thus, to develop and implement MDC, should create a reliable, fault tolerant computing platform for information management system for organizations / companies as soon as possible. In addition, the main purpose of MDC is to create a data center without significant changes in the engineering infrastructure of the object through the use of computing resources, combined with an autonomous, fault-tolerant systems engineering support in a single mobile performance.
Quite often, a mobile solution is either the only possible one, or more effective compared with stationary data center. So, MDC is effective in cases where the IT infrastructure required to deploy to the remote site. With such problems usually encountered oil, gas and telecommunications companies. In addition, MDC may be the main offices for the location of which changes frequently. Here the potential applications are quite diverse – ranging from the tasks of the Ministry of Defense and Emergency Services and finishing construction sites where a temporary infrastructure. In some cases MDC is an effective solution to back up the main data center. In principle, primary, and backup data center can be containerized. If, for example, companies will be large-scale relocation to new office, at the time of the move backed MDC transferred to the principal. Besides those already mentioned problems MDC can be used to enhance the IT infrastructure. With the active expansion into the regions or acquisitions he gives a significant gain. New trading platforms and branches can be opened without delay and promptly integrate acquired assets in a common information infrastructure.
The advantages of operating MDC are too powerful. Mobility means not only moving from place to place, but allows you to select the location and, if necessary, quick migration to another site. Its deployment is several times less than the commissioning of a stationary data center, besides all the systems in the container pre-installed, established and tested. The economic advantages are the possibility of colocation services are close to the cheapest sources of energy, in the absence of rent for the premises and maintaining investments in crossing or moving office. MDC are flexible configuration, virtually unlimited scalability, and tuning solutions to suit individual customer requirements. That is far from complete, but very impressive list of advantages of containerized data centers, which are worth paying attention to when deciding on the establishment of a data center. So, the key factors that provide advantages over conventional MDC data center are: modularity, scalability and mobility.
Here are some ways to use MDC :
The possibility of implementing data center as soon as possible on unprepared ground with a hard surface without the use of specialists from the customer
Cost-effective solution for creating backup data center in a short time
Expansion of primary or backup data center
The possibility of expanding the infrastructure in the shortest possible time.
Opportunity to start business as early as the beginning of major construction project hosting site.
Ability to create a temporary infrastructure to accommodate IT equipment.
Please Note: If you are looking for Rich Data Center Web Hosting, Cloud Services, Dedicated Hosting, Colocation or Software Services in India at Affordable Costs, Visit our website at WWW.ESDS.CO.IN.