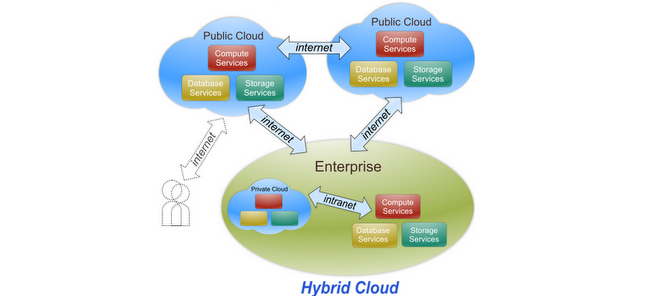 Hybrid Cloud Hosting 'Green' Future
In recent years, the number of companies seeking cloud computing is steadily growing. It is expected that 2011 will be a critical year, after which, in view of the apparent economic benefits, the transition to cloud computing will be massive. Companies that are not informed earlier about the benefits of cloud computing, or knowledgeable about them, in part, can no longer ignore this trend. The fact that cloud computing involves the tools and opportunities, access to which business was previously closed. For example, tools for collaboration between employees, partners and customers. In addition, cloud computing allows you to redirect resources from IT to business, reducing time to market new products.
Cloud computing includes the advantages that are really beneficial. Why so many of them say so? They imply that a software solution used by enterprises, is not on its own server, but on the provider's server, and accessed as a service which is carried out through an Internet connection. Install the software, install updates, service and support – all this lies with the provider and the customer pays for these services under the plan Pay-As-You-Go, implying a monthly payment, which depends on the actual use of resources. Thus, the company rents the server, rather than buying it for installation in the walls of their own data center. Thanks to this scheme, which offers more affordable cost, the customer is able to use technology and industrial class, which as usual and hardly would have been available.
Now at our disposal, there were more intelligent, flexible and advanced industrial applications that support integrated hybrid SaaS-solving, cloud infrastructure and a complete programming environment. Perhaps previously you had to buy 100 licenses for the software and a year later, you find that, only 35 of them are are suitable for you. For e.g. today you are applying Salesforce.com and buy their licenses for 20 new tasks, adding the license for new tasks as they arise. Feature of the model of "software as a service" is that you do not need to stock up licenses for the future – you pay for what you are actually using at the moment.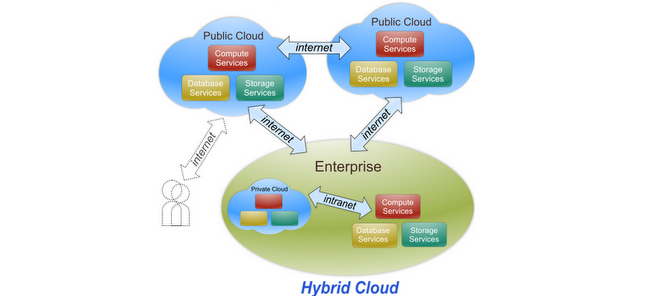 The Flexibility Of The Hybrid Approach
Henceforth, the choice of companies includes not only cloud or local solutions, but also a hybrid. Hybrid platforms allow you to run applications online – on dedicated physical servers, virtual servers, or any other form of cloud web hosting, as well as on-premise, and all with access from anywhere in the world. Based on hybrid platforms, the application may look like a SaaS or as local applications to which access may be through a web browser or by using the native client.
Independent software vendors are very interested in providing their customers looking to deploy a hybrid application, the best solutions. In this case, they do not seek to limit the choice till SaaS-circuit, leaving the ability to run applications on-premise client at any time when it may needed.
Hybrid Cloud Platform combines all the best, taken from the two models – the cloud and the standard of architecture, all of it to satisfy the most challenging demands of customers. Hybrid platform allows service providers to offer the most optimal and efficient in terms of income solutions that meet the specified budget, policy towards the environment and commissioning dates.
Efficiency And Ecology
Thanks to modern technology. Companies are able to migrate to a standard architecture to the architecture of cloud computing. Such a transition can even significantly (90%) reduce damage to the environment caused by the enterprise. Thus, by appropriate transformations and due to the existence of hybrid cloud platforms, businesses have the opportunity to improve energy performance, and make it as from a position of respect for the environment and from a position of operating expenses.
About 7 years ago, one of the leading suppliers of software offered the first in its portfolio a solution that allows you to move computing from local servers into a single data center. Consolidate hundreds of computer systems into a single data center through virtualization and other advanced technology company was able to provide the clients with the necessary computing resources, reducing overall power consumption and, consequently, the amount of greenhouse gases. Later, however, the company faced difficulties in further scaling of its decision on the grounds that it began to consume too much electricity.
Hybrid platform solves this problem by offering a simple and easy way to create and run Web applications. All the necessary technical aspects are already integrated into it. Hybrid platforms support all models of SaaS, as they say, "out of the box." This model: multi-tenant (a mixed environment for running applications), multi-database and multi-instance (separate environment for running applications). Another advantage of the hybrid platform is the possibility of placing the same application to the outer cloud, using equipment located in a data center customer. There is even the ability to switch between the first and second model uses. This is a chance where the software vendor easily add your portfolio to cloud services and do it without the cost of programming.
Thus, the company has migrated from traditional architecture to hybrid technology. Modernizing existing applications to meet the demands of modern architecture, it could reduce greenhouse gas emissions by 90%. The company was able to minimize the harm caused to the environment and has achieved a substantial reduction in energy costs.
The implementation of all the configuration tasks remotely, it greatly increases efficiency, saving on the movements of staff, reduces other related expenses. Migrating to a hybrid technology allows you to concentrate more resources on a specific purpose, such as increasing income, without being distracted by issues of adjacent areas. To work with a hybrid platform of the company, it is enough to take on the staff of several programmers. Thus, without recourse to outsourcing, it will retain direct control over operating costs.
Possession of a large number of servers in any case, results in significant capital, operating costs and time. The core of the same hybrid technology is linear scaling. The enlargement process is so easy that looks like magic.
Single Source
Most of today's cloud services makes use of the associated proprietary platform, infrastructure, languages, and the limited set of tools for application development. You will become absolutely motionless, if you use such solution. For example, in the future you decide to join from the local server, add to work with local databases and some other points. For all this you will need to write more code. In most cases this will evolve into a real headache, but not in the case of hybrid clouds.
In the latter case you can simply move the code that runs in the cloud, the company's server and do the same with its data. Client on the same day will be able to use this code and run it in their own environment.
Hosting Options
Having made a decision about deploying a Web application, you can choose how to contain it. You can put it on your own server, or cloud, which involves the payment of only those resources that you really use. You can also place the application on the server provider or use the services of international providers such as ESDS, to facilitate access to resources on a global level. In addition, nothing prevents you from first place the application on your own server, and then – to move it to another model of hosting. All this using a single source, without any restrictions on the platforms and resources.
Create Your Own Platform
Using a hybrid platform, you have the opportunity to invite other users to create their own modules and integrate them into your decision. These modules may represent a completely new set of features or shapes / objects are created dynamically in real time for different groups or even individual users. The principle of operation of these modules will depend on what solution you use.
Hybrid platform supports SaaS-accounts, which allows you to perform all the cloud configuration problems remotely. They greatly improve efficiency and help save on transportation and other expenses. Remember that a hybrid cloud allows you to concentrate on specific business problems without investing in related areas, as well as to maintain direct control over operational costs.
Hybrid platform allow us to be independent for technological solutions and offer a wider choice. Due to this property cloud hosting providers are able to choose the best available solutions for the implementation of each project, adding support for different system platforms, including Windows and Mac OS X.