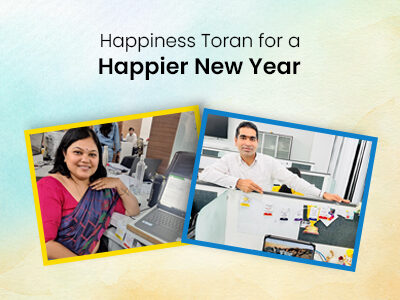 Happiness Toran for a Happier New Year
The word "HAPPY" in a literal sense means delighted, pleased, or glad about something, but it has a different meaning for every person. Happiness for some means family or friends or even just a smile on your face, the definition changes from person to person but the feeling remains the same. These feelings can sometimes be short-lived feelings of happiness. What do you do then?
As life progresses, we get stuck in the daily hustle-bustle and lose ourselves under a pile of responsibilities. It is important to remind yourself to take a break or surround yourself with things that make you happy – preferably a contented feeling that lasts for the long run. For all the science geeks out there, happiness and good health go hand in hand, they release hormones commonly known as the "happy hormones" or Dopamine, Serotonin, Oxytocin, and Endorphins, so along with an apple, being happy can also keep the doctor away.  Ask yourself, Why be Grumpy when you can be Happy and Healthy?
What do we do at ESDS?
At ESDS, we practice a culture of togetherness, well-being, and balance (work-life). As an organization, we are concerned for each employee's wellness, of both mind and body. We want every ESDSian to be joyful, resilient, and healthy.
Each year ESDS begins with a celebration, a new beginning to climb higher peaks and reach new levels of success. We wanted to kick off 2022 with a bang of happiness, similar to a well-being check-up, which turned out to be a very fruitful experience. It's a new year's tradition to make resolutions for a better, more assertive start to a year, and hope to fall through those promises throughout the year. We asked ESDSians to make some resolutions but with a twist, something that they can easily keep doing, to achieve a higher goal, which is happiness. This is where we introduced the Toran of happiness.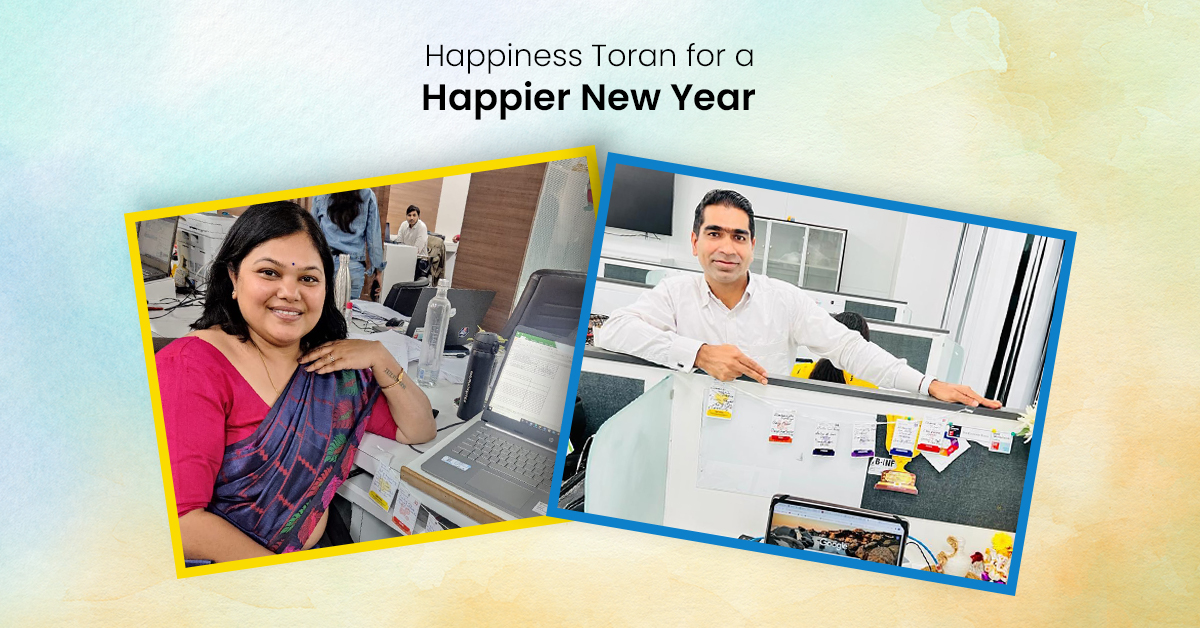 Toran of Happiness
Torans are decorative hangings placed at the entrance of a home. The main idea of a traditional toran is usually to please and attract the Goddess of wealth – Laxmi. At ESDS, the traditional toran was molded into the Happiness Toran.
The Happiness Toran
Represents the seven virtues that you need to follow to have a productive, contented, and balanced life, they are indeed difficult to master but you have to start somewhere. These seven promises (combined called Toran) are incredibly simple to fill up, each employee was asked to take a few minutes to themselves and reflect on the things that make them happy based on these virtues.
What are these seven virtues one might ask?
They are as follows: physical, emotional, spiritual, organizational, environmental, social, and intellectual. These happiness virtues are a promise that each employee made for the benefit of themselves, similar to a seven-step challenge to happiness with no particular order to be followed, you could start wherever you want. Fulfilling these promises will help each ESDSian learn and practice physical and emotional health so that they can feel their best.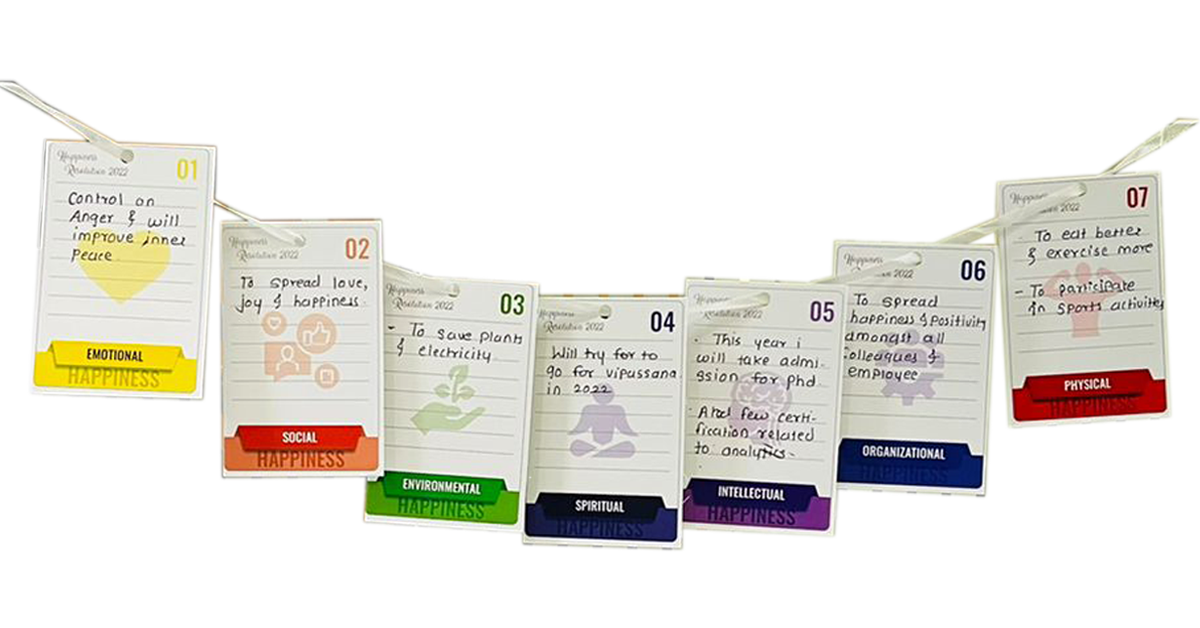 These virtues were to be hung playfully along the side of their desk or right in front representing the traditional "Toran", so it's the first thing they see every morning, becoming a constant reminder to follow the promises you made for a better you, attracting positivity in your professional and personal life.
The wave of excitement that ran through the organization during this activity was gratifying. Every ESDSian entered the New Year with a happier hope of growth and wellness, their desks were beautifully decorated with the Happiness Torans and it was soul pleasing environment.
ESDS truly believes that personal growth is important, especially now when the world feels chaotic and out of control, there's no better time than now, to take charge of your habits and goals. The seven happiness resolutions are a vow to yourself for a better, brighter life and not just 2022.
Most of us see the new year as an opportunity to make sweeping changes in our character, hence we always fall short to follow them. What we forget is instead of treating these resolutions as a ticking bomb we should take tiny realistic steps towards improving our daily habits to achieve our goals. The Toran of happiness was created with the same aim as mentioned above and we could gladly say that the message was delivered successfully throughout every ESDSian all over the nation.
Read more about: ESDS, Obliterating the Paradox of Humility.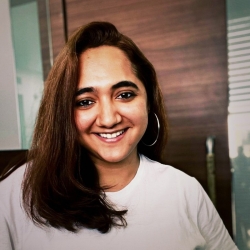 Latest posts by Natasha Chhabria
(see all)