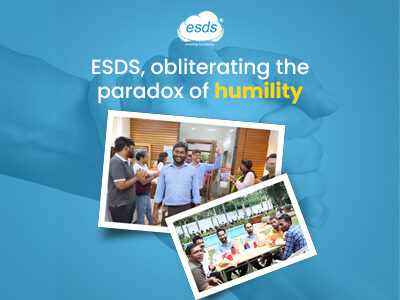 ESDS, Obliterating the Paradox of Humility.
In a world dominated by contempt and negative competition, the word Humble has lost its meaning. People accentuate competition to signify that they are better than others. We must seek humility in these times of inflated egos and obsession with self-image. When we are so engrossed in proving our growth we forget to appreciate the little things that make us whole. Acknowledging that we are yet to reach the height of success and still holding on to the ground that becomes a launchpad for us defines our humility.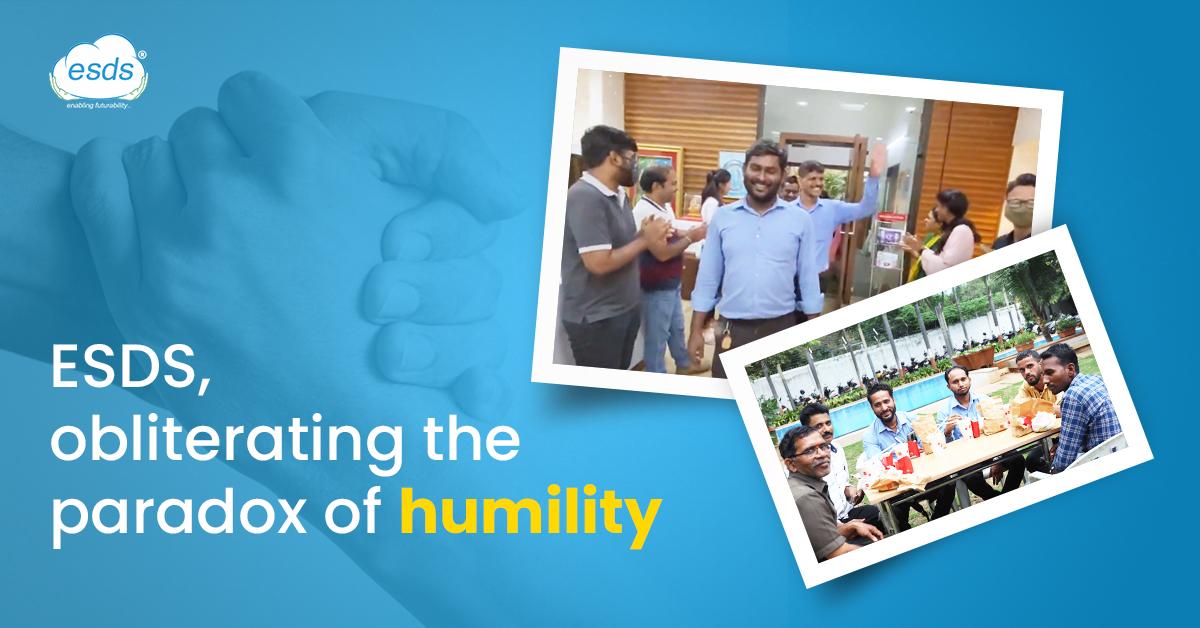 Being humble does not necessarily mean being smaller than anyone, it simply means to be aware of the fact that nothing is greater than us and everything is a learning opportunity. Hierarchy does not always narrate an authoritative outlook, it can simply define the learning flow for us.
ESDS has always been soaring heights with its wings but has been constantly fixed by its feet to the ground. When we saw the world going into turmoil due to a pandemic and people were advised to stay apart, we saw an opportunity of bringing people closer through hearts. Small things have a greater ripple effect so we decided to write our definition of being Humble.
The virtue of being humble towards the most obvious is often looked upon in a bad light. Eradication of this mindset has been our responsibility, and we have tried to do our part in it. ESDS is comprised of transformation and rich Indian heritage. Holding on to our roots has been the purpose of our organisation. Thanking people when it is due may seem trivial but it can create a huge impact on people's hearts.
We are often ignorant of facts that do not concern us. We see things from a 1-dimensional perspective and assume them to be true. ESDS has a 4-dimensional approach towards its people. Walking in someone's shoes and experiencing the things they go through was the motive behind our initiatives.
Learning from errors and mistakes is human nature and the core of growth. People who see value in errors and take it as a learning opportunity are Humble. We are trying to create an environment where people can make mistakes without being fearful about them and know that no one's job is easy; everyone is equal. The willingness to view oneself accurately is the key to Humility.
"Humble Day" at ESDS has a priceless significance. We wanted to properly thank the staff that does our fundamental tasks for us with a very bright smile on their faces. We wanted to reciprocate the efforts that they put. Our FM staff walked the walk of Pride as the entire organization cheered and applauded them, then they were led to a special luncheon crafted to their liking where they were served by the management and leadership team. The way to a human heart is through their stomach, we used this philosophy to show our gratitude to the people who are left unseen. Every drop counts when we look at the ocean, hence every effort is considered when we look at the organization as a whole. We gave our staff a special off day as they take care of our needs, from cleaning to serving hot beverages and providing tasty food.
We took care of the FM staff's duties for the day, while the FM staff made sure we did it correctly. Top-level managers were the first to participate, then middle-level management, and so on. Our managers and staff felt the work that FM staff did was extremely hard and a necessary process in the working of the organization. Work is work, no matter how small or great, every profession must be treated with equal respect. Not all heroes wear capes, some just work hard without coming into the frontlines. To rediscover humility that is somewhere lost in our busy lives we dedicated an entire day to make the most of the opportunity.
Our FM staff was immensely pleased by the thought process behind these initiatives, actually understanding them not in words but actions gave them a sense of belonging. Our efforts to make them feel special touched their hearts.
We could see passion igniting in our FM staff as well other departments after this initiative. Everyone is valued at ESDS and treated with respect, love, and care. Humility has always rewarded us, we have seen that we have achieved titles like Great Place to Work by staying true to our Humble nature. ESDS wants to set an example that staying close to our roots would help us levitate towards great heights of success.
Latest posts by Samar Pathan
(see all)