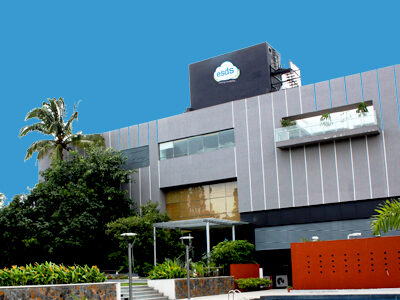 Building ESDS as a High Performing Organization for the 21st Century
ESDS Software Solution Pvt. Ltd- Asia's top-ranked Great Place to Work Company was founded in the year 2005 by the first-generation entrepreneur Mr. Piyush Somani. Today, ESDS is one of India's leading Managed Data Centre and Cloud Services Provider. ESDS has already moved aggressively towards becoming India's No. 1 Cloud Hosting Company by expanding its clientele across various industry verticals.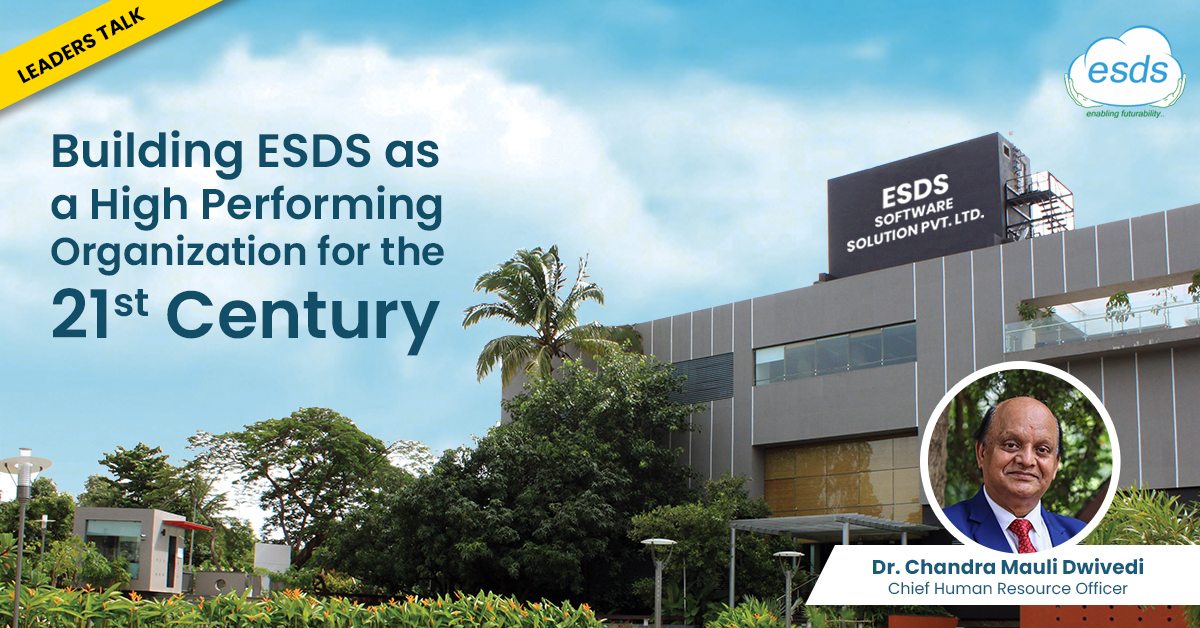 We have expertise in Managed Data Centre Services, Managed Cloud Solutions, Virtualization, and Disaster Recovery Hosting, backed with exuberant Technical Support that has helped ESDS build lifetime relationships with customers.
Today, cultural transformations are taking place within the companies. The marketplace challenges are accelerating daily with the leaders and employees accepting a world defined by "VUCA"- Volatility, Uncertainty, Complexity, and Ambiguity.
ESDS has rare distinction to be in the top-ranked Great Place to Work Company consistently for the last five years. This signifies its greater emphasis on creating a culture of employee care, credibility, mutual trust, pride, fairness and camaraderie. ESDS has also been top ranked as Best Companies to Work for Women consistently over the last few years. Diversity has always been one of our key focus areas and we are committed to providing equal opportunity to every ESDSians.
The COVID-19 has presented numerous challenges for every organization, making it difficult for industries to survive and strive, but they have also unleashed an era of opportunities for new-age industries to sprout and shape consumer behavior for decades. The global recession induced by COVID-19 will fundamentally change how humanity works and socializes for years to come. The COVID-19 crisis has emerged as a catalyst for unprecedented changes taking place across v industries. Companies have been forced to innovate and restructure to transform into the new realities that will emerge as today's new face. Like other leading companies, ESDS also has been able to successfully adapt to this new normal with innovations and transform digitally to emerge as a real winner even in challenging times.
The culture of an organization not only defines the energy, creativity and spirit, but it also can impact business growth. ESDS Leadership mind set always proactively supports an entrepreneurial, innovation and developmental culture. It propels open human collaboration, connections and demonstrates confidence in the collaborative approach. It also focuses on problem-solving and a willingness to accept mistakes and failures.
This unique and innovative culture of ESDS helps to define thinking patterns and desired behavioral characteristics. At ESDS, we have built a culture of trust and pride where all employees display and live the values of love and care of every ESDSian. The management and team HR continuously strive to provide the best to the employees.
Mission People HR Team has launched "Career Planning and Counselling –CPC" with every ESDSians to understand their career ambition, future career path both short term and long term, developmental needs, certification and training priorities, willingness for higher education also taking their suggestions and feedback for ESDS growth, culture, and values. ESDSian's joy and happiness are always our prime focus and priority.
At ESDS another very important initiative that has gained immense popularity is "Unbox Mind" wherein employees will be writing "White Papers" on any chosen areas which can generate large business and these employees can work as an entrepreneur to drive that initiative under their mentor and coach. Employees present their white papers to the jury and based on their innovation. Out of the box approach, business applicability, and relevance. Winners are publicly recognized and awarded.
At ESDS, building and developing the industry-aligned competencies is another critical success factor that is required to be future-ready. At ESDS, we have attracted the industry's best talent with the right competencies and leadership qualities. We also have multiple measures for retaining talent. We have a very comprehensive system for rewarding and recognizing performers and achievers publicly for their outstanding performance and contribution to the group's business.
Another factor is a strong leadership team. At ESDS, we firmly believe, a leader who has envisaged digital transformation will help the organization be ready for the future. In today's world, the actual leadership thought must support an entrepreneurial and developmental culture. At ESDS, we nurture this thought. Hence, the leadership team focuses on bringing new innovative practices and making future leaders in the organization so that there is ownership of tasks at every level.
Leaders must grow and develop beyond their business skills and technical capabilities. They must also build personal and social competencies along with the inner self-worth. The leaders of tomorrow must constantly expand their experiences and build their leadership expertise to take on extraordinary challenges along with global competition. This can be done through regular enhancement of their self-awareness and curious active-listening, trust, and commitment to impact business relationships.
At ESDS, leadership boosts innovative thinking and inner curiosity as a unique business strategy and a significant part of the expanding development-oriented culture. Employees take ownership of applying their knowledge and skills to achieve their goals and organizational plans.
ESDS key Organizational Focus
At ESDS, the key focus is building organizational resilience and flexibility, requiring an escalated focus on leadership competencies along with personal strengths with an intense desire for driving results. ESDSians continuously enhance efficient productivity and effective performance-based on outstanding strategies and vital elements of action implementation. Continuous efficiency enhancement can accelerate successful business goals by maintaining an aggressive with global changes.
To build a future-focused organization, its leadership needs to create a company vision that is easy to understand and interpret and servers an authentic purpose that is formulated on a real meaning and strategic direction. Any transformational challenges and far-fetched needs serve as the foundation for achieving aspirational dreams.
This well-defined company purpose helps in identifying the required leadership mindset with a compelling mission that is inspiring as well as motivating. It also enhances alignment with the organizational culture and core values specific to future-oriented endeavors.
These mindset changes need a positive and innovative culture escalated by passionate connections within the internal population and the external customer base.
ESDS Building Organizational Competence for new normal
At ESDS, we have an entrepreneurial and innovative cultural mindset that should be built on five special components based on a passion for higher learning standards and acceptance of personal reflective discoveries. All these components are interconnected in a culture of employee learning and development, along with an environment of innovation and collaboration. This commitment extends further by the power of high-performance behaviors, strong productivity skills, along with intense growth strategies. At ESDS, every ESDSian has a strong desire to acquire new skills and capabilities to enhance and utilize the core values of their company to grow their character. The key lies with the newly learned knowledge, skills along with competencies that must be applied immediately so that employees can improve and build business performance for the future.
We have a dedicated Learning and Development (L&D) function where we not only provide a new set of knowledge and competencies but also upgrade the existing skills of employees through continuous training, certifications and workshops. In the COVID-19 lockdown, we provided training and online certifications as this was the best time to upgrade and learn something new for managing new normal.
ESDS has been very actively involved in developing the university students' competencies and making them ready to run for ESDS. ESDS also conducted sessions on SAP Basics, Cloud Basics, Network and Security Concepts for the students to enhance their skills.
ESDS has also provided ample opportunities for the employees to continuously improve their current knowledge of the latest technologies. Enhancing employee performance by offering Project Management Skills training enabled them to improve their competence in the Project Management domain.
Amidst the pandemic situation, the biggest challenge of adapting to the New Normal was addressed by the HR team by providing them an online platform to learn from our leaders' experiences.
Few of the important training and certification programs we had in recent past include.
SAP Hana Certification
CISSP Certification
Team Building through activity- ABCD & Entrepreneur @ Work
Attitude/ Behavioural Training- Emotional Intelligence, 7 habits, Receiving and Giving Feedback, critical thinking,
Language Enablement
Soft skill sessions for Sales
Learning from Legends- The employees learn from the Leaders expertise
Mentor-Mentee Program
Vision Mapping Activity to align the employees' vision with the organizational vision.
Developing future leaders
Product innovations and enhancement
Emotional Intelligence
ESDS' Care for Nature
Besides offering technological solutions and driving the Digital India Mission, ESDS also has contributed significantly towards restoring Mother Nature. One of the 4Bs of ESDS' Mission statement defines our love and care for mother Earth. Post lockdown, we have conducted more than 10 tree plantation drives, out of which 5 were held in Nashik, and the remaining were held at local levels. We have also distributed over 20k seeds, out of which 15k have been distributed to 14 clients from the banking segment. We have also tied up with Sandip University (Nashik) for carrying out these tree plantation drives.
ESDS Building Effective Future Leaders
At ESDS, identifying and selecting top talents has been the most important and critical initiative to unlock future leadership potential that is capable of meeting the current and future business demands. The new and evolving leaders must possess the behaviors and skills needed for discovering and escalating their capabilities, system thinking, and data-driven decision-making to answer technology changes and company-restructuring initiatives. Building Innovative Curiosity and Technology Thinking is the core component of culture-building initiatives. At ESDS, employees and leaders share their insights and interesting ideas for a more agile and sustainable organizational culture.
At ESDS, strategies are defined and implemented based on business and market needs and aligned with the organization's vision and future roadmap. The redefined strategy and business plans of new normal are created, keeping in mind the reality and volatility in the national & global markets. We have realigned our priorities and allocated resources for the next phase of your business.
Employees are our customers, and their joy, happiness, and better career are our focus and priority.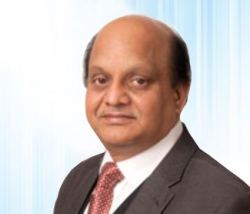 Latest posts by Dr. Chandra Mauli Dwivedi
(see all)