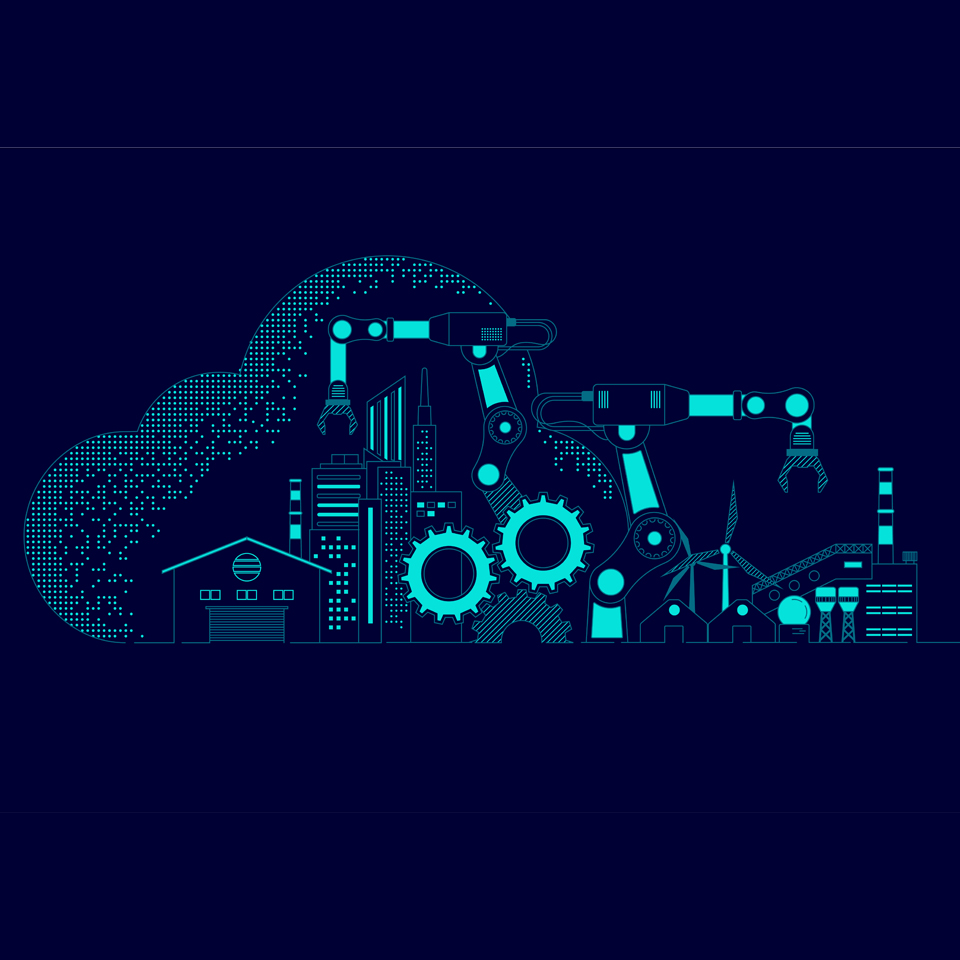 Digital Manufacturing: A Virtual Revolution in Manufacturing
Disrupting the sectors like media, finance, healthcare; The Digital revolution is now breaching the walls of the manufacturing industry. In this digital era, the manufacturing industries are leveraging the power of digital technologies to redesign the manufacturing landscape. According to a survey, 60% of manufacturers will invest in a digital platform supporting 30% of their overall revenue by 2020. Centred on a computer system, Digital manufacturing is an integrated approach to manufacturing. In the industrial sector, digital manufacturing is the fastest and simplest way to transform an idea into reality.
Expert Survey states, 79% of manufacturing industries are embracing digital technology to enhance their business growth. The integration between PLM, ERP, shop floor applications and equipment in Digital manufacturing enable exchanging product information amid digital design and physical manufacturing execution.
Benefits of Digital Manufacturing
1. Improve Productivity:
Digital manufacturing eliminates the manual processes leading to a significant improvement reducing human errors. There is a high probability of errors in a production line that completely relies on manual decisions. Digital manufacturing yields greater output for the same input retaining process consistency.
2. Skilled Labour:
Digital manufacturing is a way to attract skilled talent hunting for technologically blessed environments. Delivering the right information at the right time, digital manufacturing enables employees to focus on process improvements rather than mundane tasks.
3. Effective Inventory Management:
Digital manufacturing eases inventory management by monitoring stock-outs or excess inventory. RFID tracking, the Omnichannel inventory control, IoT, Cloud Computing, Blockchain are some of the digital technologies proving to be the game-changer for inventory management in manufacturing.
4. Effective Working Environment:
The capability to enhance manufacturing operations gave rise to the increasing popularity of digital technologies in manufacturing. Automating production processes and pre-testing fresh ideas before implementation enables saving time and money.
According to a report, North America retains the largest market share for digital transformation in the manufacturing market.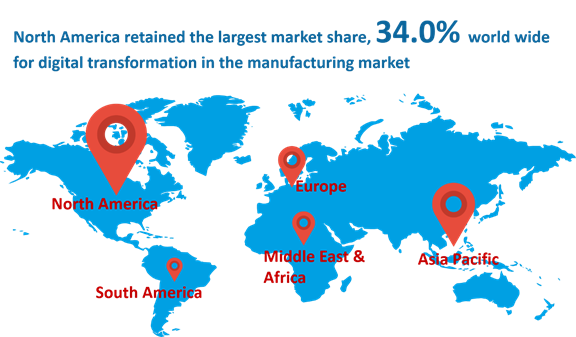 Technology Trends in Digital Manufacturing
1. Internet of Things (IoT):
A report says 63% of manufacturers believe IoT increase profitability. The IoT devices provide real-time data, empowering the manufacturers to make strategic decisions. Having a major impact on the manufacturing processes, Internet of Things is offering new opportunities transforming business growth.
2. Supply Chain Monitoring:
Logistics Optimization, Sales and Operations Planning, Product Lifecycle Management, Business Intelligence, Network and Inventory Optimization, RFID and Procurement are a few digital technological trends simplifying Supply Chain Monitoring. Offering more visibility and full control over inventory, digital technologies help the manufactures reduce operational cost and improve customer satisfaction and retention.
3. ERP System to Streamline Processes:
The manufactures have recognized the importance of implementing Enterprise Resource Planning (ERP) for a lean and competitive advantage. The ERP systems proactively manage operations, prevent disruptions and delays, and break up information roadblocks enabling strategic decision-making.
4. Big Data:
Transforming the sensory data from a database, IoT generates meaningful insights. The ability of sensors to gather huge volumes of data from multiple sources in combination with cloud computing is making big data more usable.
Conclusion:
Digital manufacturing has opened a gateway for manufacturers to reduce costs and enhance quality. The rising intensity of competitions between manufacturers pressurizes them to think innovatively, cultivate additional revenue streams, and hunt ways to by-pass the competition. Establishing a digital thread, manufacturers can achieve time-to-market and volume goals.
The launch of "Make in India" enhanced the country's manufacturing agenda and global competitiveness. IoT is transforming the Indian manufacturing landscape leading to a "Fourth Industrial revolution" The Indian cloud service providers like ESDS – The Digital Transformation Catalyst have come up with solutions to enhance your manufacturing processes.

Latest posts by Priyanka Chaudhari
(see all)
AI in manufacturing
,
artificial intelligence in manufacturing
,
benefits of digital manufacturing
,
big data
,
big data advantages
,
Big Data Benifits
,
Big Data Challenges
,
big data disadvantages
,
Big Data in Healthcare
,
big data in manufacturing
,
Big Data Solutions
,
Digital manufacturing
,
ERP
,
erp cloud
,
ERP Cloud Solutions
,
ERP Modules
,
erp solutions
,
ERP System
,
finannce
,
Healthcare
,
Industrial Internet of Things
,
Internet of Things
,
iot in manufacturing
,
IoT Service Providers
,
IoT-Cloud platform
,
Manufacturing
,
manufacturing industry
,
manufacturing industry revolution
,
media