Cloud eNlightenment – an eye opener
Cloud computing is experiencing phenomenal growth all over the world and the CIO fraternity is forced to adopt a "Cloud first" policy, but before you scroll down, I would like to ask you 2 basic questions :-
Do you believe that majority of the CIO's have some serious pressure from their top management or their customers to consider Cloud for Growth or survival?
Do you believe that the big IT Enterprises who have failed to transform themselves into a Cloud service provider won't exist after a decade?
 If you answered yes to these questions, then here's something serious that would make a lot of sense to everyone trying their luck with Cloud. Majority of the SME's, Banks, Oil & Gas corporations, Aviation Industry, Shipping Industry, Telco's and Enterprises with ERP setup have either failed to explore Cloud or burnt their hands and moved back to the traditional in-house setup or other forms of managed IaaS. Meanwhile, the IT world continues to talk about Cloud and some of the large IT Enterprises continue with their major transformation into Cloud computing, which is forcing the CIO's to think about Cloud again and again.
When eCommerce Cloud became everyone's Cloud
Concept of Cloud computing and grid computing emerged long time back, but Cloud started gaining popularity when an ecommerce firm made its in-house developed cloud platform available for the world. This Cloud was built on the concept of horizontal scaling on Infrastructure level, as that's what worked for their huge website that ranked amongst top 10 websites globally.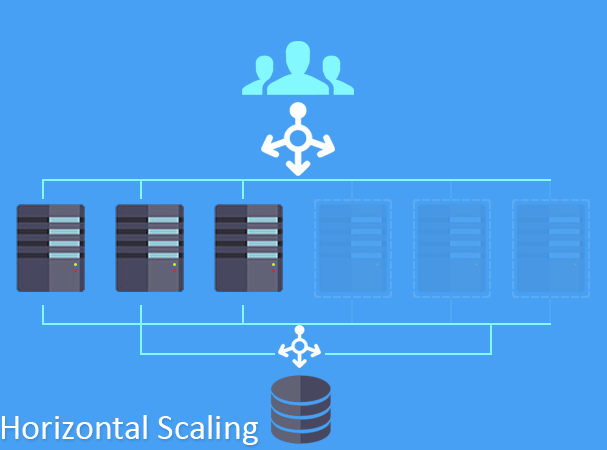 Horizontal scaling is nothing but replication of a Virtual Machine instance on multiple virtual machines across multiple Servers (nodes). New players entered the Arena and continued to promote and advertise their IaaS offering using horizontal scaling solution very aggressively after seeing success of this ecommerce company. Those who did not think in the direction of bringing similar offering got criticized by the Bloggers or online pundits & gurus and the saga of criticism has continued from last few years. Last week I got an opportunity to meet and discuss about Cloud technology with some of the highly respected Analysts from one of the Top Technology Research & Advisory firms and I took the opportunity to sensitize them about our vertical auto-scaling patent and unique features of our eNlight Cloud solution, which was very different from the scale-out (horizontal scaling) cloud model that was being marketed as "pay-per-use" by the large Cloud Service providers. Vertical auto-scaling helps a virtual machine to grow its CPU, RAM and Disk Space in real time and then scale-out of the size of the Node(physical server) if the physical capacity of the node is not sufficient for further vertical growth. I also wanted to know from these top Analysts about the big American Cloud service providers and why they have not managed to provide scalability of CPU, RAM and Disk space on their Cloud, while we thought about it 6 years back and also secured the patent( Ref :- https://lnkd.in/baQhis7 ) for automatic scalability of CPU, RAM, Disk Space and other resources on a virtual machine in the Cloud. What I learnt from some of these senior analysts has completely transformed my thought process. Two of the senior most Analysts mentioned that the Horizontal scaling cloud from the large Cloud service providers was nothing but software defined load balancing on virtualized environment with a very fancy GUI for users. Their Cloud technology was developed for large eCommerce websites or other similar websites with heavy traffic where load balancing was the only option. Startups and others continued to change the Architecture of their product and made it similar to a large ecommerce website, which delayed the launch of their products and majority of the businesses wanted to convert their online presence into a large eCommerce kind of setup. Enterprise grade RDBMS's never managed to change their Architecture to make themselves work for the eCommerce Cloud environment. Many of the Enterprises also tried and failed with this Horizontal scale-out approach, as they never got desired performance from the scale-out Cloud that was made for eCommerce websites only. This Horizontal scale-out Cloud platform was never built for the SME's, Banks, Oil & Gas corporations, Aviation Industry, Shipping Industry, Telco's or the Enterprises needing more in-memory compute power along with Enterprise RDBMS.
Cloud Redefined
The Horizontal scaling Cloud made for eCommerce business failed to fulfill the need for in-memory compute workloads. Vertical auto-scaling seemed to be an ideal solution for in-memory compute processing and we thought about this concept way back in the year 2009. We had some 7000+ VPS hosting customers in those days that experienced resource crunch during important season of their business. Our customers were facing resource crunch on their VPS during the important seasons of their business and they also lost potential customers when the CPU, RAM or HDD of their VPS ran out of space. We started developing eNlight Cloud for our customers purely based on the needs of these 7000+ VPS customers after understanding their pain related to crunch of compute resources during high traffic or seasonal business activities, our focus was on problems of each of our customers and not just for any eCommerce hosting customer. We launched the beta version of product in 2011 and we filed for a patent in the year 2011 for Vertical auto-scaling feature. We had firm belief that our solution was what everyone in the hosting industry was looking for and plain vanilla load balancing (horizontal scaling) cloud was required by the large eCommerce or the million clicks websites only. This feature of Vertical auto-scaling helped the Virtual machines of our customers to borrow resources automatically from the Cloud in real-time up to hundreds of cores of CPU power and TB's of memory(RAM) to complete the memory or CPU intensive tasks dynamically in real time and once their usage was over the resources were automatically pulled back by the Cloud in minutes. We decided that we do not just want to be one more CSP, but rather be a trustworthy partner for our customers and be part of their growth stories that they will write for themselves. With that mission in mind, we decided to transform the highly commoditized business of IaaS into a utility model and successfully gave birth to "pay-per-consume" model in contrast to the "pay-per-use" model. This Vertical scaling combined with Horizontal scaling on pay-per-consume model allows any small company to appear big. they don't need to change their Architecture to grow their online presence.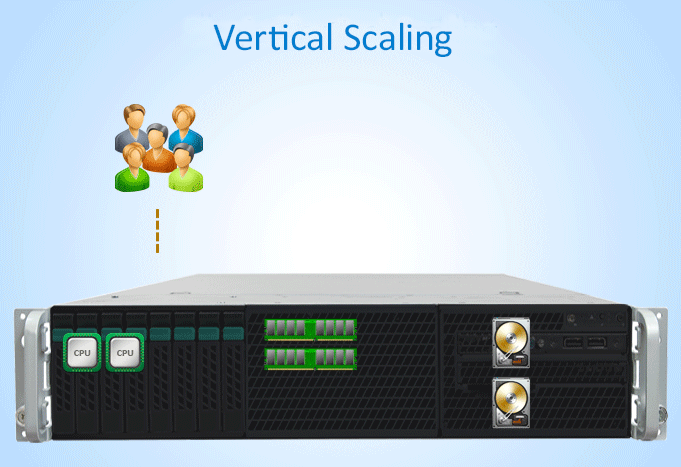 The virtual machines would get proportionally billed for the resources(CPU, RAM & HDD ) consumed by their Virtual machines which in effect would make our Customers pay us higher during peak business season where the VM's would use good amount of Memory and CPU and save significantly in the off-season period. This process actually resulted in savings of 70-80% for our customers, as the same compute power was made available for multiple virtual machines in real time and not all machines initiate memory/CPU intensive tasks at the same time. Even if all machines initiate compute intensive tasks in same batch, the in-built intelligence in our Cloud could take care of balancing the workloads in real time across multiple hosts by migrating the Virtual machines across new hosts(Nodes), offering them scalability and high availability.
Champion of Disaster Recovery (DR) Hosting

In-case of Disaster Recovery Hosting, there's no other better solution that can be made available for users across any of the industry verticals. CPU and RAM usage of the virtual machines continue to work with negligible resources when the primary site is active. IOPS required on the storage platform during the passive mode are also negligible, as only replication of data happens from the primary to the DR site, thereby reducing the billing for the IOPS to minimum. This results in 80-90% cost savings on the DR solution when the resources remain idle at the Disaster Recovery site. If the DR drill is done for 12 days in a year, then the overall cost benefits fetched by a user is more than 80%, which is phenomenal and makes DR affordable for every organization.
Unlocking the Sizing myth
Sizing of machines is another major concern as of now for the industry, as this function of sizing is done in non-transparent way by the SI's and Financial Strength of an organization is used as a deciding factor while doing sizing of the IT Infrastructure. Resources are overprovisioned by an average of 10 times across the industry considering 5 year growth and degradation in hardware performance. The Vertical auto-scaling feature of eNlight Cloud and the "pay-per-consume" billing system completely eliminates the need for sizing. eNlight currently hosts SAP for multiple organizations, of which more than 10 organizations are having turnover of more than $1B and none of these Large Enterprises had to do the sizing externally. Based on the SAPS delivered by eNlight per core and per GB of RAM, customers have on-boarded and enjoyed the amazing high performance compute delivered by eNlight Cloud. This feature is available only with eNlight Cloud and none other Cloud offerings.
Paradigm Shift of Cloud
Previous generation Operating Systems were static in nature and were not adaptable to live infrastructure changes, they lacked agility and that's why Horizontal scaling (load balancing) was the only option. eNlight Cloud is the next generation, Made in India, Cloud which brings agility to applications and Operating Systems with its patented invention. Many of the OS providers have now started supporting Real time changes in CPU, RAM, HDD & Kernel with no need for reboot or downtime. These new generation features are completely transparent to applications and are improving overall performance & uptime of the systems.
eNlightened Banking Cloud
Large and Small banks alike are forced to consider Cloud, but the Horizontal scaling Cloud never worked for most of them, as their CBS software, Enterprise RDBMS and add-on modules for mobile and internet banking failed to scale-out horizontally. Problem with these Banks was that they could not offer internet banking and mobile banking solutions from their in-house Data Centers due to regular online attacks and online security issues, while the horizontal scale-out Cloud options available for them were built for eCommerce companies and not for the typical requirements of the Banks. We managed to resolve problems of these banks and now we host some 100 odd small and mid-size banks running on our Vertical auto-scaling eNlight Cloud, where secure internet banking and Agile mobile banking are available 24×7 to their customers. Our banking customers have started offering dozens of new internet and mobile based services to their customers without any hitch. Our CBS partners are super-excited, as they are now able to offer innovative payment solutions to their banking customers, which has helped the banks as well as our CBS SaaS partners to make per transaction revenue.
Conclusion: Just like horizontal scaling doesn't work for every Industry, similarly using only Vertical auto-scaling will not work for the large ecommerce companies. We know this fact and that's why we offer vertical scaling combined with scale-out for our customers and this functionality is fully automated.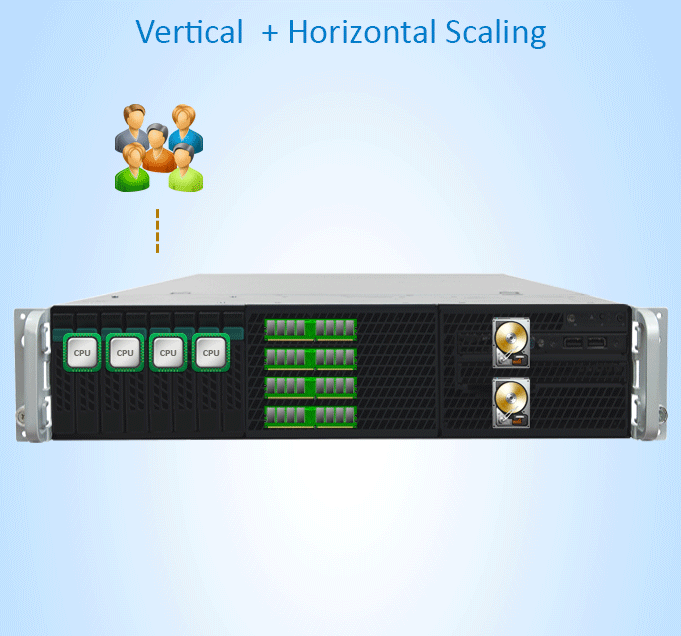 Testimonials:
Please visit https://www.esds.co.in/testimonials.php to read the Testimonials eNlight has received from some of our highly valued customers. As the cloud computing market continues to mature, different voices with different opinions shall emerge and we will always be happy to hear your suggestions or answer your questions.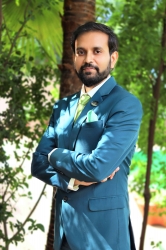 Latest posts by Piyush Somani
(see all)