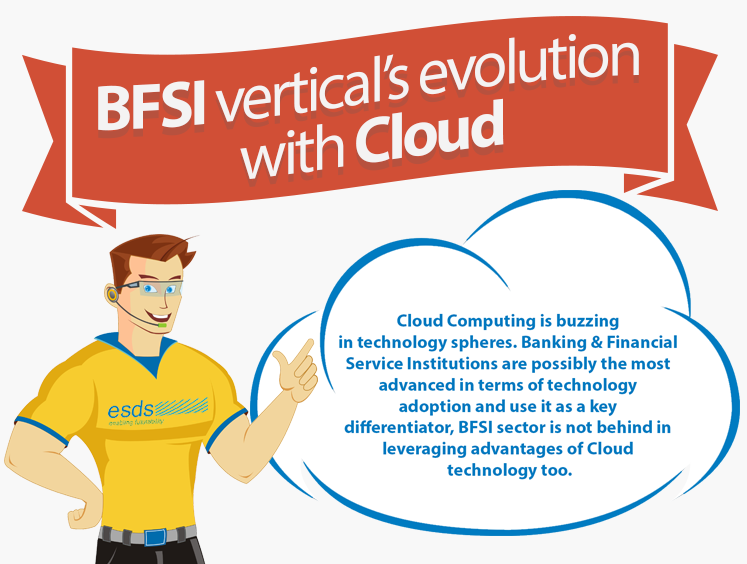 BFSI vertical's evolution with Cloud

BFSI vertical's evolution with Cloud
Cloud Computing is buzzing in technology spheres. Banking & Financial Service Institutions are possibly the most advanced in terms of technology adoption and use it as a key differentiator, BFSI sector is not behind in leveraging advantages of Cloud technology too.
Total expenditure by this sector on the cloud could reach approximately between 15b $ and 20b $ this year.
Challenges mostly faced by BFSI in India
Risk management mechanism
Technology adoption
Lack of Flexibility
Slow Time to market
Low IT Budgets
Lack of Scalability
Regular Regulatory Compliances and Policies upgradation.
Overcoming challenges with Cloud
Enterprise technology standardization : With Cloud now standardization of operations can be asserted
Virtualization: Data is completely virtualized and can be managed centrally
Mobility: Provides Flexibility of data access
Time to market : Business agility improves and Time to market decreases
Scalability : Cloud can be scaled vertically with increase and decrease of load
Prominent cost savings : Cloud reduces CAPEX and OPEX resulting clear cost savings
Cloud Reach and Scope in BFSI: Survey with CIOs and IT decision makers
CIOs and IT decision makers in BFSI verticals expect to see the greater future investment in cloud.
42 % expect SaaS spend will "increase significantly" over the end of 2015,
SaaS is the preferred option for 27 % of banks and insurers, with a further 42 % considering it for every IT project.
49 % expect SaaS to see increased or significantly increased investment over the end of 2015. This will be focused on growth objectives for banks.
80 % agreed with the view that SaaS enables organizations to respond more rapidly to market opportunities. Another 79 % agree that SaaS makes it easier for new entrants to the market.

Latest posts by Vaishnavi Kulkarni
(see all)