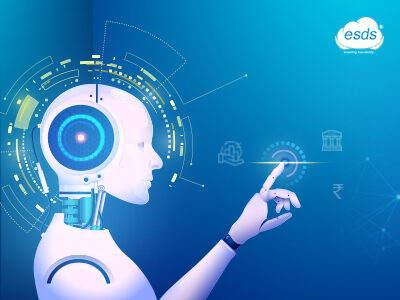 Applications & Benefits of AI in Banking
AI is a technology that has impacted every industry vertical including the banking and finance sector. AI in banking reduces expenses by boosting productivity and making the decision process fast, and accurate. According to a report by Business Insider, almost 80%of banks are aware of the potential benefits of AI in the banking sector. It also says that by 2023, banks are estimated to save roughly $447 billion by deploying AI applications. The applications of AI in banking are many and so does the benefits of AI in banking. Let's take a look at some of them.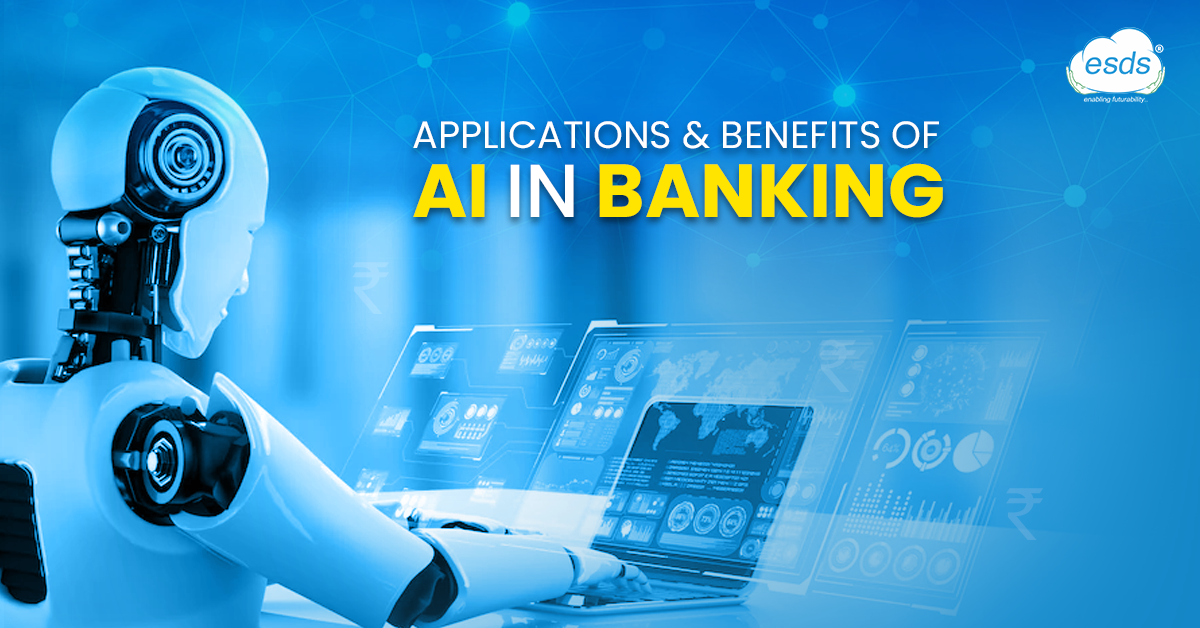 Applications of AI in Banking and Finance
Initially, AI was majorly used for increasing operational efficiency. This has changed post-pandemic where AI is used for automating processes and deriving insights. Here are the 8 major applications of AI in banking.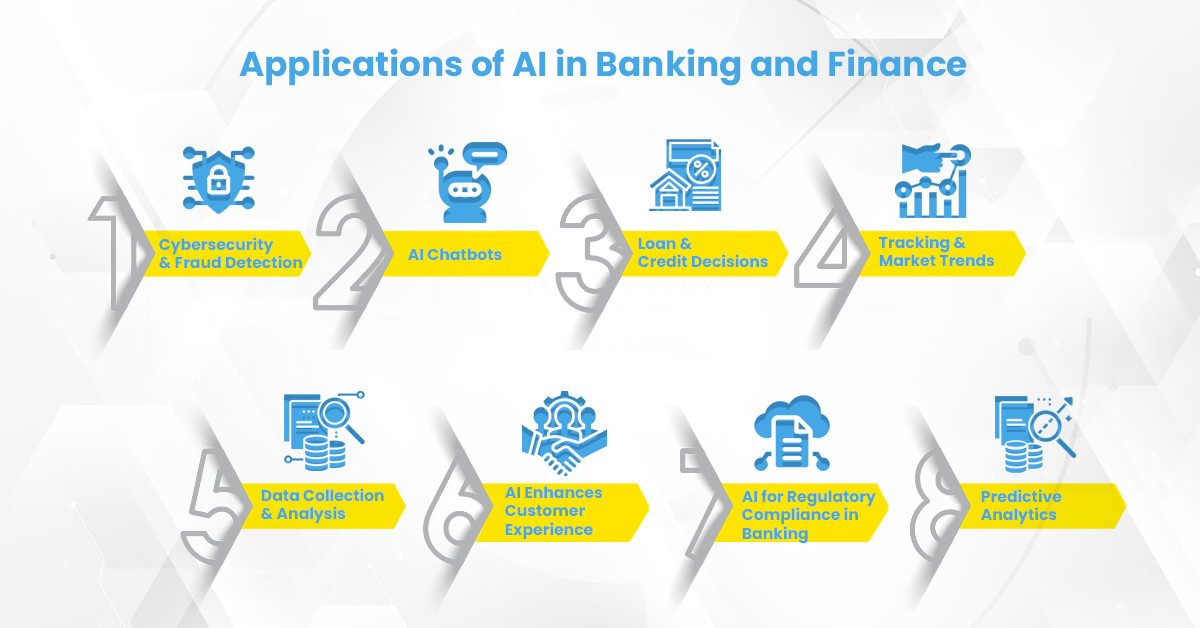 Cybersecurity & Fraud Detection
AI along with machine learning is capable of easily identifying fraudulent activities and alerting customers and banks. In 2019, the financial sector was the most targeted industry for cyberattacks accounting for 29% of the total. AI can be a game-changer in the finance sector to stop cyberattacks.
By combining chatbots with banking apps, the banks will be available for the customers round the clock 24*7. Chatbots' capability to comprehend customer behavior helps in offering personalized customer support and recommending the right financial services and products accordingly.
Loan & Credit Decisions
An AI-based loan and credit system can examine the behavior and patterns of consumers with little credit history to decide their creditworthiness, and in case of unusual behavior, the system sends a warning lowering the chances of default.
Tracking & Market Trends
With AI, banks can process big volumes of data and foresee the latest market trends, currencies, and stocks. Based on this AI can fasten the decision-making process for clients as well as banks and also can suggest investment options.
Data Collection & Analysis
The data generated by banks every day is so huge that it becomes a tedious and very challenging task for employees to structure it. AI-enabled solutions can assist in systematic data collecting and analysis in such circumstances. This can be further utilized in fraud detection or deciding creditworthiness.
AI Enhances Customer Experience
AI solution eliminates the time taken by customers to complete tasks such as completing the Know Your Customer (KYC) process, applying for loans and credit by automating them.
AI for Regulatory Compliance in Banking
AI with the help of deep learning and NLP can read compliance requirements for financial organizations and make the compliance process faster.
Predictive Analytics
AI can catch specific patterns and correlations in the data and predict the outcome which helps in discovering new sales opportunities, cross-sell opportunities that lead to increased ROI.
Benefits of AI in Banking & Finance
AI has the power to automate, enhance and fasten every operation in the banking industry. The benefits of AI in the banking industry are immense. Here, we have listed a few of the many benefits of AI in the banking industry.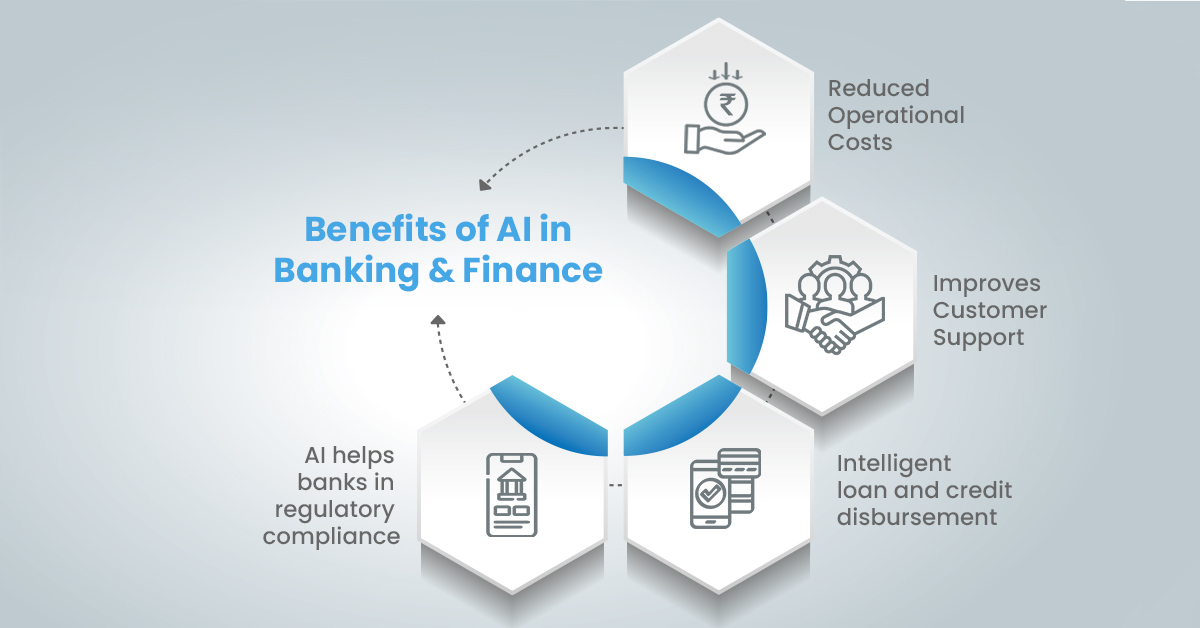 Reduced Operational Costs
Banks use AI, machine learning, and NLP technologies to automate their processes. AI-enabled applications perform repetitive tasks efficiently and error-free accurately. This reduces operational costs and eliminates any human-made errors. Furthermore, using AI chatbots lets banks provide 24*7 reliable customer support that increases bank credibility. This also allows banks to cut down on the human task force required to handle the customer support process.
Improves Customer Support
Customer satisfaction is directly proportional to revenue generation. The more customer is satisfied, the more he wants to buy from you. Therefore, customer support is a very vital function in any industry including banks. Coherent customer support will not only generate revenue but also increased brand reliability, good credibility, and customer retention. AI-enabled applications and chatbots provide the right services at right time to the customer more accurately and quickly which is challenging for humans to do.
A very great example of this is a chatbot used in Bank of America with its ability to handle credit card debt reduction and card security updates, managed over 50 million client requests in 2019 alone.
Intelligent loan and credit disbursement
Everyone is quite aware of how tedious is the loan application process due to the manual verification of the transaction history and credit history process. One of the prominent benefits of AI in banking as it automates the process such as KYC. AI's ability to analyze the behavioral pattern and credit history pattern makes it an easy decision for banks to evaluate the creditworthiness of an applicant.
AI helps banks in regulatory compliance
Banking is an industry that is subject to often changing compliance rules. It is mandatory for banks to operate under current regulatory compliance. One of the compliances that bank has to follow is not to disclose customers' financial data which is likely to face cyberattacks. AI-based fraud analytics tools play an important role here as they catch unusual activities and patterns by hackers, and alert the banks about the same.
So, As A Banker, What Is Your Next Step?
Success in today's age depends on how quickly you change and embrace technology. Saying AI is positively affecting the banking and finance sector would be an understatement when, it is revolutionizing the entire gamut of operations of the banking industry, for good. Banks can hugely benefit from AI in terms of cost reduction and revenue growth by fully adopting AI in banking and finance. It gives banks a competitive edge over other financial institutions that will fail to or delay embracing AI in banking.
ESDS, to help banks accelerate their journey to a digital space has a number of digital banking offerings such as hosted payment platform services, ATM solutions, document management systems, and much more. Get in touch if you want to explore ESDS' banking solutions.
Latest posts by Jyoti Karlekar
(see all)